Places to Visit in Bikaner:- Bikaner is one of the oldest known cities in Rajasthan. It is a historic city with gigantic forts, grand palaces, famous temples, incredible architecture, and rich cuisine. Rao Bika established Bikaner in 1488 in an area that was nothing more than a barren wild jungle.
Bikaner prospered due to its location on the trade routes to China, Iran, and other European countries. Today Bikaner is famous for its International Camel Festival and its Bikaneri bhujias, which is a type of namkeen snack.
Bikaner Tour Packages are the best way to explore the tourist landmarks in Bikaner. You can also tour best places to visit in Bikaner and its nearby dunes, temples, and palaces.
Top 18 Places to Visit in Bikaner
You can plan your trip to Bikaner and visit all the famous landmarks. You can contact Shrine Yatra if you need to know about our Rajasthan tour packages. The best places to visit in Bikaner are given below for your reference.
1.) Junagarh Fort
The original fort that Rao Bika built in 1478 was called Chintamani. The fort was renamed Junagarh Fort. The city of Bikaner grew around this fort. Many Rajput rulers renovated this fort and added new structures and palaces inside. The result is that today, Junagarh Fort is one of the most famous forts in Rajasthan. Inside there are lavish rooms and royal chambers, opulent palaces, temples, pavilions, and other structures.
Junagarh Fort is a marvel of Rajasthani architecture. It is a massive fort with fabulous art. You can see the art everywhere from balconies, gates, and palaces, to temples, kiosks, and pillars. There is a museum with a medieval collection of paintings, jewelry, costumes, and other objects.
2.) Karni Mata Temple
Karni Mata Temple is in the town of Deshnoke near Bikaner. The temple here is named after a great saint of Rajasthan called Karni Mata. Karni Mata Temple is famous all over India as the 'Rat Temple'. There are over 25000 rats here which are considered to be devotees of Karni Mata reincarnated in the form of rats.
If you see a white rat then it is considered to be a good sign. Killing any rat is prohibited in this temple. Karni Mata Temple has a Mughal style of architecture. You can hear many legends about this temple if you visit it once. The temple is over 600 years old temple.
3.) Gajner Palace
One of the famous palaces that you can visit on your trip to Bikaner is Gajner Palace. This palace was built on the orders of Maharaja Ganga Singh, who used it as his hunting lodge. The palace is now converted into a lavish 5-star hotel. The palace is surrounded by greenery and wildlife.
The architecture of Gajner Palace is heavily influenced by Rajasthani and European architectural styles. This luxury palace has opulent interiors with artistic décor. The jaali designs, chhatris, pillars, and jharokhas, have the most elegant decorations and carvings. You can do many activities here during your stay, such as desert safari, wildlife, camel rides, boat rides, sports activities, Rajasthani dance, music, etc.
4.) Lallgarh Palace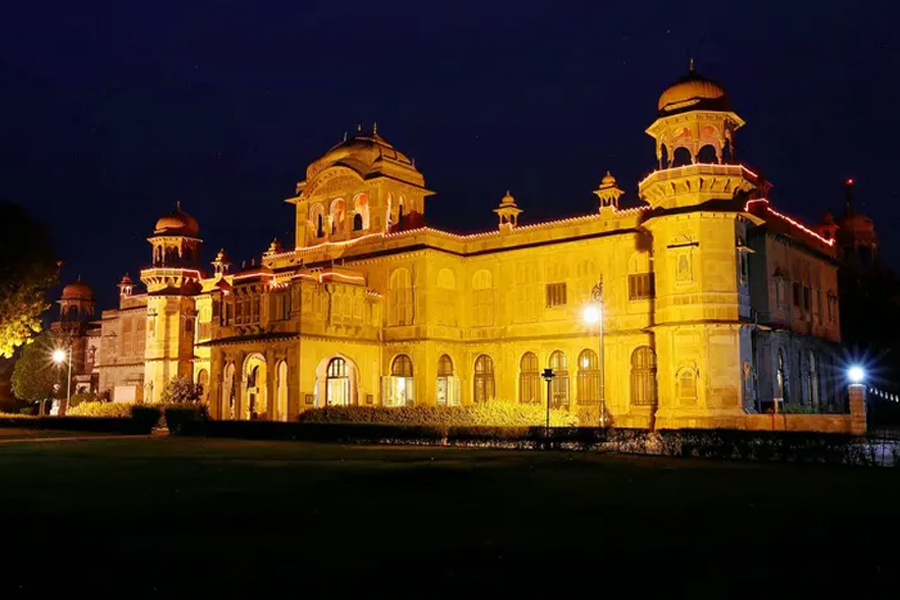 Bikaner boasts of some of the most beautiful places such as Lallgarh Palace. Maharaja Ganga Singh who was the king of Bikaner built Lallgarh Palace between 1902 and 1926. The palace has incredible architecture and a distinct European influence. Today, this palace is a luxury 5-star hotel.
The palace has a museum where you can see exhibits from the royal times of Bikaner. There are huge rooms with classic Rajasthani décor and vintage furniture. The long corridors are lined up with sculpted pillars. The library in the palace is considered to be one of the largest in Asia. The rooms in heritage hotel have over 59 rooms with luxurious décor and facilities.
5.) Rampuria Haveli
One of the fabulous Havelis (mansions) that you can visit in Bikaner is Rampuriya Haveli. Rich merchants built this haveli almost 400 years ago. Rampuriya Haveli has incredible architecture and carvings on the jharokhas and interiors.
The architecture of this haveli is such that it looks like a palace from the outside. The carvings and the artistic interiors of this haveli are very beautiful in their designs. Red sandstone was used to construct this haveli. There are rooms and chambers inside with vintage furniture and aesthetic décor.
6.) National Research Centre on Camel
Bikaner is one of the cities where you can ride on camels and know more about them. The best place to do that in Bikaner is the National Research Centre on Camel. This is a research center where camels of different breeds are bred. The museum here has a rich variety of information on different camel breeds and the research and developments that are being done to develop these camel breeds.
Tourists can go for a camel ride and watch how camels are kept and bred here. You will come to know about the behaviors of these camels here. You can taste ice creams, and various other milk-based products made out of camel milk.
7.) Bikaner Camel Festival
If you visit Bikaner in January, then you must attend the Bikaner Camel Festival. This is a huge cultural attraction of Bikaner. You can see camels of different breeds decorated with bright ornaments and bridles. You can witness camel races, folk dances, competitions, processions, and various other cultural activities during this event.
The Camel Festival is an event that lasts for two days. You can taste various Rajasthani local foods at various stalls. Among them are tasty dishes such as Ker Sangri, Churma Laddoo, Ghevar, Mawa Kachori, Dal Baati Churma, etc.
8.) Bhandasar Jain Temple
One of the famous temples that you can visit in Bikaner is Bhadasar Jain Temple. The temple is a Jain temple that is dedicated to the fifth Jain Tirthankara called Sumatinath. The temple has beautiful paintings and exceptional carvings on red sandstone.
A rich Jain merchant called Bhanda Shah built this temple in Bikaner during the 16th century. The interiors of this temple have floral carvings and show the life of the 24 Jain Tirthankaras. The most surprising thing about this temple is that 40,000 kg of ghee was used instead of water as the foundation to build the temple. The temple has three floors and from the top floor, you can view the scenic landscapes of Bikaner.
9.) Devi Kund Sagar
One of the best places to visit in Bikaner is a place called Devi Kund Sagar. You can see royal memorials and cenotaphs here. All the memorials here have exceptional architectural beauty and were built for the royal family members. The memorials have Chhatris on them and these have been sculpted with beautiful carvings. There are paintings too, and all the memorials are built out of white marble stone.
10.) Kodamdeshwar Temple
One of the earliest known temples in Bikaner is the Kodamdeshwar Temple. This is a temple of Bhairon, who is a fierce incarnation of Lord Shiva. Rao Bika, who was the founder of Bikaner, built the temple. This temple hosts a fair where many artisans come and offer Rajasthani handicraft items to tourists.
11.) Sadul Singh Museum
One of the museums that you can visit in Bikaner is Sadul Singh Museum. The museum was opened in 1972 and has a rich collection of paintings, photographs, costumes, weapons, hunting trophies, and other rare objects. The museum displays a rich variety of information about various kings who ruled Bikaner. The most prominent among them were Maharaja Ganga Singh, Sadul Singh, and Karni Singh. This museum is a place where you can have a glimpse into the royal lives of kings and the history of Bikaner.
12.) Shiv Bari Temple
One of the religious places that you can visit in Bikaner is a temple called Shiv Bari Temple. The main deity of Shiv Bari Temple is Lord Shiva. The temple is built of red sandstone and has beautiful carvings and sculptures. You will find wall paintings in the interiors. The statues and idols of Krishna dancing with the gopis are carved with great artistic skills. This temple has typical Rajasthani architecture, with carved domes, pillars, and pavilions.
13.) Ganga Singh Museum
One of the museums that you can visit on your trip to Bikaner is Ganga Singh Museum. The museum has some of the best artifacts dating back to the Harappan period. You will find some artifacts that belong to the Gupta Empire that ruled India during the 4th century.
The archaeological objects that are displayed here consist of terracotta pottery, paintings, sculptures, carpets, coins, weapons, and portraits. The hunting trophies, silken robes of Emperor Jehangir, and gold-leafed paintings on camel hides are the highlights of this museum. There are different sections in this museum where you can see the exhibits.
14.) Prachina Museum
Prachina Museum is one of the many museums that you can visit in Bikaner. This museum has a rich collection of art and artifacts that date back to the royal medieval times of Bikaner. Among the exhibits that you can see on display here are royal costumes, perfumes, crockery, cutlery, portrait paintings of the royal kings of Bikaner, and other items.
The daughter of Maharaja Narendra Singhji called Siddha Kumari founded Prachina Museum in 2000. You will come to know many interesting things about the lifestyle of the royals and the traditional arts and crafts of Bikaner in this museum.
15.) Sursagar Lake
A lake called Sursagar Lake is one of the top tourist attractions in Bikaner. The lake was named after the ruler Maharaja Sur Singh of Bikaner. The lake was built to provide water to the people of Bikaner in times of shortage of water. Today, you can go for boat rides here and enjoy the scenic beauty around you. There are walkways around the lake on which you can go for an evening stroll. Adequate seating arrangements have been made and you will find many benches on which you can sit and enjoy the calm waters of the lake.
16.) Laxmi Niwas Palace
One of the top tourist attractions of Bikaner is a palace called Laxmi Niwas Palace. The palace is incredible in its architecture and was built by the famous British architect Sir Samuel Swinton Jacob in the years between 1898 and 1902. The palace served as the former residence of the king of Bikaner, Maharaja Ganga Singh.
Today, the palace is counted among the best luxury hotels in Rajasthan. The mesmerizing architecture, the grand rooms, the incredible décor, halls, corridors, chandeliers, and carvings make this palace one of the best places to visit in Bikaner. You can visit Laxmi Niwas Palace and stay there in luxury. Each room and suite has heritage furniture, royal décor, vintage art, and balconies.
17.) Laxminath Temple
Laxminath Temple ranks among the oldest temples in Bikaner. One of the rulers of Bikaner called Maharaja Rao Lunakaran built the temple in the 14th century. The main deities of this temple are Lord Vishnu and Goddess Laxmi. The outer façade of the temple has incredible carvings on red sandstone.
The carvings on the towering Shikhar of the temple are worth seeing. The sculptures and carvings inside are also magnificent for their artwork. You will find paintings, silver artwork, beautiful idols, and sculptures inside the temple. Festivals like Ramnavami, Janmashtami, and Diwali are celebrated with great devotional fervor in this temple.
18.) Gajner Wildlife Sanctuary
One of the best tourist attractions in Bikaner is a sanctuary called Gajner Wildlife Sanctuary. This is the best place in Bikaner to spot wild animals such as blackbucks, wild boar, nilgai, hares, and many such creatures. Sand grouse is a magnificent bird that you can spot here.
The wildlife sanctuary is close to Gajner Palace and was the former hunting grounds of the maharajas of Bikaner. Gajner Lake is also part of this sanctuary and you can spot birds drinking water from the lake. You can go on camel safaris and jeep safaris in this sanctuary and spot creatures in their natural habitat. Many migratory birds also visit this sanctuary.