Nepal has a very rich religious and cultural legacy. It also goes by the name, house of Gods & Goddesses. Some of the key spiritual sites in Nepal receive national and international tourists.
The most amazing thing about Nepal, there are always fewer religious places. There are hundreds of ancient temples in Nepal that were built in similar old-fashioned style.
Few people know that Nepal has other tourist destinations apart from the worlds' highest peak.
Here are Most Popular Nepal Tour Package:
Note: To understand the Nepal Tour Package better, we have added all the packages to the table.
Here are Some top 10 temples in Nepal
Each with its own unique significance and architectural appeal, the top ​10 Most Famous Temples in Nepal will be explored in this article.
Shri Pashupatinath Temple
Changu Naryan Temple
Janaki Temple
Dakshinkali Temple
Muktinath Temple
Manakamana Temple
Budhanilkantha Temple
Baglung Temple
Swayambhunath Stupa
Doleshwar Mahadev Temple
If you are planning to visit famous temples in Nepal? Here, we have compiled a list of 10 Most Famous Temples To Visit in Nepal that should be on your wishlist!
1.) Shri Pashupatinath Temple
Pashupatinath Temple is one of the purest Hindu temples in Nepal. However, the Hindu people have nothing new that they can learn about this temple again. Worshipers of the 'Lord Shiva' come from different parts of the world here. The temple is located in on the bank of River Bagmati.
People of the Hindu religion only can enter in the premises of temple and others are restricted to do so and they may watch from banks of Bagmati Temple. The temple is also in the world heritage. 5 km north of Kathmandu valley is a pagoda style temple. The spectacular temple was made a UNESCO World Heritage Site in 1979.
2.) Changu Narayan Temple
Another famous Hindu temple is the Changu Narayan temple in Nepal. This unique architectural wonder was made in golden medieval verisimilitude 'Mall' period. Pashupatinath is one such temple that is also listed in 'UNESCO World Heritage Site'. It is the earliest form of pagoda style Hindu temple if lord Vishnu in Nepal.
It is situated in Bhaktapur and eastwards direction of 'Kathmandu' district about 8 miles away. This amazing temple receives guests from abroad who travel long distances to get an experience of how majestic it looks. In addition, however the truth of its construction lies in some mystery that nobody really knows. This temple is attended by many people at festivals, culture and cultural activities.
3.) Janaki Temple
Janaki Mandir, is one of the largest temples in Nepal situated at Janakpur is dedicated to Goddess Sita. Its construction takes place at the birthplace of Goddess Sita. Today the attraction is an important religious monument and a UNESCO world heritage site, however, it still functions as a temple for people who come to worship there.
The mystical Janaki Temple is where anyone looking for a piece of the legend of Ramayana should visit. The Janaki Mandir represents Hindu-Koiri Nepali architecture with beautiful white exterior. The 3 stories temple is completely constructed with stones and marbles where it has of 60 rooms inside in-suite a Nepali flag, carved drawings, paintings; atriums along with beautiful lattice windows and turrets.
The Janaki temple is especially crowded with worshippers during holydays like Ram Navami, Vivah Panchami, Dashain, Deepawali and Holi. Pilgrims flock from throughout Nepal, Sri Lanka and India to worship the Goddess depicted as icon of bravery, righteousness acts, selfless devotion, loyal behaviour and female or feminine virtues.
4.) Dakshinkali Temple
In the valley of Kathmandu, there is a temple called Dakshinkali located approximately 13-14 miles away. Dakshinkali Temple is associated with 'kali goodness', with locals contending that it was created as a result of a dream of a Malla king who saw the actual kali goodness in his dream.
From Kathmandu valley, it takes 45 minutes to get to Dakshinkali because the road is spiral. For all children in need of blessings, the Dakshinkali Temple is of great importance. Their desires can only be fulfilled with the blessing of 'goodness kali'. Therefore, many people use the place to fulfil their wishes. Among Nepal's renowned temples, this is one of the most famous.
5.) Muktinath Temple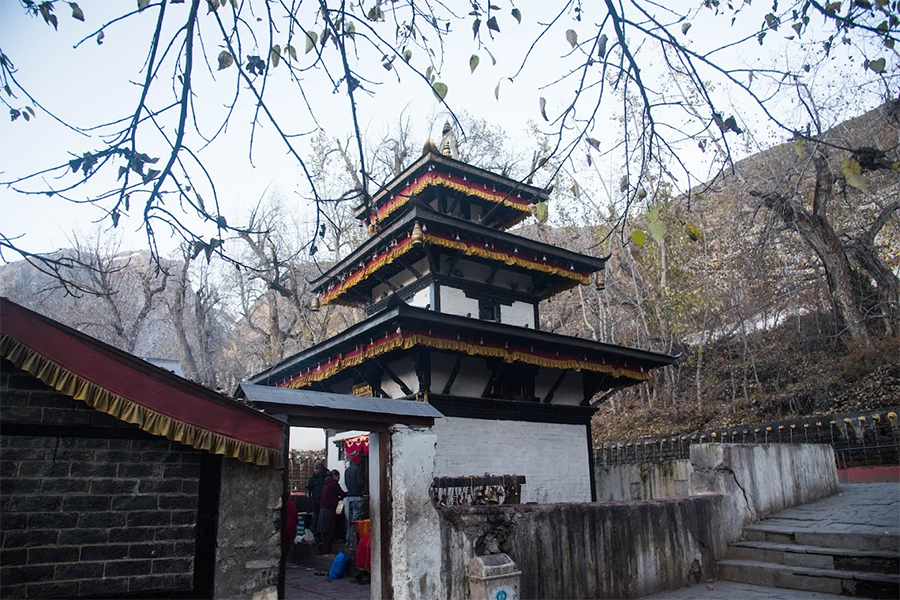 Muktinath Temple is one of the most memorable located sites of various religious spots. The setting will literally take your breath away, for it is placed in the snow-capped Himalayan mountains at 3800m above sea level with very less oxygen.
This site is holy for Buddhists and Hindus, both of which have been flocking there in the past to see its Shaligram – a sacred rock. Nearby Kali Gandaki River's fossils are also what people believe to be the Lord Vishnu in stone form. Hikers also visit Shree Muktinath because it lies along Annapura Circuit, one of the busiest trekking routes in Nepal. This trail starts out at Besisahar, roughly 25 mi (40 km) east of Pokhara city and goes up to the Thorung La Pass – an astonishing height of 17,650 ft (5,380 m) above sea level.
6.) Manakamana Temple
Another much Hinduism related temple is the Manakamana temple in Nepal. It is located in Nepal's district known as 'Gorkha'. Since the 17th century people come here to fulfil their wishes. The term Manakamana originated from words "Man" means heart (soul) and strength of wish, so it is named Manax. It is located 106 km from 'Kathmandu' district. You can learn about the mystery of this temple during your wonderful Nepal tour.
It is assumed that it was created when the farmer knocked a stone by mistake and blood & milk were exuded of it, after this making people said that they have reemerged the Goddess and ultimately this vast temple was built there known as Manakamana Temple. Earlier, only the people based on Hindu religion move their for worship then other religious group started going there.
7.) Budhanilkantha Temple
It is known for the temple of peace & power. It lies approximately 10 km away from Kathmandu city. The temple is situated at the bottom of 'Shivapuri Hill'. This is another well-known Hindu temple. Only Hindus may touch the feet of Lord Vishnu resting on Sheshnag.
The sculpture is believed to be founded by the farmer who was cultivating the field. This temple is known by many Hindu people for pilgrimage. While you are on the Nepal sightseeing tour, please visit here and get yourself blessed. One of the most beautiful temples in Nepal.
8.) Baglung Kalika Bhagawati Temple
It is revered by devotees as a sacred haven nestled in the hills of Baglung, Nepal. Intricate architecture and a spiritual atmosphere characterize this temple dedicated to Goddess Kalika. It is a popular pilgrimage destination where pilgrims offer prayers amid panoramic views of the mountains while seeking blessings.
The temple, which is a cultural pride, is associated with religion and history; its sermons the congregants on to be in touch with the divine other than him passing off as any tourist's spot. Located in the heart of the Himalayas, Kalika Bhagawati Temple also know as Baglung Kalika Bhagawati Temple is an emblematic testament to faith and cultural abundance.
9.) Swayambhunath Stupa
Swayambhunath Stupa – the Nepal's Hindu and Buddhist temple. One of the best places if you'd like to see real Nepal and experience spiritual heights in this country is this temple. One can see the grand white dome & glittering gold tower of temple from all nooks and corners of Kathmandu valley.
On the other hand, birthplaces belong to a much earlier period pre-Buddhism in the valley. Further, chronicled records displayed on an engraved stone indicate that by 5th century AD Stupa was indeed a major 'Buddhist' pilgrimage spot and thus where it also differs or its originality lies.
In the 15th Century, there is a story in 'Swayambhu Purana' of miraculous lotus planted by one of the past Buddha that bloomed out from lake protecting Kathmandu valley. It is one of the great temples of Nepal.
10.) Doleshwar Mahadev Temple
Doleshwar Mahadev Temple in Bhaktapur district of Nepal is 20 kms from Kathmandu, the capital city. The head priest of Kedarnath, Shree 1008 Jagat Guru Bheemashaankarling Shivacharya declared Doleshwar Mahadev as the head of Kedarnath, one of the Char Dham Yatra.
It's about half an hour drive from Kathmandu to reach there officially inaugurated via helicopter. However, for the last 4,000 years that relation between Kedarnath and Doleshwar was unknown by any other person on earth
Conclusion
Many places are listed on the UNESCO World Heritage with these religious sites and popular temples in Nepal. Hence, those planning to visit this country can see these religious sites with Nepal tour packages.
If you are the type of person who is religious or has an eye for beautiful Nepal architecture, you will certainly enjoy visiting the ancient temples in Nepal. Therefore, avail a tailored made Nepal package and get fascinated with the mesmerizing past of the country. So, contact us now!