North East can be called the most beautiful treasure of India. The pleasure of seeing the untouched beauty and dull life here will hardly be seen in any other part of your country. Not only this, the people of the northeastern states are equally as spectacular as the landscape here. Every home in the North East will welcome you with an open heart. Despite all these reasons, tourism is not that much in these states. But what is the reason behind it? Strict rules have been followed from the very beginning to enter the northeastern states. Due to which the interest of Indian tourists to go to the North East is less visible. But now that these laws have been relaxed, Indian tourists should also make plans to visit the North East.
Arunachal Pradesh
Arunachal Pradesh is one of those states in the Northeast where tourists come a lot but they are all foreigners. But now gradually Indian tourists are also planning to go to see this gem of North East. For bagpackers and adventure lovers, Arunachal is like a treasure trove. Here is the Tawang Monastery built at an altitude of 10,000 feet, which wins the heart of every wanderer. Because this monastery is built at such a height, hence the view of Tawang Valley and Indo-Bhutan border is also visible from here. In this monastery you can see the famous Tibetan painting Thangka. If you want to see the festivals celebrated in Arunachal then you must visit between January to October. One should plan to visit Torgya Festival in January, Myoko Festival in March, Dree Festival in July, Zero Music Festival in September and the famous Tawang Festival in October. You can also meet some of the famous tribal communities of India like Apatani and Gallo people in Arunachal.
Assam
Assam is the largest state in Northeast India which is most easily accessible. Assam is recognized by the high quality tea found here, which is famous not only in India but all over the world. In Guwahati, the capital of Assam, you will get facilities like any other major city comfortably. The most accurate route to enter any North East state passes through Guwahati. Most people prefer to stay in Guwahati for a day or two before going to the interiors of Assam. Apart from tea gardens, you can see Kaziranga National Park in Assam. Which is the house of a lion. Anyone's trip to Assam would be incomplete without visiting Majuli Island. This island with the title of being the world's largest river island will make you happy. Overall, in Assam you will find everything that is needed for a successful journey.
Meghalaya
Until recently, Meghalaya was also a part of Assam. Your heart will dance after coming to this state which is called the city of clouds. Meghalaya has the distinction of being the place that receives the highest rainfall on earth. People coming from the rainy plains of Cherrapunji and Masinram in Meghalaya are very much liked. The popularity of the capital city Shillong dates back to colonial times. Golf courses, polo grounds and large Victorian bungalows make this hill station worth visiting even today. If you are wondering why Meghalaya is famous other than rain, then let us tell you that the Living Root Bridge of Meghalaya is discussed all over the world. Meghalaya also has the largest number of caves in India. The beauty of this state with wonderful waterfalls and scattered greenery will be less appreciated. There are also many options for trekking in Meghalaya. If you love adventure then Meghalaya will not disappoint you.
Nagaland
Nagaland is the most unique state of Northeast India. Which is especially known for its tribal community. This state bordering Myanmar is new in the field of tourism compared to other states. There was a time when the local and tribal community of Nagaland felt hesitant to meet tourists. But today you go to any area of Nagaland, you will be warmly welcomed. Apart from the tribal times, Nagaland is known for its grand and interesting festivals. The Hornbill Festival in Nagaland attracts tourists from all over the world. The Motsu and Aoling Festivals are also big names in Nagaland. You will not face any problem even to stay in Nagaland. For tourists staying in Nagaland, lodge facilities are provided where cultural programs are also organized. We guarantee you that you will never miss a chance to get bored in Nagaland.
Manipur
Manipur, located near Nagaland, is called the Diamond of the North East. Which is also perfect. You will be amazed to see the natural beauty of this lesser-visited state. Filled with splendid valleys and mesmerizing views, Manipur must be included in every traveler's bucket list. Manipur's capital city Imphal is also famous for its mountains and lakes. Loktak Lake of Manipur has the distinction of being the only floating lake in the world. Because tourism is not that much in Manipur, now steps are also being taken to promote tourism in the state. If you are thinking of enjoying a vacation in a quiet place then Manipur will be the perfect place for you. The Lemon Festival and Kang Chingba Festival in January and February will also make your trip a memorable one.
Mizoram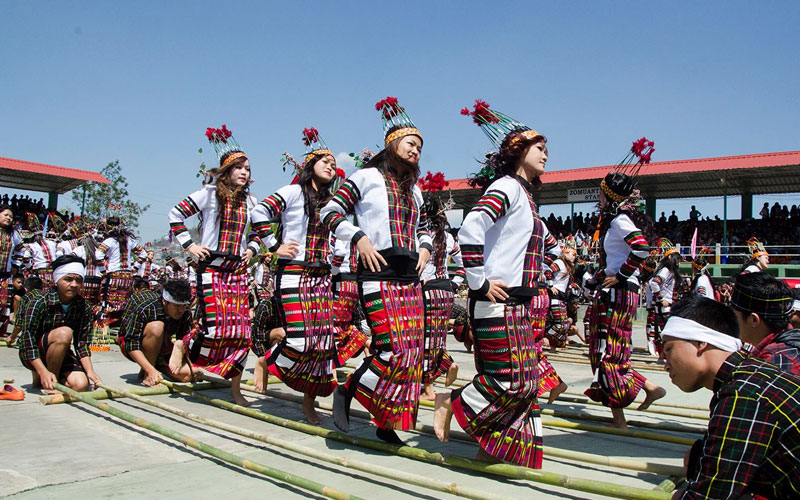 Believe me, Mizoram is that beautiful state of North East, whose natural shade is made to see. The landscape of Mizoram is like a beautiful painting. It is as if the painter has created Mizoram by putting his most captivating colors on the canvas. The dense bamboo forests, deep valleys, flowing rivers and paddy fields make Mizoram unique. If you are one of those people who love to explore outside the hotel room then Mizoram is the perfect place for you. The beauty of Mizoram is etched in everyone's heart. Festivals in Mizoram are also celebrated with full enthusiasm and gaiety. Among which Chapchar Kut is the most famous.
Tripura
Tripura is the second smallest state in India, located very close to the Bangladeshi border. But despite this, there are many such things in Tripura that are worth seeing. From trekking in the dense bamboo forest of Tripura to the products made from the same bamboo, everything makes Tripura special. The handloom industry of Tripura also sets the state apart from everyone else. The Ujjayanta Palace in the capital Agartala is a fine example of the blending of Mughal architecture with European architecture. There is no dearth of palaces in Tripura. The Neermahal built in 1930 gives a direct introduction to this point. From boating in the lakes to the Buddhist monasteries and Unakoti, every place speaks of the unique culture and tradition of Tripura.
Sikkim
Sikkim has been considered part of the North Eastern region of India since 1990. The Tibetan culture of Sikkim is famous all over India. Bordering countries like China, Nepal and Bhutan, this Indian state is definitely small, but its small area presents a good image of its rich culture. Seeing the mountainous beauty of Sikkim, the heart of tourists gets buzzed. Sikkim is counted among the last Shangrilas of the Himalayas. Which makes this place even more special. The trekking routes of Sikkim, lakes adorned with attractive views and beautiful landscape make this state one of the most beautiful places in India.