Nainital is a very famous hill station of Uttarakhand and also of India. It is situated at an altitude of 2084 meters in the Kumaon region, in the foothills of the Himalayas. Nainital is such a popular hill station that there are more than 25 to 30 tourist spots in Nainital alone. Nainital is blessed with the natural beauty of deodar forests, lakes, scenic views of snowy Himalayan peaks, ancient temples, heritage colonial buildings, shopping bazaars, and wildlife sanctuaries. Tourists can visit Nainital and the famous tourist places in Uttarakhand by exploring any of our Uttarakhand Tour Packages. The most famous sightseeing places in Nainital are given below.
Tourist Places to Visit in Nainital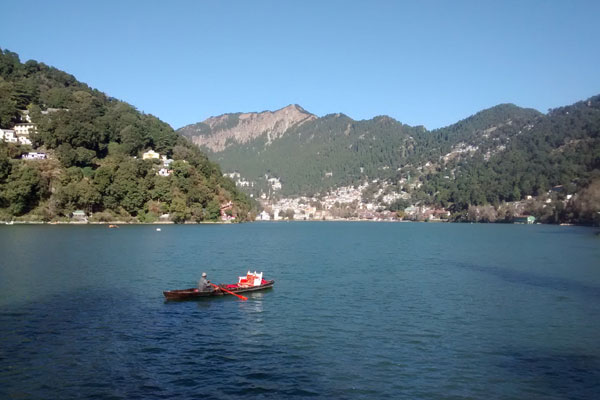 1. Naini Lake
Naini Lake is the main lake of Nainital. It has a mythological story behind it, and according to Hindu mythology, the eyes of Sati fell in this lake and gave it a turquoise blue color. It is also famous that three great sages used to meditate near Nainital Lake. Nainital Lake is a freshwater lake and is surrounded by seven mountain peaks.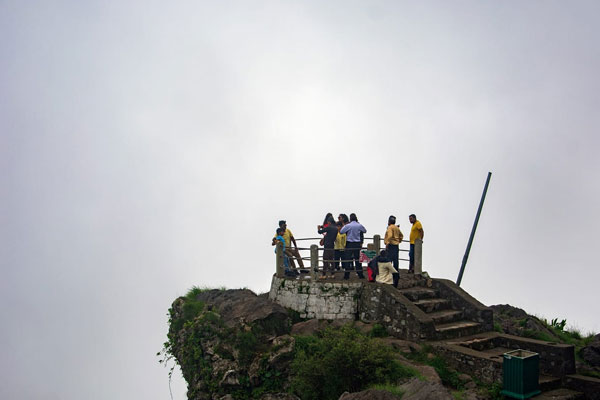 2. Tiffin Top
Tiffin Top is a spectacular viewpoints in Nainital, from where tourists can view magnificent views of the Himalayan range and the hill station of Nainital. It is also called Dorothy's Seat and is named after1 a British painter Dorothy Kellet, who used to sit here and paint the natural scenery.
3. Snow View Point
Out of all the famous viewpoints in Nainital, Snow View Point is the No. 1 sightseeing point. Tourists can see magnificent views of Nanda Devi, Trishul, and Nanda Kot peaks from Snow View Point on a clear day. There is a small Buddhist monastery near Snow View Point which is called Gadhan Kunkyop Ling Gompa and it is also an interesting place to visit. Binoculars are available on Snow View Point to view the mountain peaks in greater detail.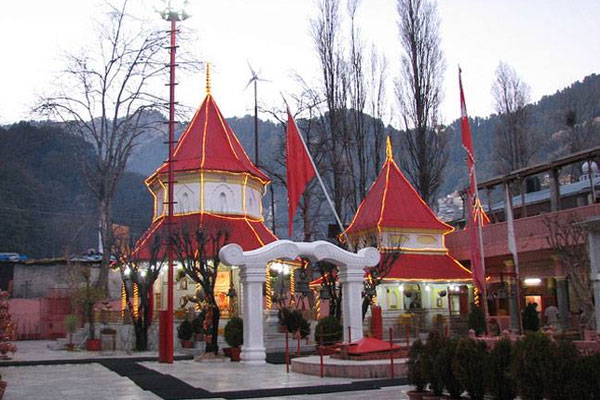 4. Naina Devi Temple
Naina Devi Temple is very close to Naini Lake. According to Hindu scriptures, the eyes of Sati, fell on this spot, when Lord Shiva was taking her body. Inside there are idols of Naina Devi, Kali Devi, and Lord Ganesha. Naina Devi Temple is a famous Shakti Peeth of Sati. There are many shops selling puja and devotional items near the temple. Naina Devi Temple is a 15th-century temple and is one of the many temples in Nainital.
5. Mall Road
Mall Road is the main shopping center of Nainital. You will find restaurants, cafes, handicraft shops, eateries, banks, and stores. Mall Road is right next to Naini Lake, and it is a popular tourist recreation center. Mall Road is so popular that several Bollywood movies were shot here.
6. High Altitude Zoo
Tourists who are interested in the wildlife in Nainital and the Himalayas must visit Bharat Ratna Pt. Govind Ballabh Pant High Altitude Zoo in Nainital. High Altitude Zoo is one of the major tourist places in Nainital. There are rare Himalayan wildlife species such as Red Panda, Tibetan Wolf, Himalayan Black Bear, Himalayan Martin in this zoo. There are also so many birds like Lady Amherst Pheasant, Silver Golden Pheasant, White Pea Fowl, Parakeets, and Steppe Eagle.
7. Lands End
Lands End is another top tourist spot in Nainital. Tourists can see sweeping views of snow-clad mountain ranges, small villages, lush green valleys, and breathtaking landscapes from Lands End. But the most beautiful sight to see is the Khurpa Tal Lake from above. The lake looks very scenic and beautiful when viewed from Lands End.
8. Naina Peak
Naina Peak is one of the top tourist attractions in Nainital. It was originally called China Peak, but after the war with China, it was renamed as Naina Peak. Tourists can trek or go by horse ride to Naina Peak. From Naina Peak, tourists can have spectacular views of India's second-highest mountain peak, Nanda Devi.
9. Eco Cave Gardens
Eco Cave Gardens is one of the most beautiful sightseeing places in Nainital. This place is a type of park, where tourists can crawl and climb through seven interconnected caves and hanging gardens. There are caves called Squirrel Cave, Panther Cave, Tiger Cave, Bat Cave, Ape Cave, and Flying Fox Cave. All these caves have an artificially made jungle landscape with animal and bird models. There are water slides, waterfalls, caverns in this park.
10. Neem Karoli Baba Ashram
This is a spiritual and one of the religious places in Nainital. Neem Karoli Baba Ashram is also popular as Kainchi Dham. This ashram was founded by a famous saint called Neem Karoli Baba. This ashram is famous among the followers of Neem Karoli Baba, and such is its popularity that tech leaders like Steve Jobs and Mark Zuckerberg have visited this ashram for spiritual guidance.
11. Bhimtal
Bhimtal Lake is another tourist place in Nainital which is very popular for its boating. There is a small island in the lake with an aquarium. Many tropical fishes from various countries can be found in this aquarium. The natural beauty around Bhimtal Lake is very captivating.
12. Sattal
Sattal is a scenic lake that is close to Bhimtal and is one of the many lakes in Nainital. It is actually a series of seven interconnected lakes called Ram Tal, Purna Tal, Laxman Tal, Sukh Tal, Garud Tal, Nal Damyanti Tal, and Sita Tal. Birds visit these lakes every winter, and tourists can come here with their binoculars and DSLR cameras to photograph these birds. Sattal is one of the most beautiful unpolluted natural spaces in Nainital. Tourists can also spot fish and butterflies here.
13. Kilbury Bird Sanctuary
Kilbury Bird Sanctuary is a famous tourist attraction of Nainital. Tourists can see Himalayan birds and mammals here. There are oak, pine, and rhododendron forests and so much greenery that it is a most peaceful natural place in Nainital. Tourists can spot laughing thrushes, owls, forktails, and many mammals like Himalayan Goral, Red Fox, Barking Deer, and others. Tourists enjoy the natural sounds of birds in this fantastic bird sanctuary in Nainital.
14. Gurney House
Gurney House is one of the many places to visit in Nainital. Jim Corbett, the famous shikari, once lived here in Gurney House. Beautiful gardens are surrounding Gurney House. Gurney House is now converted into a museum, where tourists can visit trophies and other objects owned by Jim Corbett.
15. Raj Bhawan
One of the historical places in Nainital is Raj Bhawan, also called Governor's House. Raj Bhawan looks like a typical medieval castle, and its gothic architecture is most interesting. Raj Bhawan still is the official residence of the Governor of Uttarakhand. The golf course of Raj Bhawan is one of the most fantastic golf courses in India. Raj Bhawan is situated in the middle of oak and deodar trees and lush green gardens.
16. Hanuman Garhi
Hanuman Garhi is among the many religious places in Nainital. There is a giant statue of Lord Hanuman here. Hanuman Garhi was developed by Neem Karoli Baba, who was a famous saint. There are idols of Lord Ram, Lord Shiva, Goddess Sita, in the inner courtyard. Sunrise and sunset views from Hanuman Garhi are very scenic. Other famous sightseeing places in Nainital such as Mall Road, Naini Lake are very close to Hanuman Garhi.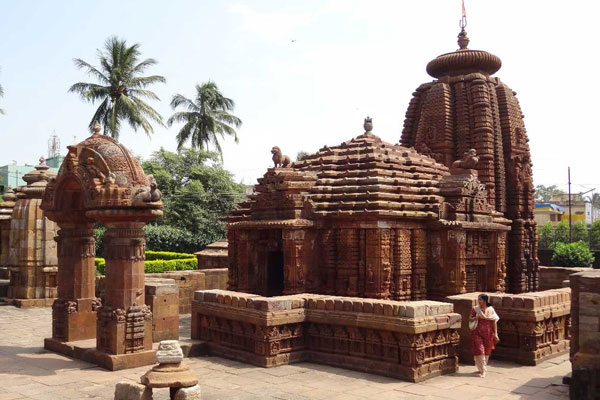 17. Mukteshwar Temple
Mukteshwar Temple is believed to be at least 350 years old and is one of the famous tourist places in Nainital. It was built by the Pandavas during their exile and is dedicated to Lord Shiva. There is a white marble shiv linga of Lord Shiva, along with idols of Lord Brahma and Lord Vishnu inside the temple. Forests surrounding Mukteshwar Temple have many birds, and the views of snowy mountains of the Himalayas can be seen from this temple.
18. Pangot
Very close to Nainital, Pangot is a small village, which is famous for its scenic beauty. The oak and pine forests, gurgling streams, birdlife, and greenery are what make Pangot one of the most beautiful places to visit in Nainital. You can visit Pangot by cab and drive through Kilbury Bird Sanctuary and visit Snow View Point. The natural scenery is most awesome and breathtakingly beautiful in Pangot. As many as 500 bird species can be spotted in Pangot and Kilbury Bird Sanctuary.
19. Khurpa Taal
Khurpa Tal is one of the most beautiful lakes in Nainital. It is situated in the middle of rolling hills and the turquoise blue water of Khurpa Tal is one of the most beautiful sights. Khurpa Tal has many fishes and boating is one of the most exciting things to do here. Tourists can go on nature walks around this lake. Tourists can view Khurpa Tal from Tiffin Top if they want to see the beauty of this freshwater lake.
20. Tibetan Market
For shopping in Nainital, there is no better place than the Tibetan Market. Tourists can explore this market and look for handicrafts and souvenirs to take back home. Tibetan Market is also famous as Bhutia Market among locals. Shawls, scented candles, Tibetan handicrafts, hanging lanterns, and many other things can be found here in this market. Tourists will also find many delicious street foods to relish here.
21. St. John's in the Wilderness Church
One of the oldest churches in Nainital is St. John's in the Wilderness Church. It dates back to the year 1844 and is close to Naini Lake. It has neo-gothic architecture and its interiors have stained glass windows and are surrounded by deodar trees. The church is one of the calmest and serene places in Nainital. Tourists can attend the prayer service and interact with the Fathers and Brothers at the church to know more about the culture of this place.
22. Astronomical Observatory
The Astronomical Observatory in Nainital is also called Aryabhatta Research Institute of Observational Sciences (ARIES). It has a very advanced telescope in India. Tourists can have a look at various instruments here during their tour.
23. Sonanadi Wildlife Sanctuary
Sonanadi Wildlife Sanctuary is near Jim Corbett National Park and Rajaji National Park. It is close to Nainital, and tourists can go on a jeep safari and spot wildlife such as tigers, deer, and elephants. There are many birds here too, like flycatchers, owls, pheasants, etc. Sonanadi Wildlife Sanctuary is among the most exciting wildlife sanctuary in Nainital.
24. Nainital Ropeway
One of the best ways to enjoy Nainital is to go on the aerial ropeway. Nainital Ropeway connects Mallital to Snow View Point. The aerial ride on this ropeway is in a cable car from which tourists can have splendid views of Naini Lake and Nainital hill station.
25. Sariyatal
Yet another beautiful lake in Nainital is Sariyatal. This lake is very close to Nainital, and there is a botanical garden near the lake. Sariyatal is an artificial lake and is a very scenic and peaceful place in Nainital.