If you go to Rajasthan or Gujarat, chances are, you might visit a stepwell. Today, these stepwells are very popular sightseeing places in these states. Book any of the Rajasthan Tour Packages and you can visit these stepwells. You will also find stepwells in other places in India such as Delhi, Haryana, and Karnataka. Unlike other architectural monuments, stepwells had a definite function and were not made for decorative purposes.
In those medieval days of India, stepwells provided drinking water at a time when there was no water available in times of scarce rainfall. Stepwells were much more wonderful than wells or water tanks. They are India's architectural heritage.
What are stepwells?
Stepwells are more than just wells. They are made by digging a big trench in the earth. The walls of these trenches are then layered with stone and steps are built on these walls, so that people may climb these steps and reach the water's surface. Underground water gets filled in these stepwells and this provides drinking water for people of the area.
Stepwells are places of water storage and were built so that people could get water all year round, even when there is water scarcity in the region. These stepwells had superb sculptures and decorations on stone and looked similar to a temple. More often, queens built these stepwells as it was the customary tradition for women to bring water.
The main difference between a well and a stepwell
A well and stepwell, both were used for storing water for future use. However, there was a big difference in the construction and architecture of a well and a stepwell. In a well, a pulley was tied to a wheel, and bullocks were used to draw out water from the well. However, in a stepwell, steps were built on the walls, so that people could reach the surface of the water and use it. Stepwells were multi-storied monuments whereas, wells did not have such architecture.
The different names of stepwells
Stepwells were given different names according to the region in which they were built.
In Delhi, Rajasthan, Haryana, and other Hindi-speaking regions, stepwells were called bawdi, baudi, bawri, baoli, bavadi, baori, bavdi.
In Gujarat, stepwells were called vav, vavri, and vaav.
In Maharashtra, they were called barav.
In Karnataka, stepwells were referred to as Kalyani or Pushkarani.
List of famous stepwells in India
India has innumerable stepwells. But some of these stepwells are famous for their gigantic size and magnificent architecture. The most famous stepwells in India are shown below.
1. Chand Baori Stepwell, Abhaneri, Rajasthan
The deepest stepwell in India is located in the small town of Abhaneri in Rajasthan. Abhaneri is close to Jaipur, and the main attraction in Abhaneri is a colossal stepwell called Chand Baori. Chand Baori is also the largest stepwell in India with a depth of 20 meters. Chand Baori is one of the finest examples of stepwell construction in India. 3500 crisscrossing steps go down the stepwell up to the water level.
The stepwell has 13 floors and was built in the 9th century by King Raja Chanda of the Nikumbh dynasty. Later, the Mughals added decorations, pavilions, arches, and carved structures to the stepwell. Chand Baori is also called Abhaneri Stepwell.
The symmetrical steps give a perfect geometrical pattern to the construction of the stepwell. The construction of the stepwell was such that the temperature inside remained cooler as compared to the outside heat. Royal family members as well as common people could use the stepwell.
2. Rani ki Vav, Patan, Gujarat
Rani ki Vav is a stepwell in the small town of Patan in Gujarat. This stepwell ranks among India's biggest stepwells and is famous for its incredible architecture. Rani ki Vav is one of the few surviving stepwells that still attracts tourists from all over the country.
Rani ki Vav was built on the orders of Queen Udayamati, who was the wife of King Bhimdev I, a ruler from the Chalukya dynasty. Queen Udayamati built the stepwell in memory of King Bhimdev I after his death. This is the reason why this stepwell is called Rani ki Vav (the Queen's Stepwell).
There are seven levels or floors of the stepwell. Each of these levels is exquisitely carved with images of Vishnu and his divine avatars or incarnations. This 11th-century stepwell bears the stamp of the Gurjara style of architecture. Today, it is one of the famous sightseeing places in Rajasthan. Due to its gigantic structure, elegant carvings, and incredible architecture, Chand Baori is a UNESCO World Heritage Site.
3. Agrasen ki Baoli, Delhi
Out of the innumerable Mughal-era monuments in Delhi, Agrasen ki Baoli is worth visiting for its enormous structure and archaeological value. Agrasen ki Baoli is a wonder to look at the first glance. A huge chasm suddenly opens up in the earth and we find steps descending like a stairway. The 60-meter-long stairway cuts into the earth and goes down three floors, each one lined with rows of arched chambers on both sides.
The current structure of Agrasen ki Baoli was rebuilt during the era of Tughlaq or Lodi rule in Delhi. The stepwell has 108 steps leading down. Maharaja Agrasen built this stepwell after whom it is named. Agrasen ki Baoli is beside Connaught Place, which is a busy commercial area in Delhi.
4. Adalaj Vav, Adalaj, Gujarat
One of the most beautiful stepwells in India is in Gujarat, and it is in a place called Adalaj, which is close to Gandhinagar. This stepwell is called Adalaj Vav and was originally built in 1498 by Rana Veer Singh of the Vaghela dynasty. But he was later killed in battle, and Mahmud Begada, who introduced Muslim and Persian styles of architecture to the stepwell, completed the construction of this stepwell.
There are many legends behind the construction of this stepwell. But all these legends point to Queen Roopba, who committed Sati in the stepwell. The stepwell is a masterpiece of architecture. There are several sculpted pillars and spacious halls. There are three floors and each floor is so spacious that a large number of people could gather at a time. The chambers and walls are decorated with carvings of gods, mythological deities, flowers, dancers, musicians, elephants, and women performing various chores.
Three staircases go down the stepwell. The spiral and circular design of this stepwell is its most wonderful aspect. When looked at from the bottom, the stepwell opens up to the sky. The construction of this stepwell was such that the temperature inside was five degrees lower than the temperature outside. Women would gather here and gossip and pray to the gods, in addition to drawing water from the stepwell.
5. Panna Meena ka Kund, Jaipur, Rajasthan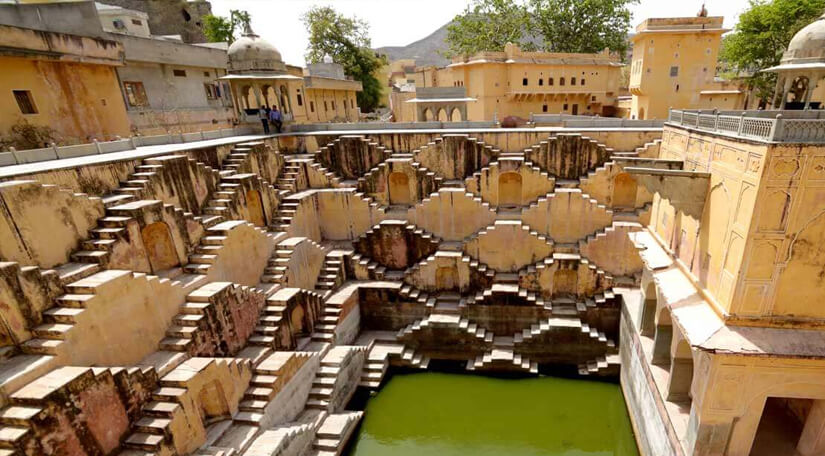 One of the famous stepwells in Jaipur is Panna Meena ka Kund. Other names of this stepwell are Panna Meena Bawri and Panna Mian Kund. The stepwell is elegant in structure and consists of a series of symmetrical steps which lead you to the bottom of the well. The depth of this stepwell is 200 meters and is no longer in use.
No one knows when this stepwell was constructed, but legends are famous about this stepwell. The criss-cross steps add visual appeal to this stepwell. This eight-story stepwell is still amazing for its construction.
6. Dada Harir Stepwell, Ahmedabad, Gujarat
Among the various stepwells in Gujarat, Dada Harir Stepwell is one of the best. A woman named Bai Harir Sultani, better known as Dhai Harir, was the superintendent of the royal harem of Mahmud Begada. She ordered the construction of this stepwell, which is now called Dada Harir Stepwell. Inscriptions tell that the stepwell was constructed in 1499 AD. The stepwell has a spiral and circular construction.
The stepwell is five stories deep and each floor has large halls and chambers which are supported by innumerable pillars. The stepwell has an open structure, and when looked at from the bottom, you can see the open sky above. The carvings on the pillars and the walls, spiral staircases, intricately carved panels, circular corridors, and arched entrances, are what make this one of the best stepwells to visit in Gujarat.
7. Toorji ka Jhalra, Jodhpur, Rajasthan
Jodhpur once had innumerable stepwells, out of which some remain today. Toorji ka Jhalra is one of the classic examples of stepwells you can still visit in Jodhpur. The stepwell was built by the queen of Maharaja Abhay Singh Rathore, in 1740. Pink sandstone was used in the construction of this stepwell.
The stepwell is 200 feet deep and has a series of symmetrical zigzag steps. These steps were designed in such a way that people could climb down to where the water was. The stepwell has many sculptures of dancing women, elephants, and water spouts in the shape of a cow's mouth.
The stepwell has many small chambers to keep a lantern during the night. The elegant carvings on the jharokhas and Chhatri designs lend an artistic style to this stepwell.
8. Rajon ki Baoli, New Delhi
Rajon ki Baoli is a stepwell in the Mehrauli Archeological Park in Delhi. The stepwell was built in 1506 on the orders of Daulat Khan, who was an administrator during the reign of the Lodi dynasty in Delhi. The stepwell was built for the use of masons. Some steps lead down to the water and walls on the east and west sides of the stepwell. The stepwell has several pillars, a courtyard, and arched verandahs.
9. Baoli Ghaus Ali Shah, Haryana
A stepwell named Baoli Ghaus Ali Shah is located in Farukhnagar in Haryana. it was built by Ghaus Ali Shah, who was a local chief during the reign of the Mughal Emperor Farrukh Siyar. The stepwell was built from stone, bricks, and lime plaster.
The stepwell resembles that of a Turkish Hammam in many ways. There is a water tank at the bottom and separate chambers for relaxation and bathing in the upper chambers. Women would come here to bathe and relax during the Mughal era. This monument is one of the many stepwells that were built during the Mughal period of Indian history.
10. Surya Kund Stepwell, Modhera, Gujarat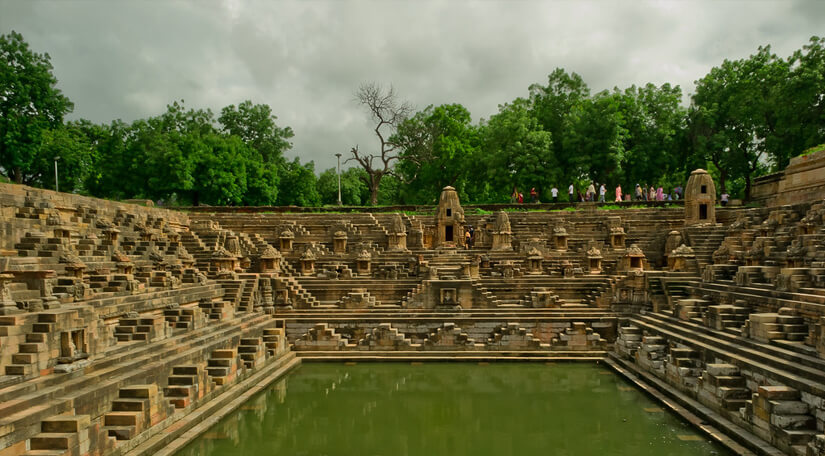 One of the many stepwells that you can visit in Gujarat is the famous Modhera Sun Temple. The stepwell near the temple is called Surya Kund and is named after Surya, who is the Hindu sun god.
The stepwell is rectangular and has steps leading to the surface of the water. There are 108 small shrines in this stepwell and some of the shrines are that of Ganesha, Lord Shiva, Sheetla Mata, and many other Hindu gods and goddesses.
There is a huge toran (arched gateway) in front of the tank, and you can cross this and come to the Sabha Mandap of the sun temple. The stepwell is part of the Modhera Sun Temple complex and is remarkable for its construction and sculptures.
11. The Pushkarinis of Hampi, Karnataka
Stepwells can be also found in the south Indian states and one such stepwell is in Hampi. Hampi is famous for its magnificent temples and Vijayanagara style of architecture. Pushkarinis have stepped water tanks in Hampi, which were built as sacred water tanks. Most temples had such Pushkarinis built near them. These water tanks were used for religious rituals and ceremonies. Unlike the stepwells in North India, Pushkarinis were used for religious purposes.
During festival times, idols of gods and goddesses were taken out of the temples for a coracle ride in these water tanks. Members of the royal family and priests used these water tanks. Rows of steps were built for people to come down and water channels were built to transport water. Famous temples like Achyuta Raya's Temple, Virupaksha Temple, Vittala Temple, and Pattabhirama Temple have such Pushkarinis built near them.
12. Mata Bhavani ni Vav, Gujarat
You can visit the stepwell called Mata Bhawani ni Vav in Ahmedabad Gujarat. The stepwell was built in the 11th century during the rule of the Chalukya kings. The stepwell is a wonderful architectural monument. The flight of stairs goes down to the bottom and there are several floors in this stepwell. The pillars and columns are sculpted with wonderful carvings.
There is a small shrine of Goddess Bhawani in the lower part of the stepwell. Pavillions have arches and brackets. This is one of the oldest known stepwells in India and was built before the founding of Ahmedabad.
13. Jachcha ki Baori, Rajasthan
The stepwell known as Jachcha ki Baori is situated near Narsinghji Temple in Hindaun. Legends say that Bhai Lakhi Rai Banjara built the stepwell. No one knows when it was built. But many stories about this stepwell make it famous. Some say that a saint once said that when a pregnant woman gives birth to a child, the stepwell will fill with water. People have claimed to have seen the reclining idol of a woman when the water of this stepwell is drained off for cleaning.
Another amazing thing that is famous about this stepwell is that its water is so pure that it can clean a cloth even without the use of soap. This is also the reason why this stepwell is called Jachcha ki Baori. The stepwell has a simple but artistic construction. There are four pillars on all four sides of this rectangular stepwell.
14. Shahi Baoli, Lucknow
The Shahi Baoli in Lucknow is a stepwell that was built by an architect called Nawab Asif-Ud-Din Daula and Kifayat-Ullah between 1784 and 1795. This stepwell was used as a water reservoir for the common people. The stepwell has five stories and it has artistic doorways, arched openings, and wonderful carvings. Today, this stepwell amazes everyone with its architecture and is a popular tourist spot in Lucknow.