Jammu and Kashmir have some of the most beautiful temples in North India. They are not just beautiful, but highly spiritual places. You can enjoy good scenery from these temples, and also experience the unique culture of these regions. Some of these temples are famous all over India. The temple architecture of these temples is also very beautiful. You can explore these temples on your visit to Jammu and Kashmir. Kashmir Tour Packages are a great way to visit these temples. You can include these temples in your Kashmir tour itinerary also.
1. Amarnath Cave, Pahalgam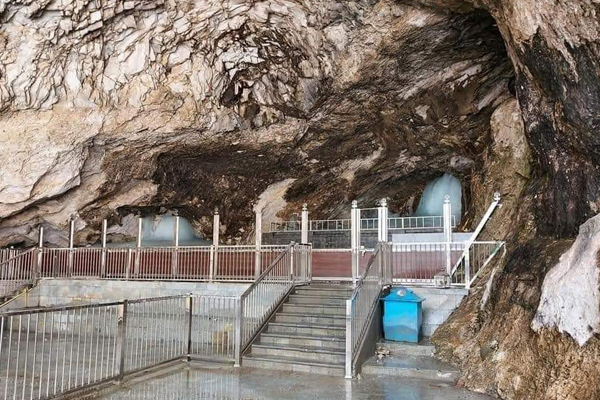 Amarnath Temple is one of the oldest temples in Kashmir. It is situated amid icy mountains, glaciers, and the snow-covered alpine region of Kashmir. Amarnath Yatra is a sacred pilgrimage to this Amarnath Tempe. Lakhs of tourists visit Amarnath Temple during this Amarnath Yatra in July and August every year. Amarnath Temple is famous for its naturally formed shiva linga which is entirely made of ice. The shiva linga is so wonderful that it changes its shape according to the waxing and waning of the moon. Amarnath Cave, is the place where Lord Shiva revealed the secret of his immortality to Goddess Parvati. Amarnath Cave is said to be the abode of a pair of pigeons who are said to be immortal. Tourists have seen these pigeons, and it is said that they overheard the secret of the immortality of Lord Shiva and they also became immortal.
Book Now: Amarnath Yatra Package
2. Vaishno Devi Temple, Katra
Vaishno Devi is one of the most famous temples in all of India. This temple is situated in Katra near the city of Jammu. The temple is on top of a hill called Trikuta Hill. Millions of tourists undertake a pilgrimage to Vaishno Devi, which is known as Vaishno Devi Yatra every year. They cover long distances on foot to reach the Vaishno Devi Temple. Goddess Durga is worshipped in this temple in the form of Vaishno Devi. Tourists either walk 13 km or take the help of horses and a pony to reach the temple. Navratri festival is celebrated in this temple for 9 days in which musicians, dancers, and artists come here from all over India.
3. Raghunath Temple, Jammu
Raghunath Temple is not just a single temple, but an entire temple complex with many different temples. It is dedicated to Lord Ram, who was the eighth incarnation of Lord Vishnu. The name of this temple comes from one of the names of Lord Ram which was Raghunath. There are many temples of various gods and goddesses of Ramayana. This temple took 25 long years to complete. There is a museum inside with various lingams and shaligrams. The temple is a mix of Hindu and Mughal architecture. Raghunath Temple is a must-visit temple on your trip to Jammu.
4. Kheer Bhawani Mata Mandir
Kheer Bhawani Temple is a very famous Hindu temple near Srinagar. This temple is a temple of Kheer Bhawani Mata, who is also famous by so many other names such as Ragnya Devi, Mata, Bhagwati, Devi, etc. The name of this goddess comes from an offering of Kheer which is sweet rice pudding. The Kashmiri Hindus have great faith in this temple. Many Hindu families in Kashmir regard the goddess as their kula Devi. The mela or religious fair that is held in this temple is as big as the Amarnath Yatra. There is a holy spring here which is known to change its colors. People believe that the changing colors are the divine forms of the goddess.
5. Machail Mata Mandir
Machail Mata Mandir is a very holy and famous temple in Jammu. The temple deity is Machail Mata, who is also the divine form of Durga. Machail Mata Temple is located in a very picturesque settings. Chenab river flows near the temple. The mountains and valleys that surround this temple make it a very scenic temple. Locals firmly believe that the goddess appeared out of nowhere and it is a swayambhu (self-originated) fire flame. The Chhadi Yatra is a huge procession that takes place during August every year. In this event, devotees to Machail Mata Temple carry a chhadi, or mace.
6. Martand Sun Temple
Martand Surya Temple is one of the most ancient temples that you can still visit on your trip to Jammu and Kashmir. Lalitaditya Muktapida established Martand Surya Temple in the 8th century. Martand Surya Temple is a sun temple that was one of the grandest temples in ancient India. Although it is in ruins, there are still some structures that are preserved. Among these are the pillars, courtyards, carvings, and smaller shrines around the main temple. The main temple is a fabulous and grand marvel of architecture and there are many small temples in this temple complex. There are various sculptures of the gods and goddesses of Hinduism like Surya (sun god), Vishnu, Ganga, Yamuna, and others.
7. Shankaracharya Temple, Srinagar
Shankaracharya Temple is among the most famous temples in Srinagar. This is also one of the oldest temples and was built in 371 B.C. This temple has Kashmiri architecture. Shankaracharya Temple is on a hill and from the top, you can have panoramic views of the Himalayan mountains and lakes of Kashmir Valley. Adi Shankaracharya once visited Kashmir and this temple is named after this great Indian saint. During the Amarnath Yatra season, pilgrims also visit this temple.
8. Ranbireshwar Temple, Jammu
Ranbireshwar Temple is among the biggest Shiva temples in North India. The temple was built in 1883 by the former king Raja Ranbir Singh, who was a great devotee of Lord Shiva. Main attraction in this temple is the 7 feet-high shiva linga which is made entirely of crystal stones. There are 12 other lingas made of crystal stone in this temple. Images of Hindu gods like Ganesha and Kartikeya on the walls of this temple. There are several sculptures also in this temple. Ranbireshwar Temple is a fine example of the traditional architecture of Jammu and Kashmir.
9. Kol Kandoli Temple, Jammu
Kol Kandoli Temple is a very old temple in Nagrota, near Jammu. Vaishno Devi is the chief Hindu goddess of this temple. It is said that the goddess appeared here in the form of a small girl and meditated here for 12 years. Tourists have great faith in this temple, and they stop here to pray to the goddess before commencing their Vaishno Devi Yatra. The goddess Vaishno Devi is worshipped here in the form of a Pindi or shrine made of stone. The temple is also important as pilgrims get a first glimpse of the Mata Vaishno Devi and her Kol Kandoli or bowl of marbles.
10. Shiv Khori, Jammu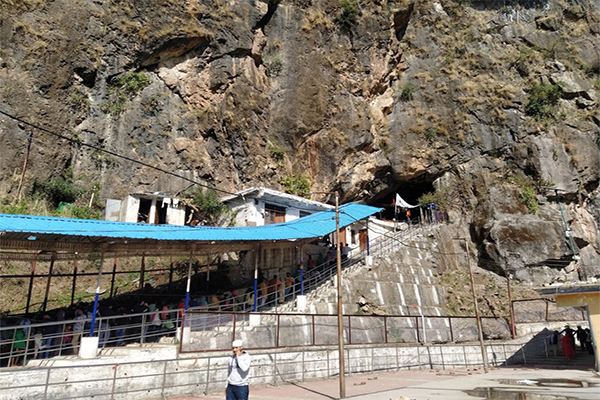 Shiv Khori is a naturally formed cave in Jammu and Kashmir. The cave is immensely holy and according to Hindu mythology, Lord Shiva used his trident to form this cave. The cave is deep and tourists have to crawl through the cave to enter the main shrines inside. There are images of many Hindu gods and goddesses like Shiva, Parvati, Vishnu, Ganesha, Nandi, etc. Tourists also can spot pigeons here which is said to be a lucky sign. Mahashivratri is celebrated with great festivities at Shiv Khori. A huge number of pilgrims and devotees visit Shiv Khori every day to seek the blessings of the supreme Hindu gods.