Bihar is famous for its places of worship and ancient archaeological sites. But it is the temples of Lord Shiva that are most striking in their architecture and history. These Shiva temples have been there for many centuries and still are great places of worship for Hindu devotees of Lord Shiva. There are so many legends that are woven around these temples and each one of them lends a mystic lure to these temples.
The Shiva temples in Bihar are not concentrated in a single place but are spread out throughout the state. You will find a Shiva temple in every district of Bihar. But among all the Shiva temples, the top 10 Shiva temples in Bihar are given below and are a must-visit.
Read More: Bihar Tour Packages
1. Ugna Mahadev, Bhawanipur Madhubani
The temple of Ugna Mahadev is in the village called Bhawanipur in the Madhubani district of Bihar. The temple of Ugna Mahadev is a Shiva temple that has a very interesting legend that is connected to the great poet-saint of Maithili called Kavi Vidyapati. The great poet was also a saint and philosopher, and was a great devotee of Lord Shiva. Lord Shiva was so happy with his devotion that he came to Vidyapati in the guise of an ordinary servant. Once when both of them were going to the king's court, they fell thirsty. Since there was no river nearby, Lord Shiva decided to open his lock of hair and gave the water of the holy river Ganga to Vidyapati. The poet-saint immediately recognized the taste of the water to be that of the Ganga.
He recognized Ugna to be a form of Lord Shiva and fell at his feet. Lord Shiva then revealed his true form to Vidyapati. But Lord Shiva left Vidyapati and said that he will remain there in the form of a shiv linga. Since then, the temple was named after Ugna, which was the name of Lord Shiva in the guise of a servant. The current temple structure was built in 1932. The temple was renovated and restored and many structures were added to it. Among them are the Yagnashala and Sanskarshala. There is a lake on the temple premises and it is said that Lord Shiva himself drank water from this pond. The exact location of Ugna Mahadev Temple is 14 km from Madhubani.
Foundation year: 1932
Darshan timings: 6 am to 9 pm.
Best season: Whole year
2. Ajgaibinath Mandir Sultanganj
In Bhagalpur district of Bihar, the famous Ajgaibinath Mandir has a very old history. The temple is built on a rock and there are inscriptions and rock sculptures that date back to the Pala dynasty that ruled during the 8th to 12th centuries. Ajgaibinath Mandir is a Shiva temple that is on the banks of the Ganga river. The temple is also famous as Gaibinath Mahadev Temple. Locals believe that the shiva linga here has originated on its own and is a swayambhu Mahadev shivlinga.
According to popular legends, Lord Shiva received his bow named Ajgaivi at this place, and hence the name came to be known as Ajgaibinath Mandir. Devotees take a ferry boat from Murli Hills in Sultanganj to reach the temple. Festivals are celebrated with great zest and devotional fervor in this temple. Devotees come here from far-off places.
Here every year lakhs of pilgrims lift water for Baba Baidyanath Dham (one of the 12 jyotirlinga), which is known as Kavad Yatra.
Festivals: Mahashivratri, Ram Navami, Buddha Poornima, Vasant Panchami, Dussehra, Bhadra Poornima
Darshan timings: 9 am to 12.30 pm, 5 pm to 8 pm
Best season: February to May, July to September
3. Brahmeshwar Nath Mandir, Buxar
The temple of Shiva known as Brahmeshwar Nath Mandir is very famous in the Buxar region of Bihar. The most interesting thing about this temple is that the temple faces the west direction. All other Shiva temples are east-facing. The shiva linga in this temple is a self-originating one and is hailed as a swayambhu shiva linga. There are no historical records that can tell when this temple was constructed. But devotees come from all over Bihar come to this temple and take part in prayers and festivals. Special pujas are performed in this temple and devotees have huge faith in this temple. According to mythological legends, Lord Brahma established the shiv linga. Mention of this temple is even found in the Puranas of Hindu mythology.
The temple is so sacred that anyone who prays here with true devotion achieves all four goals of human life, which are Arth (wealth), Dharma (righteousness), Kama (pleasure), and Moksha (liberation). This is also the reason why this temple is also famous as Manokamna Mahadev. There is a famous story of how Mohammed Ghazni tried to destroy this temple. But he had to return empty-handed as a miracle occurred which made the door of the temple turn to face the west direction in a single night. Lakhs of devotees do Jal Abhishek in this temple.
Darshan timings: 6 am to 7 pm
Best season: October to December
Festivals: Mahashivratri
4. Baba Garib Nath, Muzaffarpur
One of the Shiva temples you can visit in Muzaffarpur is Baba Garib Nath Temple. The temple is also famous by the name Baba Garib Sthan Mandir. There is a very interesting legend behind the temple. The shiv linga in the temple came from the seven peepal trees that stood here once. When a man was cutting down the trees, he saw blood oozing from the trees. A large shiv linga was found here. Baba Garib Nath appeared in the dream of the landowner. The Baba was a divine incarnation of Lord Shiva. Baba Garib Sthan Mandir is a very old temple and is known as Deoghar of Bihar. Devotees come here from nearby areas and far-off places to pray to the shiv linga and grant their wishes.
Darshan timings: 4 am to 12 noon, 2.30 pm to 10 pm
Festivals: Mahashivratri
5. Kusheshwar Dham, Darbhanga
The temple in Kusheshwar Mahadev has a very interesting story behind it. According to popular legends, when some shepherds were grazing their cattle, a shepherd saw his cow pour milk at a place. When the place was dug out, a shiv linga came out. Since it came on its own, the shiv linga is a swyambhu shiv linga. The temple where this shiv linga is established is known as Kusheshwar Dham. Locals built a thatched temple here in 1902. Some local traders got together and built a proper temple here in 1970. Some say that the name of the temple comes from Kush, who was the son of Lord Ram. Kusheshwar Dham is named after a king called Kushdhwa.
Baba Kusheshwar Nath is the main deity of this temple. Religious festivals are celebrated here with great devotion and festivities. Devotees come from nearby places like Jharkhand, West Bengal, and other neighboring districts and also from places in Nepal. They perform Jal Abhishek on the shiv linga and pray to Baba Kusheshwar Nath to bring them prosperity and good health.
Festivals: Mahashivratri, Narak Nivaran Chaturdashi
6. Koteshwarnath Dham, Gaya
One of the famous temples in the city of Gaya is Koteshwarnath Dham. A famous mythological legend behind Koteshwarnath Dham has made this one of the historic temples in Bihar. Legends tell of how Usha, the daughter of the demon king Vanasur, built the temple of Lord Shiva, to get married to Aniruddha, the son of Lord Krishna. Usha ultimately got married to Aniruddha. People have been worshipping this temple since that time. The temple is said to grant the wishes of those who pray here. Sawan is the month when devotees come here in lakhs and pray at the temple.
Darshan timings: 5 am to 8 pm
Best time to visit: October to March
7. Mahendranath Temple, Siwan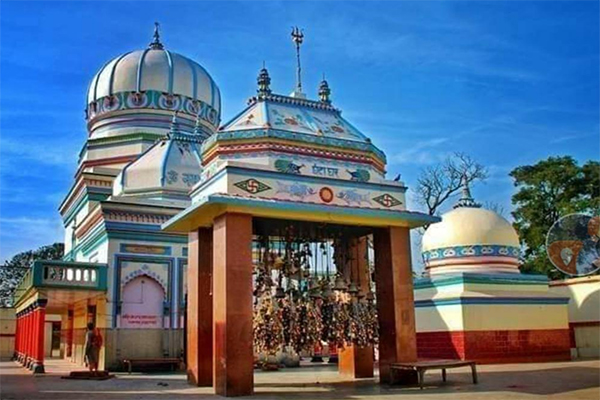 One of the well-known Shiva temples in Bihar is the Mahendranath Temple. There is an amazing story of how the shiv linga in the temple got established. The king of Nepal, Mahendraveer Vikram Sahdev built this temple in the 17th century. He named it Mahendranath Temple. The temple is famous because the magical powers of this temple can cure leprosy. King Mahendraveer was finding a cure to get rid of leprosy. He could not find a cure anywhere in his kingdom. Once he was traveling through Bihar where he got tired and sat under a huge peepal tree. He looked out for water to wash his face and hands. He found a pit of water and washed his hands with the water. They was amazed to find that he got cured of leprosy with the water from the pit.
Lord Shiva appeared in his dreams and instructed him to dig the place. The king found the shiv linga at the place and also built a temple of Lord Shiva. The pond in the temple is said to have been dug out by a plow and bull without using spades. The temple is famous in Bihar and many famous personalities have visited the temple. There are many small temples built for different devas like Parvati, Kaal Bhairav, Lord Vishwakarma, Ram, Sita, Hanuman, etc. There is a pond where migratory birds come during winter. People take water from this pond to offer it to the shiv linga.
Festivals: Mahashivratri, Navratri, Dussehra
Best time to visit: October to December
Darshan timings: 5 am to 12 noon, 4 pm to 9 pm
8. Harihar Nath Mandir, Sonpur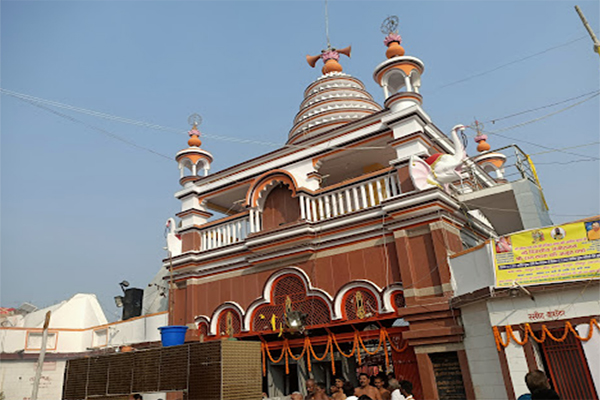 Harihar Nath Mandir is one of the most unique temples in the world. The amazing fact about this temple is that the idol is half Shiva and half Vishnu. Shiva is known as Har and Vishnu is known as Hari. That is the reason why this temple is called Harihar Nath Mandir. Some believe that it was done to bring the two sects – Shaiva and Vaishnav together. It is popularly believed that Lord Brahma established the idol in this temple. According to some, Lord Ram stayed here along with Sage Vishwamitra for some time while on his way to Janakpur. Sonpur, where this temple is situated, is also famous for its cattle fair. The story of the elephant and the crocodile from Hindu mythology is also a famous legend that is connected with this temple. One day a crocodile caught an elephant who was drinking water from a pond. A fight followed between the two. When the elephant started to grow weak, Lord Vishnu threw in his Sudarshan Chakra between the two. Since then the cattle fair is popular here. Kartik Purnima, on which day, the war ended, is considered to be a very festive religious event.
Festivals: Kartik Purnima
9. Chaumukhi Mahadev, Vaishali
The temple of Chaumukhi Mahadev is in the historic city of Vaishali in Bihar. The unique thing about this temple is that the shiv linga has four faces that point in four directions. The faces are that of Shiva, Vishnu, Brahma, and Surya. The temple is also famous as the Vikramaditya Chaumukhi Mandir. The temple is said to have been built somewhere around the 5th century. Lord Ram is said to have built the temple while he was on his way to go to Mithila to wed Sita. The temple is said to have immense historical value. Even Buddha and Mahavira stayed in this temple for some time. Mahashivratri is celebrated here in all religious glory. The temple is visited by lakhs of pilgrims every year and especially, during Mahashivratri.
Darshan timings: 5 am to 9 pm
Best season: October to December
10. Mundeshwari Dham, Kaimur
One of the very ancient Shiva temples in Bihar is Mundeshwari Dham in Kaimur. The temple was constructed somewhere around 389 AD and has an octagonal shape. Goddess Durga is worshipped in the form of Devi Durgeshwari. Lord Shiva According to historians and archaeologists, the stone inscriptions, carvings, and sculptures dating back to the historical era of the Gupta dynasty. The main attraction of this temple is the grand idol of Goddess Mundeshwari. There was a shrine of Lord Shiva and he was worshipped here in the form of Mandaleshwar. The amazing fact is that the Chaturmukha Shivlinga appears to change its color at different times of the day. There are many other sculpted idols of Hindu gods like Surya, Vishnu, Ganesha, Yamuna, etc. The temple is one of the most ancient temples in India.
Mundeshwari Temple is famous as it was here at this place that the goddess killed the fearsome demons called Chand and Mund. Animal sacrifice is done here at this temple but no animal dies here. When a goat is brought here, the pujari (priest) sprinkles some rice grains after touching the idol. The goat immediately becomes unconscious for some time. After the rice grains are sprinkled once again, the goat regains consciousness and gets up. This miracle happens only at this temple. The pillars have engravings on them. Some sculptures of this temple can be seen in Patna Museum. Rituals are still done here at this temple, though this temple is centuries old.
Darshan timings: 6 am to 7 pm
Festivals: Mahashivratri, Navratri, Ram Navami
Best season: October to December