Uttar Pradesh is famous for its pilgrimage centers and sacred temples. Two of the avatars of Lord Vishnu, Ram and Krishna, took birth in the holy land of Uttar Pradesh. Such is the glory of its temples, that some of them are even mentioned in the holy Hindu Puranas and Vedas. The temples in Uttar Pradesh are visited not only by Indians but foreign tourists as well. The places where these temples are built, also are immensely holy and ancient cities of India. Varanasi, Vrindavan, Mathura, and Ayodhya are some of the oldest Indian cities that still exist even today. Uttar Pradesh tour packages are a great way to explore all of these temples. Some of the top 10 temples to visit in Uttar Pradesh are mentioned below.
1. Kashi Vishwanath, Varanasi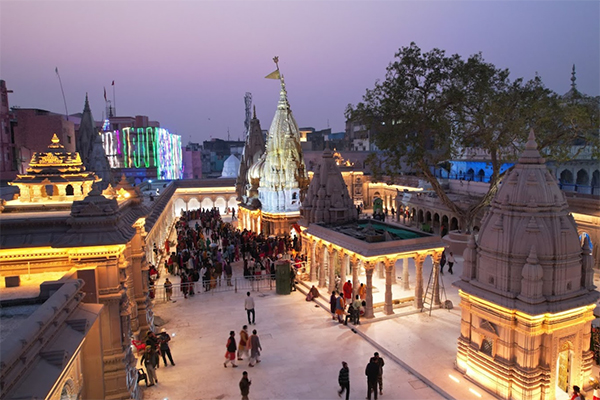 Kashi Vishwanath Temple in Varanasi is so holy that worshipping the Shiva linga here liberates one from all sins and gives eternal happiness. The main deity of this temple is Lord Vishweshwar who is an incarnation of Lord Shiva. Located on the banks of the Ganges, Kashi Vishwanath Temple is even mentioned in the Hindu Puranas or the holy scriptures. Muslim invaders destroyed Kashi Vishwanath Temple so many times. But every time it was destroyed, it was rebuilt again with more structures. Maharani Ahilyabai Holkar built the current structure of this temple in 1780. Some of the greatest Hindu saints and philosophers have visited Kashi Vishwanath Temple and the most famous among them are Adi Shankaracharya, Swami Vivekananda, Ramakrishna Paramhansa, Guru Nanak, Goswami Tulsidas, and others. Prime Minister Narendra Modi recently inaugurated Kashi Vishwanath Corridor which connects the temple with the main bathing ghats in Varanasi.
Opening time: 2:30 AM
Mangala Aarti: 3-4 AM
Darshan: 4-11 AM / 12 noon – 7 PM
Closing time: 11 PM
2. Shri Ram Janam Bhoomi, Ayodhya
Ayodhya is the place where Shri Ram was born and it is here that he ruled Ayodhya for many years. Shri Ram Janmabhoomi Temple in Ayodhya is built at the same place where Lord Ram took birth. Lord Ram is one of the nine avatars or divine incarnation of Lord Vishnu. Shri Ram is the main deity of this temple in Ayodhya. Hindus have a huge and deep devotion to Shri Ram and they worship Ram along with his wife Sita, younger brother Lakshmana, and Hanuman, one of the nine immortal beings called Chiranjeevi. Shri Ram Janmabhoomi Temple is being rebuilt at a grand scale and when it is completely built, it will be a much larger temple than the present one.
Darshan: 7 AM to 11 AM / 2 to 6 PM
3. Shri Krishna Janambhoomi, Mathura
Mathura was the place where Lord Krishna was born. Shri Krishna Janambhoomi Temple is built at the same place where Lord Krishna was born. The exact prison where he was born is still visited by thousands of worshippers and the stone walls are also intact. It is the proof of the cruel king Kansa who tried to kill Lord Krishna but ultimately was killed by Lord Krishna himself. The prison cell is now converted into a temple. Many deities are worshipped here along with Lord Krishna. At the event of Janmashtami, lakhs of visitors visit this temple to savor every moment when Lord Krishna took birth on this planet.
Darshan: 5 AM to 12 noon / 4 PM to 9:30 PM
Mangala Aarti: 5:30 AM
Sandhya Aarti: 6:00 PM
4. Dwarkadheesh Temple, Mathura
Mathura is famous for its Krishna temples. One of the most famous among them is the Dwarkadhish Temple. Lord Krishna is worshipped here in the form of Dwarkadhish or the Lord of Dwarka. Seth Gokul Das Parikh built Dwarkadhish Temple in 1814, as he was a great devotee of Lord Krishna. Lord Krishna and his eternal lover Radharani are worshipped here in this temple. Idols of other Hindu deities too are present in this temple. Dwarkadhish Temple has colorful paintings and sculpted idols. The architectural beauty of the temple is a joy to look at. At the time of Janmashtami, Holi and Diwali, there is a grand celebration in this temple. Devotional songs are sung and visitors join in the aarti.
Darshan: 6:30 AM to 10:30 AM / 4 PM to 7 PM
Mangala Arti: 6:30 AM to 7 AM
Shayan Arti: 6:30 PM to 7 PM
5. Sarnath Temple
Sarnath Temple is one of the most significant temples in Uttar Pradesh. It is a Buddhist archaeological site and is one of the first places in India where Buddha preached his sermons after he attained enlightenment. Sarnath Temple is close to the city of Varanasi. The temple was built in the 3rd century BC and is also one of the oldest temples in Uttar Pradesh. There are many stupas here like Dhamek Stupa and Chowkhandi Stupa. The stupas still have preserved the remains of Lord Buddha and they are built at the place where Lord Buddha met his five disciples. Tourists from all over the globe visit Sarnath Temple in Uttar Pradesh for its immense archaeological value and heritage status.
Museum timing: 9 AM to 5 PM (Closed on Fridays)
Sound & Light Show timing: 7:30 PM to 8 PM
6. Maa Vindhyavasini Temple, Vindhyanchal
Maa Vindhyavasini is said to be one of the divine incarnations of Goddess Durga. It is the main deity of Vindhyavasini Temple in Mirzapur. Maa Vindhyavasini is also worshipped here as Mahishasura Mardini, the slayer of the demon Mahishasura. Vindhyanchal is between two very important and sacred cities of Uttar Pradesh and those are Prayagraj and Varanasi. The temple is of great mythological importance to people living in Uttar Pradesh and Bihar. They visit the temple every day and believe that Maa Vindhyavasini will bestow them with happiness and prosperity. Maa Vindhyavasini Temple is located on the banks of the Ganges and is one of the highly revered Shakti Peeths of the Mother Goddess in India.
Timings: 5 AM to 12 noon / 1:30 PM to 7:15 PM / 8:15 PM to 9:30 PM / 10:30 PM to 12 midnight.
7. Naimisharanya Temple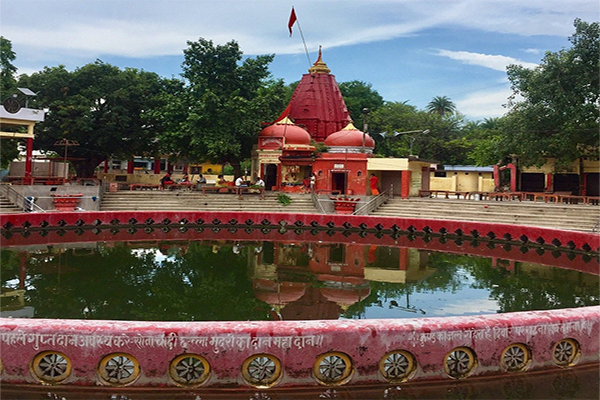 Naimisharanya Temple is one of the self-manifested or Swayamvyaktha Kshetra temples in Uttar Pradesh. Lord Vishnu is worshipped here and it is one of the eight temples of Lord Vishnu that originated themselves. Naimisharanya Temple is regarded as one of the holiest temples in Uttar Pradesh. It is one of the 108 immensely sacred temples dedicated to Lord Vishnu. Many mythological legends are associated with this temple. There is a sacred kund in this temple which is said to have been formed out of the Chakra of Lord Vishnu. Naimisharanya Temple is on river Gomati and it is believed that the trees around the temple are forms of Lord Vishnu and other sages.
Darshan: 5: AM to 12 noon / 4 PM to 9 PM
8. Gorakhnath Temple, Gorakhpur
One of the most important and religious temples in Uttar Pradesh is the Gorakhnath Temple in Gorakhpur. Gorakhnath was a mystic saint who traveled across India and helped found the Nath Sampradaya (community). Gorakhnath Temple is built at the place where the great saint meditated and eventually took Samadhi. It was a disciple of Matsyendranath, who propagated Hath Yoga. The temple has prayer halls, accommodation rooms, long corridors, and chambers. There are idols of various Hindu gods and goddesses. The eternal flame in this temple is believed to be burning since ancient times. Makar Sankranti is celebrated with great devotion in this temple. Even the king of Nepal visits the temple during this occasion.
9. Shri Banke Bihari Temple, Vrindavan
Banke Bihari Temple in Vrindavan is one of the most visited temples in Vrindavan. The main deity of this temple is Banke Bihari, another name for Shri Krishna. The great Indian saint Swami Haridas established the main idol in this temple in the 16th century. One strange ritual in this temple is that Mangala Aarti or the morning aarti is not performed. This is because Swami Haridas did not want to disturb the sleep of Banke Bihari in the morning. Mangala Aarti is performed only once a year at the time of Janmashtami. Aarti is performed only when the clock strikes midnight. Devotees can have a glimpse of the feet of the lord only at the time of Akshay Tritiya.
Darshan: 7:45 AM to 12 noon / 5:30 to 9 PM
Shringar Aarti: 8 AM and 9:30 PM
10. Doodheshwar Mahadev Mandir, Ghaziabad
Doodheshwar Mahadev Mandir is one of the most sacred Shiva temples in Ghaziabad, Uttar Pradesh. The temple is self-originated and is of great mythological and historical importance. Lord Shiva is worshipped here as Doodheshwar Mahadev. There are many legends as to how this temple came into being. Chhatrapati Shivaji Maharaj who was the founder of the Maratha Empire renovated this temple after receiving the blessings of Doodhesshwar Mahadev. Doodheshwar Mahadev Temple is even mentioned in the Puranas.
Darshan: 4 AM to 12 noon / 5 PM to 9 PM.