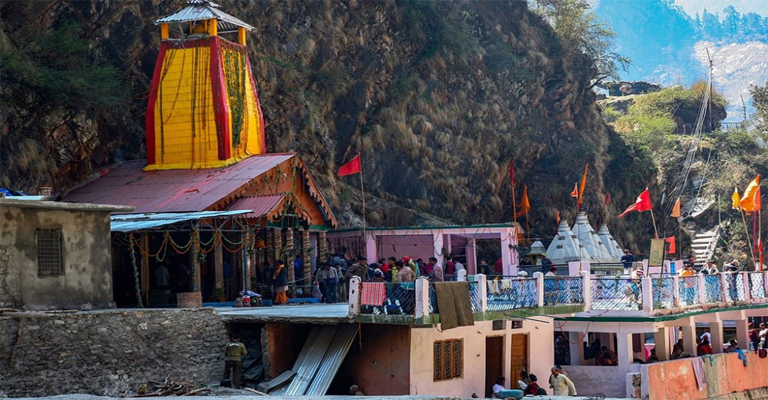 Yamunotri weather is never too hot to make you forget your woolens. The average temperature of Yamunotri ranges from 15°C to 20°C and in chilly winters, goes below zero degrees or even more. Yamunotri weather can be very tricky and if not well known about, might cause hindrance to your yamunotri yatra.
Yamunotri in Summers (May to June)
The temperature remains cool during the summer with a maximum average temperature of 20°C and chilly night hours. However, though it is cool, the weather remains quite pleasant with frequent rain showers. The gates of Yamunotri dham also opens during this time after remaining closed for the long chilly winters. This time is thus very suitable for pilgrimage and tourism and is considered as the best time to visit Yamunotri.
Yamunotri in Monsoons (late July to August)
Yamunotri, being a hilly region, makes it extremely difficult for the pilgrims to reach the temple due to the frequent landslides. Moreover, the area also experiences heavy rainfall which becomes a hindrance to continue traveling for the pilgrims. This is the reason that the pilgrims are suggested not to travel during monsoon.
Yamunotri in Winters (November to April)
The period from November to March-end marks the beginning of winter in Yamunotri. The weather conditions worsen and it becomes very chilly and freezing cold, accompanied by snowfall, during this time. It is going to be extremely difficult for the pilgrims to travel and moreover, Yamunotri temple also remains closed due to heavy snowfall. So, only pro-trekkers and mountain climbers only go on their expeditions during this time.
Best time to visit Yamunotri
The best time to visit yamunotri is during the months of May and June. If you want to take a trip for Yamunotri Dham without rush, winter season is the best September and October when the weather remains pleasant and comfortable for traveling.
Current Yamunotri Weather Forecast