Uttarakhand is a state of plaintiffs. Here the valleys always fascinate us with new scenes. Some people come to Uttarakhand for pilgrimage, while some people visit. There are mountains of snow, there are beautiful valleys, there are mesmerizing bugyal and waterfalls are innumerable. Although everywhere in Uttarakhand is worth seeing, but Chamoli is the place where beauty is welcoming you as soon as you reach.
Chamoli is a beautiful city surrounded by mountains situated in the central Himalayas. There are religious places in Chamoli on one side and hill stations, lakes and rivers on the other side. The velvet meadows add to the beauty of the place. Chamoli of Garhwal Mandal is full of natural beauty. The main river of Chamoli is Alaknanda. Spread over 3525 square miles, Chamoli has every dimension of beauty in its lap. This is the reason why Chamoli is called the pride of Uttarakhand. We are telling about such very beautiful places here.
1. Badrinath Dham
Badrinath Dham is the main religious place of the country. Badrinath Dham is dedicated to Lord Vishnu which was founded by Shankaracharya. It is believed that the Ganges came to earth after its descent in 12 streams, one of which is Alaknanda. There is also a belief that Lord Vishnu had done severe penance here for many years, but during the penance, heavy snowfall started. To save Lord Vishnu from the snow, Goddess Lakshmi took the form of a plum tree. After penance, when Lord Vishnu came to know that Goddess Lakshmi had protected him, he said that from today onwards Goddess Lakshmi will also be worshiped with me in the name of Badri. Lord Vishnu and Mata Lakshmi are worshiped in Badrinath Dham.
Find More: Badrinath Travel Packages
2. Hemkund Sahib
Hemkund Sahib is a religious place of Sikhs. Situated at an altitude of about 4632 meters above sea level, this place is surrounded by seven mountain ranges. There is a specific type of Gurudwara here. There is a lake nearby in which people who reach here take bath. It is said that the 10th Guru of the Sikhs, Gobind Singh did penance at this place. It snows here throughout the year. From October to April the road is closed due to snowfall and in May the road is cleared.
3. Valley of Flowers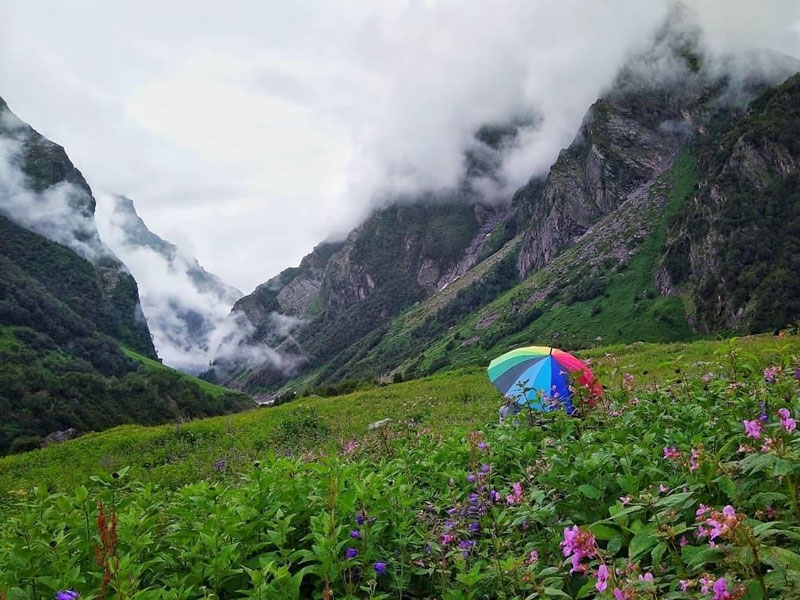 The Valley of Flowers is no less than a paradise for nature lovers. This valley of the Himalayan range is full of different species of flowers according to the season. There is a legend about this too. It is said that Hanuman came here to take Sanjeevani to protect Lakshmana. There are 521 species of flowers in this valley. The Valley of Flowers was declared a National Park in 1982 and UNESCO has also declared this valley as a World Heritage Site.
Find More: The Valley of Flowers Packages
4. Vishnu Prayag
Vishnu Prayag is the confluence of Alaknanda and Dhauli Ganga. This place is situated at an altitude of about 6,000 feet above sea level. The distance from Vishnu Prayag to Joshimath is about 12 kms. is.
5. Nand Prayag
Nand Prayag is the confluence of the Alaknanda and Nandakini rivers and is a major pilgrimage center for Hindus. This place is situated at an altitude of about 2805 feet above sea level. One can have darshan of Lord Gopal in Nand Prayag. Nand Prayag also has its own religious belief.
6. Joshimath
Joshimath is more famous for its beauty than religious belief. The surrounding green fields, snow-clad mountains are the center of attraction for the people. There is also a temple of Lord Narasimha in Joshimath, which can be seen. Chopta-Tungnath is reached through Joshimath.
7. Auli
Auli is a very beautiful hill station in Uttarakhand. Auli is a famous tourist spot for its beauty and snow, besides Auli is also known for skiing. This place is situated at an altitude of 2800 meters above sea level. Auli is a popular hill town with apple orchards, old oak and deodar trees. The clean environment here makes it even more beautiful. Many people also come here for trekking.
Find More: Auli Holiday Travel Package
8. Gopeshwar
Gopeshwar is a famous religious place of Chamoli. Gopeshwar has its own uniqueness among the main pilgrimage sites of Hindus. Gopeshwar has a long chain of Shiva temples. Yet the ancient temple is dedicated to Shiva.
9. Panch Badri
Panch Badri is a group of five Badris. The incarnation of Lord Vishnu is worshiped by five different names and at five different places in Badrinath, the city of Badrinath. The five Badris are as follows: Badri Vishal, Bhavishya Badri, Yogdhyan Badri, Vriddha Badri, Adi Badri
10. Mana Village
Mana, the last village of India, is situated at an altitude of 3 km from Badrinath. This village is situated on the border of India and Tibet. Mana village is famous for its cultural heritage as well as many other reasons. The people of the Randpa caste live in this village. Earlier, very little was known about this village but after the construction of paved roads, everyone knows about it.
How to Reach Chamoli?
If you want to see these places, then come to Dehradun by bus and then book a car from here or go by roadways bus. Jolly Grant Airport is Dehradun for arriving by flight. The distance of Chamoli from here is about 221 kms. is. The nearest railway station to Chamoli is Rishikesh Railway Station. Rishikesh to Chamoli distance is 105 kms. is. To reach Chamoli, you have to go by road.