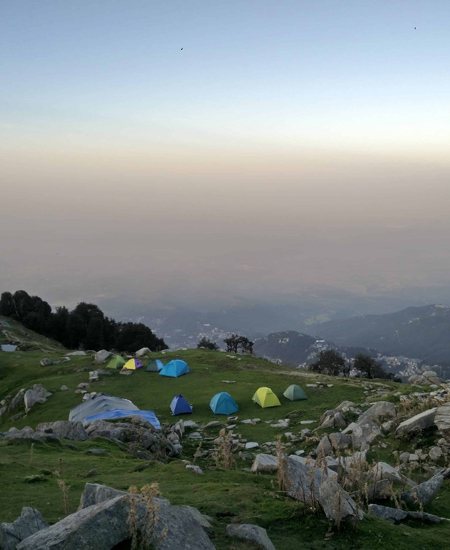 Discover Himachal Pradesh with Himachal Trek Packages by Shrine Yatra. Himachal Pradesh is a trekker's paradise. Its mountain treks take you to an altitude of 4000 ft to 20000 ft and are a huge playground for trekking adventures. As you jump across river streams of the Beas and tread on offbeat mountain paths, you discover the joys of going on journeys. You see waterfalls cascade down mountains, experience the simple pleasures of camping, and meet Himachali nomads who are out grazing their sheep on green pastures. The nights are cold but you can count the stars and sit by the roaring campfire, sipping on a cup of coffee and chatting with friends.
Trekking packages in Himachal are about daring to do something extraordinary. Trekking tours in Himachal Pradesh are for all levels of fitness. There are treks like Parang La Trek, Friendship Peak Trek, Pin Parvati Pass Trek which are the most difficult. Some treks are less difficult like Hampta Pass Trek, Deo Tibba, Buran Ghati Trek. Treks like Prashar Lake, Bhrigu Lake, Nag Tibba are easy. There are other trekking places in Himachal like Kheerganga Trek, Chandrakhani Pass Trek, Triund Trek which are most popular with trekkers.
Himachal Pradesh Trek Packages
Shrine Yatra offers all the popular hiking trails in Himachal Pradesh. Besides exploring these Himachal trekking places you will visit famous villages like Malana, and camp overnight at meadows and valleys. If you like trekking and visiting sacred places, then there are treks like Kinnar Kailash Shivlinga Trek and Shrikhand Mahadev Trek. All Himachal Trekking Packages are best to see places like Chandratal, Bhrigu Lake, Prashar Lake, besides many more. Adventures don't stop here, though. You get once-in-a-lifetime opportunity to trek on high-altitude mountain passes and see the mesmerizing beauty of meadows (bugyal, in Uttarakhand). You can pitch a tent and camp in places that are hidden from normal tourists.
So prepare to go on a never-before trekking experience of your life in Himachal Pradesh. We have come up with the top trekking routes in Himachal Pradesh. Whether you are going for a winter trek, road trip, hiking. Shrine Yatra will provide you with info, taxi services, accommodation, meals, and every possible help you need for trekking.