The Uttarakhand government announced the registration date for Chardham Yatra 2023 during a recent meeting. Garhwal Commissioner Sushil Kumar met the representatives of various departments and confirmed this during a meeting held in Rishikesh. Online and offline registration for Char Dham Yatra 2023 will start on 20th February 2023.
Pilgrims can now register themselves through a single mobile application of the Transport and Tourism Department. The use of only one app will reduce confusion and trouble among pilgrims and also help local authorities in conducting the yatra smoothly.
Early registration for Char Dham Yatra 2023
Pilgrims can have enough time to register themselves for Char Dham Yatra 2023. The registration process will start early as compared to previous years when the registration process started in April. Pilgrims had to face a lot of trouble during registration.
Many times it happened that online servers got hanged and pilgrims could not register for Char Dham Yatra. Many people had to go back from Haridwar and Rishikesh as they had not registered for the yatra. As the Char Dham Yatra registration date has been announced early, pilgrims will have sufficient time for planning their yatra schedule.
Uttarakhand government's early measures for Char Dham Yatra 2023
As a record number of pilgrims are expected to visit Uttarakhand during Char Dham Yatra 2023, the Uttarakhand government has taken a series of immediate measures for the smooth conduct of the yatra.
Steps are taken to determine the daily limit of yatris in Badrinath, Kedarnath, Gangotri, and Yamunotri.
Bus services are being improvised so that the rotation of these buses can be maintained.
Horses and mule operators will have to register themselves to transport people.
Pilgrims can now apply via online registration for special prayers (Rudra Abhishek).
Char Dham Yatra camps will be set up before the start of the yatra for tourists' stay.
Special facilities have been done on Char Dham routes in places like Pipilotti, Helang, Pandukehwar, and Govind Ghat.
Arrangements for excavator machines are made in landslide zones and healthcare systems have been improved in these areas.
Voluntary organizations are been engaged to prepare prasad for devotees.
Bus services will continue to operate for efficient transport of yatris.
Token system for quick darshan
The Uttarakhand government has introduced a new token system for the convenience of the yatris. According to this new token system, pilgrims will be given tokens in which the darshan timings are mentioned in advance. They will not need to stand in long queues and can come just before time for darshan.
This will save them time in which they can do some shopping or rest. This will enable the local authorities to control the number of people outside the shrines. However, those who want to perform special pujas like Rudrabhishek have to apply through the online portal. Read here more details…
Steps to do Char Dham Yatra Online Registration
Step 1 : The very first step for Char dham pilgrims is to visit the Chardham Yatra Registration website on google. You will reach a webpage like below.
Step 2 : Now click on Register/Login to get below Chardham Yatra 2023 Online Registration/Login form.
Step 3 : Now a online form asking for Personal Details for Chardham Yatra Registration Form. Each of the fields are mandatory.
Step 4 : Now Char Dham Online Registration System will verify the registration through OTP verification which would received on mobile and email. Complete the OTP verification and click on Verify OTP button.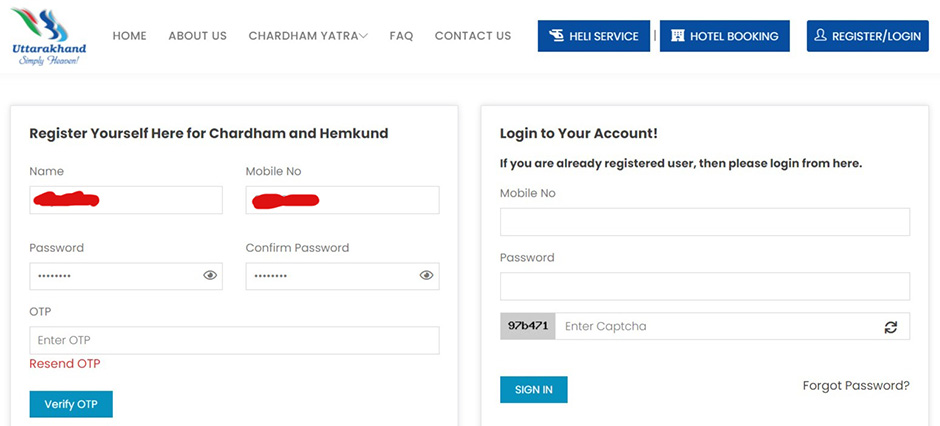 Step 5 : Now you have to login using mobile number & password. A personalize dashboard will be open one can Register Pilgrims information.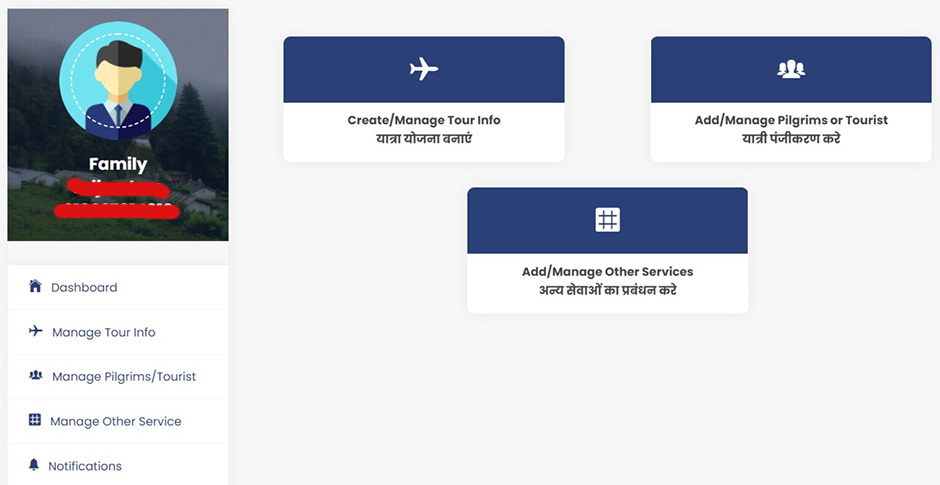 Step 6 : Click on Add/Manage Pilgrims or Tourist to open below window.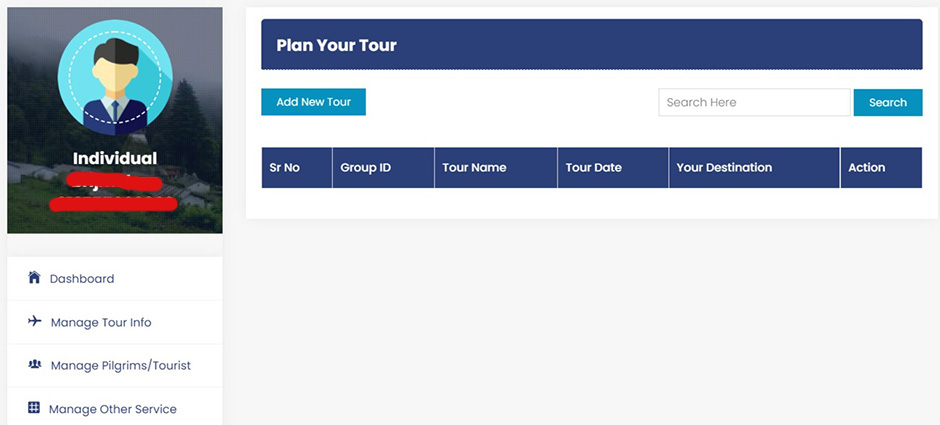 Step 7 : Now add tour plan details such as Your type, Tour name, Dates of Yatra, Number of Persons. Added each destination with date of visit and save the form.
Step 8 : Finally a window showing details of Tour Name, Dates and Destination.
Step 9 : Now add Pilgrims info using Add Pilgrim button.
Kindly note that for a single Char Dham season, registration can be done using any valid Id. Kindly keep ready, a scan copy of photo id proof (AADHAR) / address proof in *.jpg, *.png format. The size of scan copy must be between 10kb to 150kb.
Step 10 : After registration completion, a Unique registration number will be sent on SMS and Registration Letter can now be downloaded for Chardham Yatra travel.
Wishing You A Happy Journey!!