Places to Visit in Bharatpur:- Bharatpur is one of the most popular tourist destinations in Rajasthan. This city is famous for its historical landmarks and Bharatpur Bird Sanctuary. Bharatpur comes in the tourist zone of Delhi, Agra, and Jaipur.
It is also part of NCR as it is very close to the national capital of Delhi. Bharatpur has a long tradition of royalty and culture. There are so many places to visit in Bharatpur that you can spend two or three days for Bharatpur sightseeing. These places are rich in architecture and heritage. The places given below are some of the most famous places to visit in Bharatpur.
Top 13 Places to Visit in Bharatpur
You can plan your trip to Bharatpur and visit all the famous landmarks. You can contact Shrine Yatra if you need to know about our Rajasthan tour packages. The best places to visit in Bharatpur are given below for your reference.
1.) Keoladeo National Park
The most famous tourist attraction in Bharatpur is Keoladeo National Park. It is also famous as Bharatpur Bird Sanctuary. Here you can go on an elephant safari or jeep safari. You can spot animals, birds, snakes, reptiles, lizards, turtles, and many other wildlife species. The national park is the best place to spot birds such as pelicans, Siberian cranes, eagles, geese, ducks, and many others. In the olden days, this national park was the hunting ground of kings. You can make plans to visit this national park from August till February.
2.) Lohagarh Fort
Though Lohagarh Fort was built somewhere in the beginning of the 18th century, it still remains one of the strongest forts in Rajasthan. The name of the fort translates to 'The Iron Fort'. Lohagarh Fort has very strong outer walls with huge bastions and towers. There are two gates and numerous palaces inside. There is a moat that surrounds the fort from all sides. A Jat ruler called Maharaja Suraj Mal built the Lohagarh Fort in the early 18th century, 1730 to be more exact. There is a museum that you can visit inside the fort. It has various paintings, arms, weapons, carved sculptures, manuscripts, and other ancient artifacts.
3.) Bankey Bihari Temple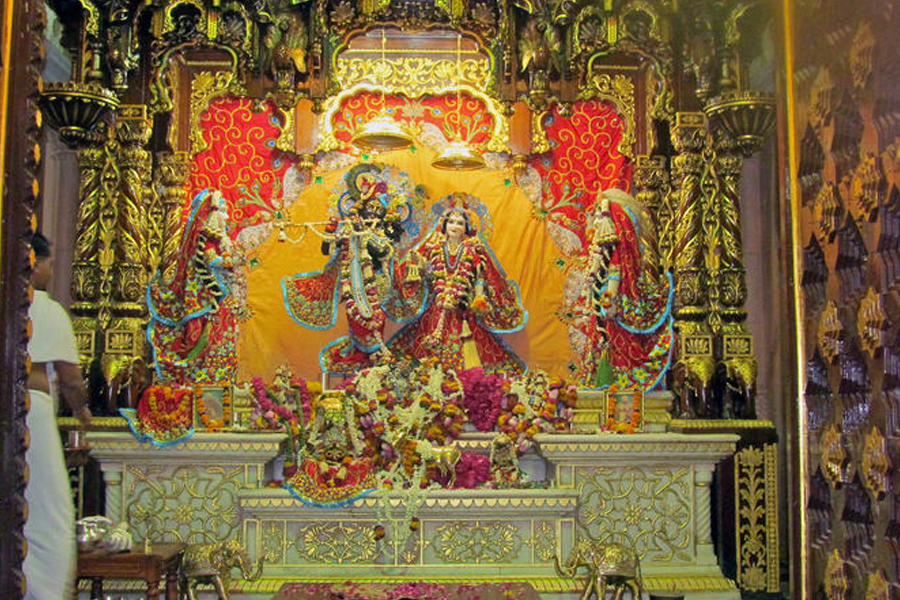 The temple known as Banke Bihari Temple is situated inside Lohagarh Fort. The temple and its main deity are Lord Krishna. The temple was built somewhere when the Mughals ruled over India. Banke Bihari Temple is an important sightseeing place in Bharatpur. The divine atmosphere of the temple attracts devotees to visit the temple during their visit to Bharatpur.
4.) Bharatpur Palace and Museum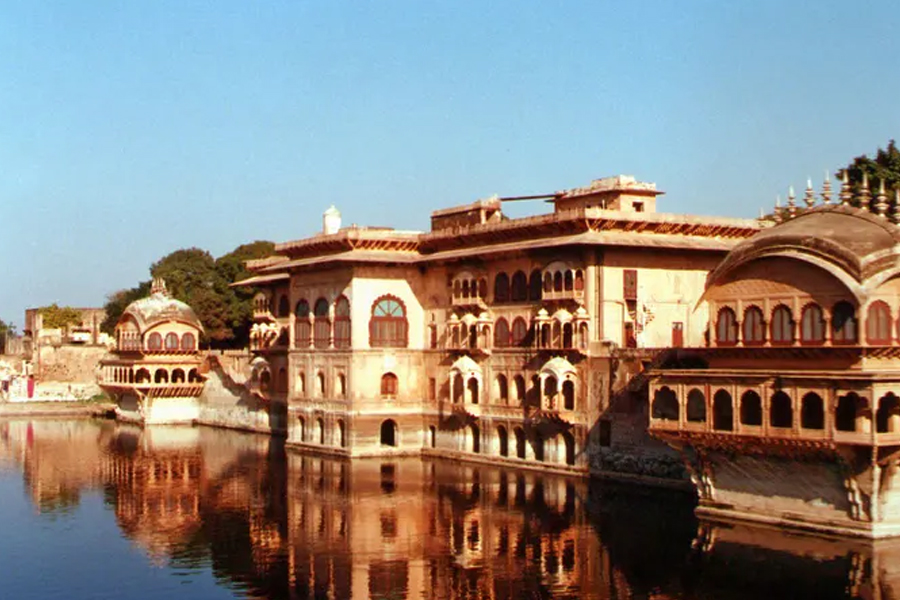 One of the best places to visit in Bharatpur is a palace called Bharatpur Palace. The palace was constructed somewhere around the 2nd century. A museum is situated in this palace which holds various sculptures, local handicrafts, and several paintings. The museum is in a place known as Kamra Khas. The palace is a blend of Mughal and Rajput architectural styles. You can see decorated walls, elegant flooring, royal décor, vintage furniture, and stylish interiors in this palace.
5.) Ganga Mandir
You can visit many temples in Bharatpur such as Ganga Mandir. The temple is a wonderful temple with incredible architecture. The temple is dedicated to the River Ganga, who is worshipped here as a goddess. The architecture is a beautiful blend of Mughal, Indian, and Rajput architectural styles. The temple walls, its outer façade, its decorated pillars, and the sculptures on the ceilings, are all worth watching. Ganga Mandir was built somewhere around 1845, and its construction took almost 90 years to get complete. There are several deities whose idols are carved with fine art skills.
6.) Laxman Temple
One of the temples that you can visit in Bharatpur is known as Laxman Temple. This temple is dedicated to the brother of Lord Ram called Laxman. There are idols of Laxman along with his wife, Urmila in the temple. You will also find idols of Bharat and Shatrughna, who were the brothers of Laxman and Ram. These idols are made out of special metal alloys made out of eight metals called 'Ashtadhatu'. The architecture of this temple is typical of Rajasthani temples. Pink sandstone was used in its construction. The skillful carvings based on floral and bird shapes, pillars, doors, and arches, are breathtakingly beautiful.
7.) Government Museum
There is a museum inside Lohagarh Fort and it is called Government Museum. This is one of the best museums in Bharatpur. There are many exhibits inside which showcase the traditional arts and crafts of Bharatpur and its unique culture. Among the most fascinating objects that you can see here are miniature paintings done on the leaves of the Peepal tree. You can also view other exhibits such as terracotta items, metallic and stone sculptures, inscriptions, coins, weapons, and others. There is a special gallery here that is especially dedicated to paintings on litho paper and mica.
8.) Deeg
Deeg is a small town near Bharatpur which you can visit for its top attraction, which is its palaces. The forts and palaces are known for their artistic décor and marvelous architecture. Moats surround these palaces and forts and lend a scenic look to these palaces. These palaces also have gardens and arched gates. Deeg Palace is also called Jal Mahal. This palace complex is a reflection of the grand and royal lifestyle of the rulers and their interest in art and architecture.
9.) Dholpur Palace
During your trip to Bharatpur, you can visit its major attraction and which is the palaces. One such palace is known as Dholpur Palace and this is now converted into a luxurious heritage hotel. The construction of this palace is made of red sandstone. The distinct Rajasthani style of architecture is evident from its outer façade. It has around 40 spacious rooms with royal décor and vintage furniture. You can wander about and admire the beauty of the palace from the gardens that surround it. It is a nice relaxing way of visiting Dholpur Palace.
10.) Band Baretha
Band Baretha is a small village that you can visit near Bharatpur. This place is known for its dam which is built on the Kukand River. The dam was built in 1866 by the former maharaja known as Maharaj Jaswant Singh. The palace in Band Baretha is still the residence of the Bharatpur royal family. Band Baretha is famous for its birds, which come here every year. You can spot so many birds such as the Black Bittern. Band Baretha was now a wildlife sanctuary where you can go for a jeep safari and spot various wild animals, birds, and reptiles. There is an old fort here which you can visit and Barah Khambo ki Chhatri which is also a popular sightseeing spot.
11.) Seetharam Temple
One of the temples that are located inside Bharatpur Bird Sanctuary is a temple called Seetharam Temple. The temple is beautiful in its architecture. The temple is located deep in the sanctuary and is a tranquil place with divine vibrations. You will feel like spending some time here amid the silence of the jungle. There is another temple near the temple which is dedicated to Lord Shiva. It is said that the shiv linga in this temple is around 300 years old.
12.) Chawad Devi Temple
Another temple that you can visit in Bharatpur is a temple which is called Chawad Devi Temple. The temple has beautiful architecture. The temple is located in a quiet location and its divine energy makes you feel blessed. You can visit the temple as part of your Bharatpur sightseeing tour. The temple is one of the temples in Bharatpur which is known for its culture and spiritual energy.
13.) Kaman
To the north of Bharatpur, Kaman is a small village where Brij Holi is celebrated with colorful festivities. Kaman is situated in a region, which is famous among devotees of Lord Krishna, as this is the place where Krishna spent most of his childhood days playing with the gopis.
This place is located in the part of Bharatpur known as Brij Bhoomi. Vaishnavas visit this place as it is considered to be their pilgrimage place. Kaman is also famous by its other name, which is Kamaban. This place has the ruins of an ancient mosque or temple, which had 84 pillars and today is famous as Chaurasi Khamba.