Places to Visit in Mandawa : Mandawa is a town in the Shekhawati region of Rajasthan. This region is famous for its fresco paintings, forts, vintage architecture, and lavish mansions. Mandawa is near Jhunjhunu and is in the region of Rajasthan which is known as the 'Open Art Gallery'.
There are some best places to visit in Mandawa like museums, forts, havelis, step wells, and restaurants. Explore the Rajasthan tour packages from Shrine Yatra and you can include Mandawa in your Rajasthan tour itinerary. Some of the places to visit in Mandawa are also worth visiting for their cultural values and appreciation of Rajasthani art.
Explore Top 10 Places to Visit in Mandawa
Here are some the best places to visit in Mandawa and a lot of best things to do in Mandawa for an incredible experience….
1.) Gulab Rai Ladia Haveli
The Gulab Rai Ladia Haveli is well known for its wall art and vivid paintings. This mansion has several attractive arts and some of the best ones that you can see here are paintings done on the walls. You can see exotic images of a Greek man, paintings of animals, and other scenes from life. Some of the wooden art sculptures are also interesting. The Haveli is worth visiting for its 18th-century Rajasthani royalty and grandeur.
2.) Bansidhar Newatia Haveli
The Bansidhar Newatia Haveli is one of the rich mansions that you can visit in Mandawa. The Haveli has some paintings that portray technological innovations and scientific discoveries. Among the wall art that you can see here is a woman making a telephone call, and the Wright Brothers famous first trial of their airplane.
Further, you will see the image of a bird-man trying his new flying machine and a man riding his motorcycle. You can visit various rooms and chambers to get a feel of the royal and rich lifestyle of the people living here.
3.) The Hanuman Prasad Goenka Haveli
You will love the decor of this haveli and the exquisite paintings done on the walls. The pillars too, have exceptional carvings. The Hanuman Prasad Goenka Haveli is one of the best places to visit in Mandawa if you want to explore the culture and art of Rajasthan.
This haveli boasts of the most vibrant images and paintings. You will see royal portraits and paintings of mythological deities on the doorways, walls, and ceilings. The decor will remind you of the early days of Mandawa, when it used to be an important stop on the trade routes to China, Iran, and other countries.
4.) Mandawa Fort
One of the best tourist attractions in Mandawa is a fort called Mandawa Fort. The fort was built on the orders of Thakur Nawal Singh Bahadur in 1755. Mandawa Fort is best known for its depictions of Rajasthani art and paintings. The Mandawa Fort is now converted into a heritage luxury hotel.
The interiors of Mandawa Fort are greatly influenced by Sheesh Mahal in Amer Fort of Jaipur. You will find artistic mirror work on the walls and ceilings. There are Rajasthani artifacts as well, and they date back to the early 17th or 19th centuries. The grandeur and charm of Mandawa Fort have to be felt if you want to appreciate it.
5.) The Chokhani Double Haveli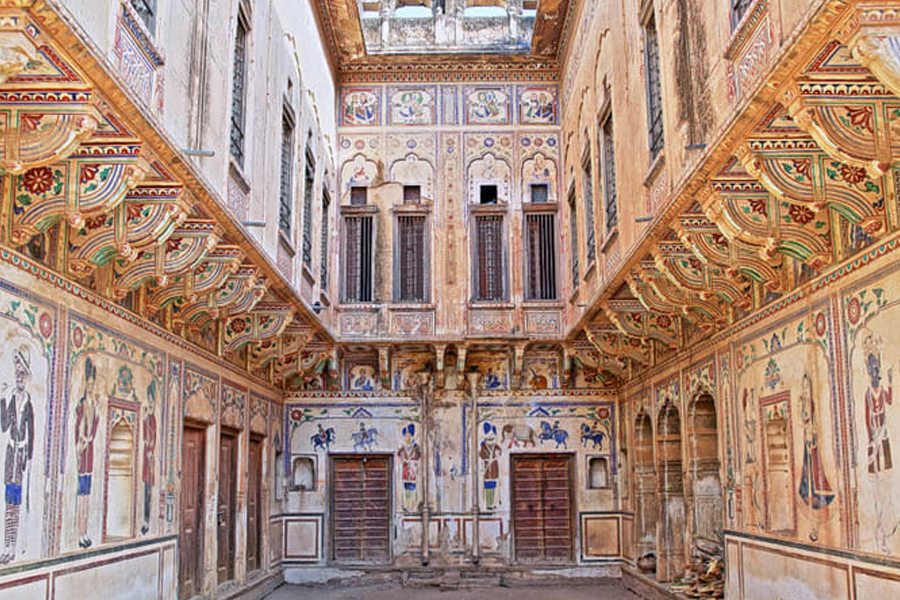 The Chokhani brothers were merchants who built this haveli. These brothers were very rich and it is seen in the decor of this haveli. The Chokhani Double Haveli is called so as it has two very different styles of construction and architecture. They built this haveli in 1910 and made the best artisans work for them.
You will find incredible paintings such as peacocks, floral frescoes, deities, and such themes. There are big courtyards and a Rajput style of architecture and decor, which further makes this one of the best havelis to visit in Mandawa.
6.) Harlalka Well
One of the amazing places to visit in Mandawa is a well that is famous as Harlalka Well. According to the locals, this is a wish-fulfilling well, and if you wish something in front of this well, your wishes might come true. The waters of this well are still crystal clear for many decades.
You will be able to see your reflection in Harlalka Well. There are four pillars in this well which are sculpted with artistic skills. The well is an archeological wonder and most tourists come here to visit the well.
7.) Murmuria Haveli
One of the best attractions in Mandawa is a haveli called Murmuria Haveli. The colorful paintings in this haveli show the remarkable artistic skills of the artisans of those times. You can see beautiful paintings on the wall and pillars. Among them are the paintings of cars and Hindu deities like Krishna with his cows.
The magnificent artwork in this haveli shows scenes from everyday life. There are fresco paintings and murals of great leaders also, like Jawaharlal Nehru and other political leaders. The Rajput architecture and decor in this haveli will take you back to the medieval times when this haveli was made by wealthy traders and merchants.
8.) Saraf Haveli
The medieval mansion in Mandawa known as Saraf Haveli is another top attraction here. The Haveli is also famous as Mohanlal Saraf Haveli. This haveli is different from other Havelis of Mandawa. You will see various images and paintings on the walls.
The architecture of this haveli is worth watching for its Rajathani construction and decor. There are arched gateways, spacious courtyards, long corridors for walking, and beautiful fresco paintings on the walls. You will see the brilliance of Rajasthani art and skillful workmanship everywhere in this haveli.
9.) Thakurji Temple
One of the historical landmarks in Mandawa is a temple known as Thakurji Temple. Wealthy merchants in Mandawa built the temple during the early 1900s. The temple has magnificent artwork and architecture. You will see paintings in various colors in this temple.
Thakurji Temple is a temple of Lord Krishna who is worshipped here in his divine form known as Thakurji. The paintings here show the brutality done by the British troops during the Indian Rebellion of 1857. The images show troops firing upon the soldiers and common people.
10.) Jhunjhunwala Haveli
One of the famous havelis in Mandawa is known as Jhunjhunwala Haveli. The Haveli is worth visiting for its art, architecture, murals, and paintings. Wealthy traders and merchants built Jhunjhunwala Haveli in 1859. You can see a vivid showcase of Rajasthani art here.
From lattice windows to sculpted pillars and painted walls, every part of this haveli will strike you with its art. Even the wooden doors have magnificent carvings. Every corner of this haveli is decorated with a Rajasthani theme and traditional decor.
There are big rooms and chambers, paintings of Hindu deities, and the use of bright colors can be seen in each of the paintings.