Places to Visit in Mount Abu: Mount Abu is a very famous tourist destination in Rajasthan. It is the only hill station in Rajasthan and is located at a high altitude of 1722 meters. Mount Abu is like a green oasis in the desert landscape of Rajasthan. There are lakes, waterfalls, forests, mountain views, rivers and so many other attractions on Mount Abu. Guru Shikhar is the tallest mountain peak in Mount Abu. Dilwara Temples are another famous attraction in Mount Abu.
These Jain temples are renowned for their incredible architecture and carvings. You can contact Shrine Yatra who can give you some of the best Mount Abu tour packages. You can make a detailed Mount Abu tour plan with Shrine Yatra and tour all the best places to visit in Mount Abu.
यात्रा के आनंद को बढ़ाने के लिए, आप माउंट आबू के पास घूमने के लिए खूबसूरत जगहों की एक छोटी सी यात्रा भी कर सकते हैं। (To add to the joy of the trip, you could also make a short trip to the gorgeous places to visit near Mount Abu.)
1.) Dilwara Jain Temples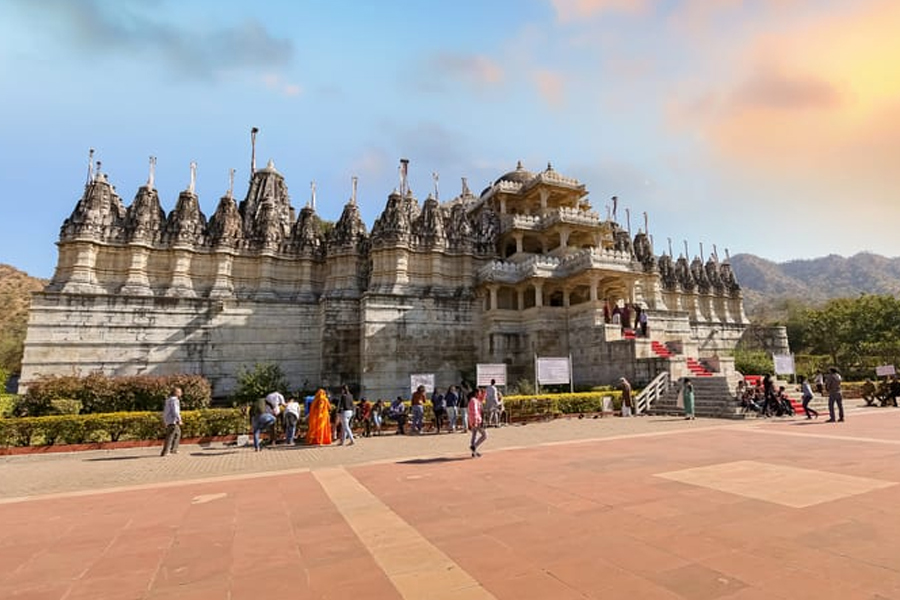 One of the best tourist attractions in Mount Abu is the Dilwara Jain Temples. These temples are places of pilgrimage for the followers of the Jain religion. Dilwara temples date back to the 11th and 13th centuries. The Dilwara Jain Temples are entirely made of marble stone and have incredible architecture and artistic finesse. Dilwara Jain Temples rank among the finest Jain temples in Rajasthan. The carvings on pillars, ceilings, and walls, are a work of brilliance and showcase the exceptional workmanship of the artisans in the olden days.
Dilwara Jain Temples are a group of five temples and their names are Vimal Vasahi, Luna Vasahi, Pittalhar, Parshavanatha, and Mahavir Swami Temple. All these temples are dedicated to Jain Tirthankaras like Adinath, Rishabhdev, Neminath, Mahavir Swami, and Parshwanath. Each of these temples has the most incredible carvings and sculptures. But among these, the Vimal Vasahi and Luna Vasahi are most famous for their architecture.
2.) Nakki Lake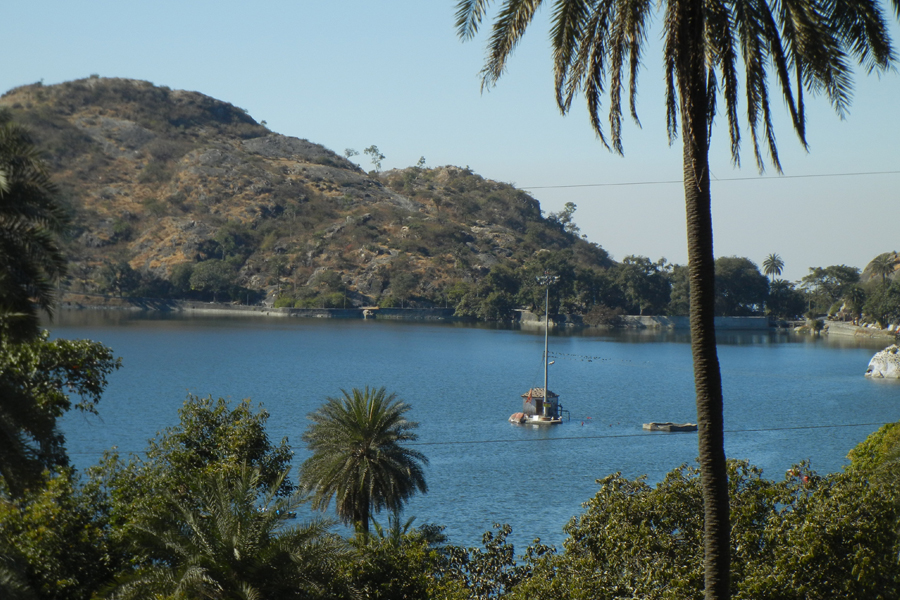 Nakki Lake is so famous in Mount Abu that every tourist immediately thinks about it the moment they want to visit Mount Abu. This lake is the most visited tourist attraction in Mount Abu. Nakki Lake is a man-made lake and it is 20-30 feet deep. The lake is very beautiful and the mountains, lush green region, and rocks that surround the lake lend it a scenic look. Boating is the most popular thing to do in Nakki Lake.
Boating at the times of sunset gives you scenic views of the golden sun setting behind the mountains. Nakki Lake is a sacred lake for the local Garasia tribe who lives here. Another famous attraction near the lake is the peculiarly shaped rock structure which is called Toad Rock. Nature has carved the rock in such a peculiar shape that it gives the impression of a toad about to jump into the lake.
3.) Guru Shikhar
Mount Abu is in the Aravalli mountain range and the highest point in Mount Abu is a mountain peak called Guru Shikhar. This mountain is 1722 meters high and from its summit, you can have fantastic views of the Aravalli mountains. It is believed that the mountain was named after Dattatreya who used to meditate here on the mountain. There is a temple of Dattatreya on the mountaintop. Hiking is the best thing to do in Guru Shikhar.
Mount Abu Observatory is also located on Guru Shikhar. There is a big bell that was hung there many centuries back and it has the words 1411 AD inscribed on it. Hikers strike the bell to announce that they have reached the top. The views from the top of Guru Shikhar are very scenic.
4.) Toad Rock
One of the most famous tourist attractions in Mount Abu is a rock formation that is called Toad Rock. The rock is very famous as nature has shaped the rock in such a way that it looks like a toad about to jump into Nakki Lake. Toad Rock is to the south of Nakki Lake and tourists come here to Toad Rock to admire the unique and strange appearance of this rock. Tourists have to climb a total of 250 steps from Nakki Lake to reach Toad Rock. From the top, they can see magnificent views of Nakki Lake and its surrounding areas.
5.) Mount Abu Wildlife Sanctuary
One of the most popular sightseeing places in Mount Abu is a wildlife sanctuary called Mount Abu Wildlife Sanctuary. The sanctuary is one of the oldest in this region and has many birds, animals, and reptiles. This is the best place to spot the different birds and animals of this region. Mount Abu Wildlife Sanctuary covers many hills and forests. Guru Shikhar is one of them. Much of the land of this sanctuary is thorny scrubs and rocky land with large caves and ridges. The kinds of animals that you can see here are jackals, hyenas, jungle cats, langurs, wild boars, mongooses, and so on.
6.) Sunset Point
When tourists want to view scenic sunsets in Mount Abu, they visit a vantage point which is called Sunset Point. From Sunset Point, they can watch green forests, hills, and the sun setting behind them. The entire landscape is very beautiful and is the perfect spot in Mount Abu to relax and rest for some time. Bailey's Walk is a nearby spot where children can go for pony rides. There are food stalls where you can munch on something. Tourists can also spend some time and buy some wooden toys, marble statues, sandalwood sculptures, and other items from shops nearby.
7.) Raghunath Temple
There are many interesting places to visit near Nakki Lake and one such place is a temple called Raghunath Temple. The temple was built for one of the divine incarnations of Lord Vishnu called Ram, who is also called Rathunath. The temple is a 650-year-old temple, and some believe that a scholar called Shri Ramanand built the temple in the 14th century. There is a legend behind the temple and according to this legend, the temple was built in honor of a princess who wanted to marry the prince of the king who ruled Mount Abu. But her parents opposed this marriage. She died due to grief and the temple was built in honor of that princess. The temple is remarkable in architecture. You can see beautiful carvings and inscriptions on the temple walls. The idol of Raghunathji is the main highlight of this temple.
8.) Brahma Kumaris Ashram
One of the spiritual places that you can visit in Mount Abu is the world-famous Brahma Kumaris World Spiritual University. It is the center where Raja Yoga, meditation, and spiritual knowledge are given to students. Regular lectures are held here and students can interact with the masters and yogis and learn ways to gain spiritual maturity. This ashram is located on a hill which is called Madhuban. Dada Lekhraj Kripalani established this unique organization for spiritual development and religious activities in the 1930s.
Devotees come here from all over the world to learn spirituality and Yogic traditions. There is a museum where exhibits are shown regarding spiritual knowledge. The natural surroundings of this ashram are very peaceful and best for meditation and some quiet moments. Students have to stay in the ashram till the time they learn the spiritual courses.
9.) Mount Abu Honeymoon Point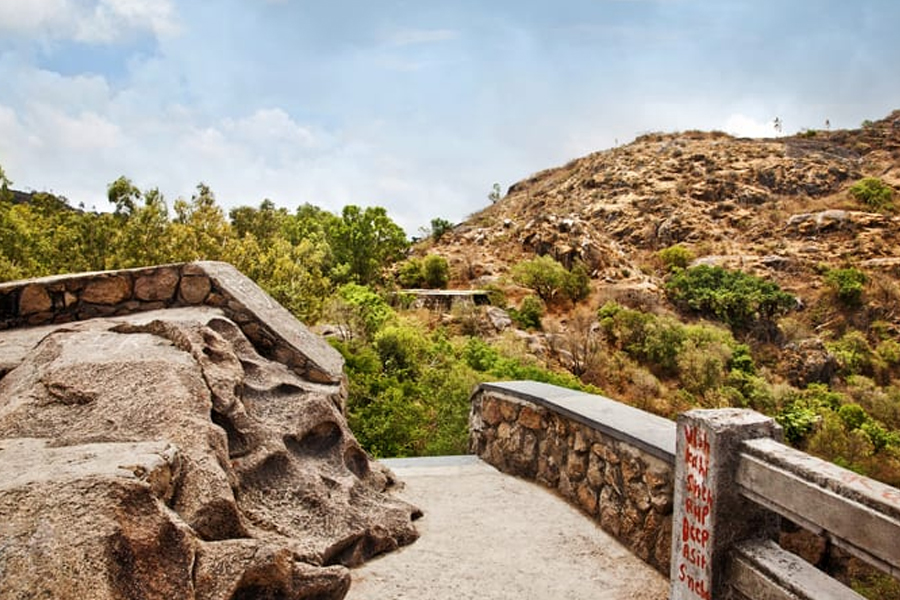 Honeymoon Point in Mount Abu is at a height of 4000 feet. This place is named because of two rocks that look like a man and a woman. Honeymoon Point is also known as Anadara Point. From the top, one can see Nakki Lake and its surrounding region. Honeymoon Point offers scenic views of the hills of Mount Abu.
10.) Trevor's Tank
One of the best places you can visit on your trip to Mount Abu is Trevor's Tank. This is a breeding spot for crocodiles. An engineer called Col. G H Trevor, who used to breed crocodiles, set up this tank. That is why this place is also known as Trevor's Crocodile Park. You can go on the Jungle Safari and view the crocodiles from a certain distance. You can also do birdwatching here. If you are lucky you might spot a black bear.
11.) Achalgarh Fort
Achalgarh Fort was built in the 15th century by the Paramara dynasty and is now a favorite spot for tourist sightseeing in Mount Abu. Although it is lying in ruins, you can still see the remaining fort. There is a huge entrance gate to this fort which is called Hanumanpol. There is a lake called Mandakini Lake and a temple of Lord Shiva called Achaleshwar Mahadev Temple inside the fort. Rana Kumbha rebuilt Achalgarh Fort in later years. Hiking to this fort is a favorite activity for tourists who hike up the hill to reach the fort.
12.) Champa Cave
During your trip to Mount Abu, you can visit several historic places such as Champa Cave. These are natural caves that are located between Toad Rock and Nakki Lake. Champa Cave is a historic cave Swami Vivekananda visited this cave and meditated there in 1891. The cave has two sections. One is used for meditation and the other section is used as a sort of bedroom. Visitors can trek up to this cave and enjoy the scenic views of the cave.
13.) Government Museum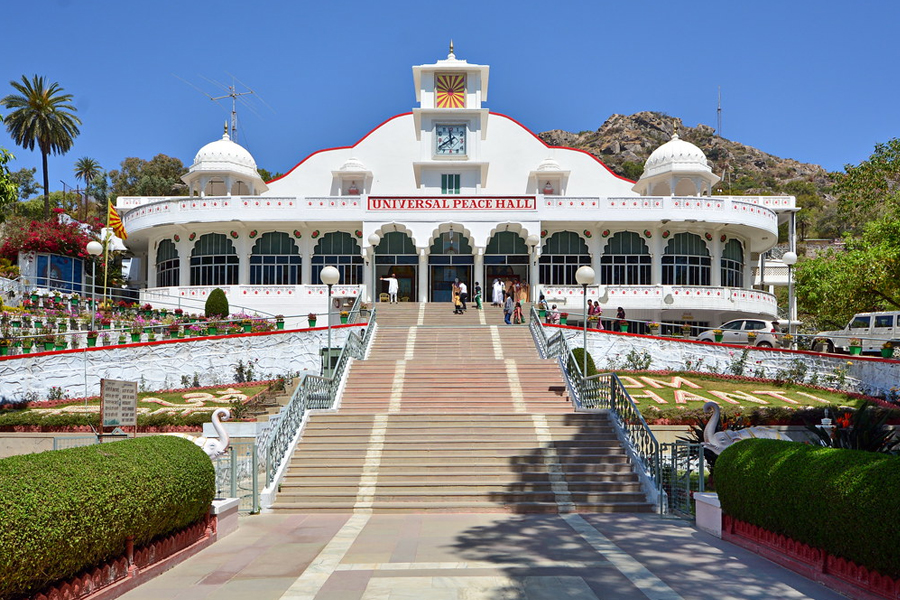 In Mount Abu, you can visit such places as the Government Museum and gain some knowledge about tribal life in this region. The main attraction of the Government Museum is a sculpture of a dancer which is believed to have been sculpted between the 6th century and 12th century. There are two sections in this museum. One has exhibits that show miniature paintings and the other has exhibits about the tribal lifestyle of this region. You can also see the carved idols of Vish Kanya, Lord Shiva, Laxmi, Chanvar Vahini, Lord Surya, Chandravati, Chamunda, and other deities.
14.) Gaumukh Temple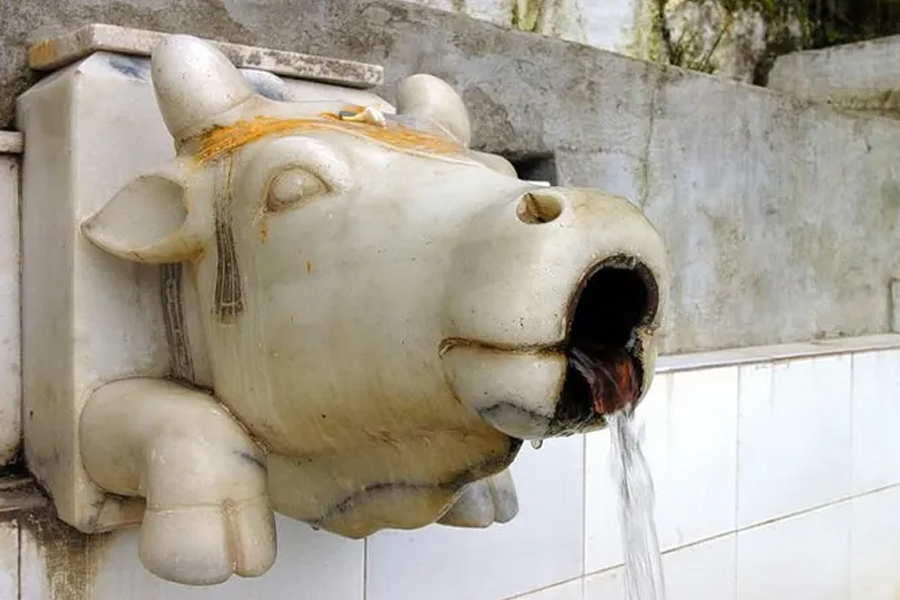 One of the famous temples that you can visit in Mount Abu is a temple called Gaumukh Temple. The temple is dedicated to Lord Shiva. The temple is so named as it has a water spout that is shaped like the mouth of Nandi the sacred bull of Lord Shiva. This water spout spews forth water that comes from a stream above the mountain. To reach the temple, visitors have to climb over 700 steps. The temple is located in dense forests and is one of the sacred temples that locals visit every day.
There is a statue of Nandi, and beside it are the idols of Lord Rama, Lord Krishna, and Sage Vashisht. The temple was originally built to honor the holy sage, Vashisht. It is said that the sage performed a yagna here and gave birth to the Rajput clan.
15.) Arbuda Devi Temple
Arbuda Devi Temple is one of the major temples in Mount Abu. This temple is devoted to a form of Goddess Katyayani called Arbuda Devi. Visitors have to climb 365 steps to reach the temple of Arbuda Devi. The deity of this temple is the ancestral goddess of the Parmar rulers who ruled over this region. According to folklore, these rulers were born out of the ceremonial fire pit in this temple.
There is a well near the temple whose waters are considered to be very powerful. People of this region consider the well to be Kamdhenu, the celestial cow who can give anything you want. Arbuda Devi Temple is a rock-cut temple and was built out of a single piece of rock.