Mukteshwar is a small village near Nainital in Uttarakhand. Mukteshwar is famous for its centuries-old Mukteshwar Dham Temple. The famous shikari and naturalist Jim Corbett came to Mukteshwar to hunt a tiger and he wrote about the beauty of Mukteshwar in his book 'The Temple Tiger and More Man-Eaters of Kumaon'. The beauty of Himalayan peaks can be seen from anywhere in Mukteshwar. There are dense pine forests, cascading waterfalls, rolling meadows, gurgling brooks, colonial houses, and ancient temples in Mukteshwar.
There are so many places to visit in Mukteshwar. You can make a Mukteshwar tour itinerary and visit all these places. Shrine Yatra offers the best Mukteshwar Holiday Package and you can also explore Mukteshwar by booking any of our Uttarakhand tour packages.
11 Best Tourists Places in Mukteshwar
1. Mukteshwar Dham Temple
The main attraction of Mukteshwar is Mukteshwar Dham. It is one of the main temples in Mukteshwar, which is actually a Shiva temple from which Mukteshwar is named. This temple is on top of a hill, and Lord Shiva is the chief deity of this temple. The shiv linga is made of white marble stone. From the temple, you can have scenic views of the Himalayan mountain ranges. A trek to Mukteshwar Dham will take tourists past fruit orchards, and natural vegetation.
2. Chauli ki Jaali
One of the best places to visit in Mukteshwar is Chauli ki Jaali. Chauli ki Jaali is close to Mukteshwar Dham temple and according to Hindu mythology, a demon fought with a goddess here at Chauli ki Jaali. Chauli ki Jaali is a rocky formation where the rocks are shaped like the trunk of an elephant, a sword, and a shield. This place is best for rock climbing, and tourists can view the best scenic landscapes of Mukteshwar from Chauli ki Jaali.
3. Dhanachuli
Dhanachuli is one of the best tourist places in Mukteshwar. Dhanachuli is full of the very best natural beauty. Fruit orchards, dense woods, scenic mountain views are the most famous attractions of Dhanachuli. You can visit Dhanachuli as a day trip from Mukteshwar.
4. Mukteshwar Inspection Bungalow
If you want accommodation in Mukteshwar, then you can stay here at Mukteshwar Inspection Bungalow. You get the best panoramic views of the snow-capped Nanda Devi peak from Mukteshwar Inspection Bungalow. The architecture of Mukteshwar Inspection Bungalow is simple, yet very eye-catching. It is one of the must-visit places in Mukteshwar.
5. Indian Veterinary Research Institute
Among the most visited Mukteshwar tourist places is the Indian Veterinary Research Institute. It was developed by the British in 1893 and today it is a full-fledged research institute researching viruses and diseases of cattle and other animals. It has a huge campus and a library and a museum. Tourists can visit the museum and have lots of information about animals.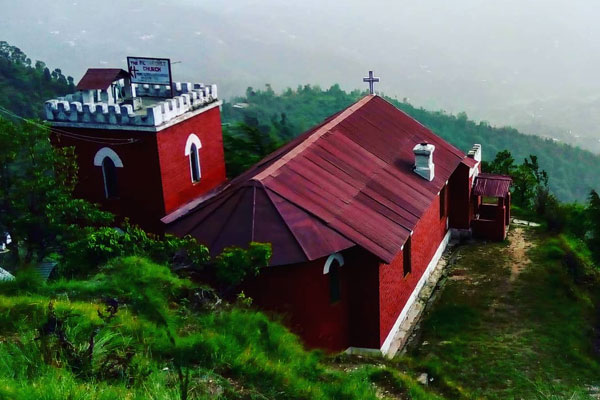 6. Methodist Church
Methodist Church is located amid forests in Mukteshwar. It was built around the early part of 1900 and is the oldest buildings in Mukteshwar. The church architecture is very elegant, and stairs are leading into the main church building. The walls of Methodist Church are cut out from the rocks, and there are stained glass windows and a bell which add beauty to this church.
7. Peora
Peora is a little village in Mukteshwar, which is famous for its fruit orchards, grassy meadows, spectacular forests, and natural scenery. You can view the Himalayan peaks from Peora. There are colonial-era buildings in Peora and many walking trails to explore the woods.
8. Nathuakhan
Nathuakhan is a small village in Mukteshwar, which is blessed with oak and pine forests. The sweeping views of the green valleys and mountain peaks are what you can enjoy in Nathuakhan. You must come to visit Nathakhan as it is one of the best tourist places in Mukteshwar.
9. Ramgarh
Ramgarh is a small village near Mukteshwar which is also famous for its fruit orchards. Apple, plums, apricots, peaches are grown here. It was once a cantonment of the British troops. Ramgarh is so beautiful that even famous people like Rabindranath Tagore, Mahadevi Verma, and Narayan Swami lived here for some time.
10. Kilmora Shop
Tourists who want to go shopping in Mukteshwar can do so at Kilmora Shop. This is a small store where you can shop for local Kumaoni handicrafts and souvenirs. You can choose from a wide range of products like hand-knitted toys, local Kumaoni herbs and spices, woolen garments, knitted shawls, gloves, gifts, and hand-crafted products which are made by local tribes of the Kumaon region.
11. Bhalu Ghaad Waterfalls
Bhalu Ghaad is one of the famous waterfalls in Mukteshwar and it is also one of the most beautiful. This Waterfalls is a 60 ft high waterfall. The waterfall can be seen at all times of the year, and it never dries. You can go trekking up to the falls, and see the magnificent cascading waters fall in gradual descent from their source. If you are lucky you can see a rainbow at the bottom of the falls.