Nepal is a mountain kingdom with infinite natural beauty. Nepal lies sandwiched between India and Tibet. Its where you will find the world's tallest mountains like Mount Everest, Manaslu, Annapurna, and Kanchenjunga. But Nepal is also a country with deep historical roots. Successive dynasties-built temples, forts, palaces, and monasteries. Big rivers flow through Nepal and here you will find lush green forests teeming with wildlife. National parks and wildlife sanctuaries in Nepal are best to glimpse sight of rare Himalayan wildlife that is found nowhere else on earth. Plan a tour of Nepal and see its wondrous monuments and natural attractions. Explore any of the many Nepal Tour Packages, and see the best that Nepal has to offer to tourists. The best places to visit in Nepal are given below.
1. Pashupatinath Temple
One of the famous Shiva temples in Nepal, Pashupatinath Temple is also one of the oldest temples. Lord Shiva is worshipped here in the form of Lord Pashupatinath. Located on the banks of the Bagmati River, Pashupatinath Temple is one of the holiest temples for the Hindus. The temple is enlisted as one of the World Heritage Sites in Nepal. Pashupatinath Temple is a big temple complex of ashrams, shrines, and cremation grounds, besides the main temple itself. The pagoda-like structure of Pashupatinath Temple is an icon in itself. The wooden structure of the temple and the ornate interiors with rich woodwork, chiseled artworks, fine sculptures, and beautiful paintings lend beauty to the temple.
Read More: Pashupatinath Travel Package
2. Chitwan National Park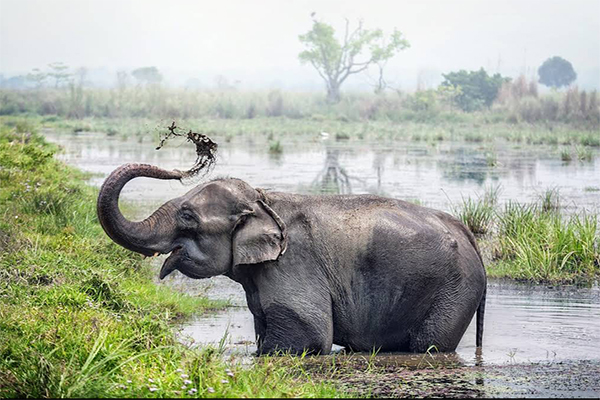 Nepal is rich in wildlife and Chitwan National Park is one of the best places to spot the rhinoceros and tigers in their natural habitat. You can spot so many birds here and reptiles. A jungle safari is the best way to spot the animals. If you are lucky you can even spot a Gangetic Dolphin, crocodiles, gharials, turtles, and many other aquatic creatures. Chitwan National Park is a World Heritage Site. You can stay in resorts, have an elephant safari, shop in souvenir shops, see how elephants are bred, and also visit a museum inside the national park.
3. Sagarmatha National Park
Lofty mountains and alpine landscapes define Sagarmatha National Park. Here you can see the rarest form of wildlife that is only found in the high altitudes of the Himalayas. The natural landscape of Sagarmatha National Park consists of lakes, rivers, mountain peaks, gorges, rugged mountainous terrain, alpine forests, pastures, and alpine forests. The animals found here are such rare ones as the Snow Leopard, Himalayan Thar, Musk Deer, bearded vulture, snowcock, and others. Sagarmatha National Park ranks as a UNESCO World Heritage Site in Nepal. Trekking, bird watching, and hiking are the top things to do here. You can visit monasteries, and lakes, and reach the base of Mount Everest and many other mountains in Sagarmatha National Park.
4. Langtang National Park
Among the many places to spot Himalayan wildlife in Nepal, Langtang National Park is certainly one of the best ones. The national park is close to the international border with Tibet. The high Himalayan mountains, flowing rivers, alpine pastures, forests, and villages make up the landscape of this national park. Gosaikunda Lake is one of the best lakes to visit in this national park. There are numerous trekking and hiking trails in this park. All these treks are scenic treks that lead to wonderful places like Langtang Valley, Helambu, Gosaikunda Lake, and many remote places in the park. You can spot such fantastic Himalayan creatures as snow leopards, Tibetan sheep, Assamese monkeys, clouded leopards, grey wolves, red pandas, and others. You can also spot birds like snow partridges, wood snipes, Himalayan griffins, vultures, geese, etc.
5. The Boudhanath Stupa
You can see the Buddhist way of life very clearly when you visit the Boudhanath Stupa. This is the world's biggest spherical stupa and is one of the major tourist attractions in Nepal. The stupa was built in the 14th century and stands on the trade route that passes through Nepal. The stupa has a huge dome and a pyramid-like structure. Buddhists regularly perform a circumambulation (kora) of this stupa. The stupa is the place that houses the last mortal remains of the Kassapa Buddha. Boudhanath Stupa is among the finest religious monuments in Nepal and is a UNESCO World Heritage Site.
6. Swayambhunath Temple
Nepal has spectacular religious places such as Swayambhunath Temple. This is a huge temple complex with innumerable temples, stupas, small shrines, prayer flags, prayer wheels, statues, and idols of Buddhist and Tibetan deities. The temple is located in Kathmandu Valley and is one of the holiest sites for Buddhists. The construction of this temple dates back to the 5th century and was built by the great-grandfather of King Manadeva. The temple has exquisitely carved toranas, statues, Buddha idols, and other mythological icons. Being built on a hill, Swayambhunath Temple offers scenic views of the surrounding region. Monkeys can be found in large numbers in and around the temple and thus, it has earned the nickname of Monkey Temple. There are 365 steps to reach the temple. The most visually striking thing about this temple is the pair of eyes on all four sides of the main stupa.
7. Koshi Tappu Wildlife Reserve
One of the best places in Nepal to watch wildlife is Koshi Tappu Wildlife Reserve. The terai grasslands in this wildlife reserve are best to spot a varied form of wildlife. The terrain consists of marshes and vast floodplains of big rivers like Kosi. This is the only place where you can spot a water buffalo and boar grazing in the marshes. Koshi Tappu Wildlife Reserve is the best place for bird-watching. The reptiles can be seen in the marshy lands. Gharial, wild boar, elephant, Gangetic river dolphins, and nilgai, are some of the creatures that you can spot here. A jungle safari is the best way to spot all these creatures.
8. Bardiya National Park
Nepal has some magnificent national parks which are protected areas to watch wildlife. Bardiya National Park is one such national park where you can watch fabulous creatures and birds. Terai grasslands cover much of the national park and rivers crisscross the park. The main attraction of Bardiya National Park is the rare one-horned rhinoceros. You can watch this incredible creature grazing in the tall grass. Other creatures which you can spot here are tigers, elephants, barasingha, fishing cats, Gangetic dolphins, mugger crocodiles, gharials, etc. Birds too can be seen in this park and some beautiful birds that can be spotted in the jungles are the floricans, warblers, peafowl, vultures, and sarus cranes among others.
9. Nagarkot
The small hill station of Nagarkot is one of the best places in Nepal to watch the Himalayan mountain ranges. Ever since it was famous, international tourists visit Nagarkot to have a glimpse of the world's tallest mountains. The views of towering mountains such as Everest, Manaslu, Annapurna, Langtang, Jugal, Numbur, Ganesh Himal, and the Rolwaling mountain ranges from Nagarkot are a memorable experience. You can see 8 out of the 13 Himalayan mountain ranges from Nagarkot. Not only, that, but you can also go on nature trails, paragliding, and hiking trips in Nagarkot.
10. Kathmandu
The capital city of Nepal is also one of the best tourist destinations. Kathmandu is situated on the confluence of two big rivers – Bagmati and Vishnumati. Kathmandu is also the biggest city in Nepal. The main attraction of Kathmandu is Durbar Square which is full of magnificent palaces, temples, memorials, and courtyards. In the olden days of royalty, events such as the coronation of the king, religious festivals, folk dances, and ceremonies used to take place here. The most famous attractions of Kathmandu are situated in Kathmandu Durbar Square. Other major attractions in Kathmandu are Swayambhunath Stupa, Pashupatinath Temple, and Boudha Stupa which are all World Heritage Sites.
11. Kathmandu Durbar Square
One of the most essential places to visit in Kathmandu is the Kathmandu Durbar Square. This square is like an enormous courtyard with spectacular palaces, temples, memorials, and other royal structures. The earliest records suggest that kings who ruled during the 10th century built palaces here. In those days, events like the coronation ceremony, religious occasions, and festivals were celebrated here. Kathmandu Durbar Square is one of the three other similar ones in Nepal. There are huge palace complexes here and the palaces and temples have spectacular architecture. Kathmandu Durbar Square is included as a world famous UNESCO World Heritage Site. Hanuman Dhoka, Kalbhairav Temple, Jagannath Temple, and Taleju Temple are some magnificent temples you can visit here.
12. Patan (Lalitpur)
Among the most famous historic cities of Nepal, Patan is also a huge hub for tourists. Lalitpur is another name for Patan. Patan was once a powerful kingdom built on the banks of the Bagmati River. The city was founded in the 3rd century and later expanded by successive rulers of Nepal. Patan Durbar Square is a central landmark in Patan. The entire Patan Durbar Square is a UNESCO World Heritage Site and is full of temples, palaces, monasteries, and shrines. Patan is a city that was built and designed with the shape of the Buddhist Dharma Chakra. Patan alone has around 1200 Buddhist temples and monuments. It has a rich mix of Hindu and Buddhist cultures. Some famous monuments in Nepal are situated in Patan. Some notable ones are Patan Museum and Patan Durbar Square.
13. Pokhara
One of the most gorgeous cities in Nepal, Pokhara is also a trekker's dream come true. Pokhara is situated on the banks of Phewa Lake. Rivers like Seti Gandaki flow near Pokhara. The lakeside ambiance and rivers offer a range of activities ranging from boating to paragliding and more. Pokhara is close to three of the tallest mountains in the world, Annapurna, Manaslu, and Dhaulagiri are very close to Pokhara. Pokhara is the ideal base for trekking and mountaineering adventures. Old Pokhara is a spectacular place with magnificent temples, monasteries, and shrines. Pokhara is a huge tourist destination in Nepal with so many restaurants, cafes, and shops. You can taste some Nepali dishes here and buy souvenirs and Nepali handicrafts. You can go on sightseeing tours in Pokhara to places like World Peace Pagoda, Gurkha Museum, International Mountain Museum, and many others.
14. Jomsom
Jomsom is in the Mustang district of Nepal and its other name is Dzong-Sampa also the New Fort. It is a mountainous town and offers striking views of the Dhaulagiri and Nilgiri mountain peaks. Kali Gandaki River flows through Jomsom and forms deep gorges and rugged valleys. Jomsom is the base to go on treks to Kali Gandaki river valleys. Treks in Jomsom take you to scenic landscapes and offer beautiful views of the snow-capped mountains, waterfalls, and glaciers. There are various sightseeing points in Jomsom like Muktinath Temple, Leopard Cave, Dhumba Lake, and Rupse Falls.
15. Lumbini
One of the best places to experience Buddhism in Nepal is Lumbini. Gautam Buddha was born here in Lumbini and tourists can see the actual place where he was born. There is a stone that marks his birthplace. The monasteries in Lumbini are the best places to practice meditation, Yoga, and Buddhism. Lumbini is enlisted as a famous UNESCO World Heritage Site in Nepal. Many countries have funded the temples and monasteries in Lumbini and the major ones are China, Sri Lanka, Japan, Germany, France, Myanmar, etc. Some temples and Buddhist monasteries in Lumbini are almost 2000 years old. Tourists can visit more than 64 historical and archeological sites in Lumbini when they go on a Lumbini Circuit Trek. Lumbini has numerous tourist landmarks and the major ones are Mayadevi Temple, Bodhi Tree, and Ashoka Pillar.
16. Bhaktapur
Nepal has spectacular medieval cities and one of the most spectacular among them is Bhaktapur. The city is rich in culture and is home to several magnificent temples and palaces. Bhaktapur was founded somewhere in the 12th century. Bhaktapur Durbar Square is the most famous attraction of Bhaktapur. This is a town square with various pagoda-like temples, sprawling palace complexes, medieval shrines, and memorials. Bhaktapur Durbar Square is one of the UNESCO World Heritage Sites in Nepal. Bhaktapur is a royal city with a glorious history. The city lies in a strategic location on the trade route that passes through Nepal and Tibet. The artistic style of carvings and intricately sculpted temples and palaces are the hallmarks of Bhaktapur Durbar Square. Bhaktapur is also famous for its festivals and unique cuisine.
17. Chitlang
Chitlang is close to Kathmandu and is perfect for a hiking trip from Kathmandu. It is blessed with immense natural beauty. The forests teem with birdlife and bird watching is the best thing to do here. Tourists can stay in homestays and spend their time in leisure. Chitlang lies in the old trade route through Nepal. Villagers lead a simple life. Farmers herd and rear goats and goat cheese is a dairy product that is very popular here. Organic products like apple wine, organic plum, and cheese are the specialty of this place.
18. Dharan
If you want to spend your time doing exciting activities in Nepal, then you must visit Dharan. This city is near the southeastern border with India. Dharan is a gateway to the Mahabharata Hills in Nepal. Dharan is a hub of sports activities and football is the main sport here. Tourists can do many adventurous activities here like playing golf, hiking to hills, and going on picnics at nearby hill stations. Some famous temples here are Pindeshwar Temple, Panchakanya Temple, Buddhasubba Temple, Dantakali Temple, and others.
19. Janakpur
One of the most sacred places in Nepal is Janakpur. According to historical records, Janakpur was founded in the 18th century. But the history of Janakpur goes back to mythological times. This was the place where Sita was born and Lord Ram wed her after breaking the celestial bow of Lord Parshuram. Janakpur was the capital city of the kingdom of Videha. Janakpur is a very holy city as it is associated with Lord Ram and Sita. Even Gautam Buddha and Lord Mahavira visited Janakpur during their lifetime. Janakpur is a city of ponds and there are approximately 70 such ponds in the city. Temples in Janakpur such as Janaki Mandir, and Ram Mandir are spectacular in architecture. Rama Sita Vivaha Mandir is the temple built at the exact place where the wedding of Ram and Sita took place in the Ramayana.
20. Biratnagar
Biratnagar is a city that is very close to the southeastern border with India. It is the base from where tourists can explore the eastern parts of Nepal like Ilam, Taplejung, Sankhuwasabha, and Panchthar. Biratnagar is famous for its bazaars which are called haats. Farmers bring their agricultural produce, spices, and handicrafts and set up stalls to sell them to prospective buyers. These haat bazaars are great if you want to see the rural culture and handicrafts of Nepal. There are many temples, gardens, and ponds in Biratnagar. Bhedetar is a hill station from where you can have scenic panoramas of the mountains and valleys. Dharan is also close to Biratnagar and is famous for its temples. Ilam is well known for its tea gardens. Dhankuta is famous for its oranges. Koshi Tappu Wildlife Reserve is just 90 minute drive from Biratnagar and is the best place for bird watching.
21. Davis Falls
Davis Falls is a spectacular waterfall near Pokhara in Nepal. The most remarkable thing about this waterfall is that the water forms a tunnel after it reaches the bottom. This tunnel runs 100 feet underground and the total length of this tunnel is 500 ft. This is also the reason why this waterfall is referred to as Patale Chango which is a Nepali word meaning Underground's Waterfall. But there is a sad story about this waterfall. A Swiss lady drowned in this waterfall and her father wanted to name the falls after her name. But later the name was changed to Devi's Falls. During its course, the falls pass through a cave which is called Gupteshwar Mahadev Cave. Phewa Lake is the source of this waterfall. Tourists flock to this waterfall when they visit Pokhara as there are long tunnels and caves near this waterfall.
22. Nuwakot
Nuwakot once was the capital city of powerful rulers of Nepal. But today it is a huge tourist destination that is close to Kathmandu. Nuwakot stands on the banks of the Trishuli and Tandi Rivers. Nuwakot was built over a hill and its name translates to Nine Forts. It was on a trade route that passed through Nepal and Tibet and passed through India. Due to its elevated height, Nuwakot was a lookout point from where rulers could oversee trade activities. Nuwakot Durbar is the central attraction of Nuwakot. It is a UNESCO World Heritage Site in Nepal. The massive palaces and temples here have incredible architecture. The wooden construction and intricate sculptures and carvings are testimony of the skilled artisans of those days.
23. Chandragiri Hills
Famous for its cable car ride, Chandragiri Hills is a very scenic destination. Tourists can drive to the top of Chandragiri Hills or reach there via a cable car ride which is also called a gondola ride. There are 38 gondolas in the cable car system and it takes 9 minutes to reach the top. As it is located close to Kathmandu, Chandragiri Hills is a favorite day trip destination from Kathmandu. Bhaleshwar Mahadev Temple is on the top of the hills and it is said that Sati's forehead fell at this place. Chandragiri Hills offers scenic views of the forests, valleys, and small towns from the top. But the thrilling landscape views of Mount Everest, Manaslu, Langtang, and Annapurna are mesmerizing for tourists.
24. Mahendra Gufa
Situated near Pokhara, Mahendra Gufa or Mahendra Cave is an enormous cave system with tunnels, narrow passages, and dark chambers. The cave is a limestone cave with weird and strangely shaped stalagmites and stalactite formations. Nomadic shepherds found this cave in the 1950s and at that time the cave was called Adhero Bhawan meaning Dark Habitat. The cave is incredibly long and runs for more than 100 meters. Due to its deepness, bats and many other animals can be found in this cave. There are long passages that are completely dark and inaccessible to tourists. Water drops from the ceilings and walls of the cave form electrical sparks when they strike the ground.
Mahendra Cave is named after King Mahendra Bir Bikram Shah Dev. Experts have visited this unique cave system in Nepal and studied the animals and creatures that live inside the dark corners of this cave. Lights illuminate many parts of the cave and tourists come here to visit this cave when they visit Nepal. 100 m of passages are easily accessible while the rest are not. Officials have turned to artificial lighting to illuminate the corridors of the cave.
25. Phulchowki
Located near Kathmandu, Phulchowki is a hill station that is famous for bird watching. The botanical gardens here are beautiful with so many types of flowers like roses, jasmine, iris, and other varieties. Phulchowki offers the best views of the surrounding valleys and mountains. The dense forests here teem with so many bird species. Phulchowki is also best to go during snowfall.
26. Siddha Gufa
The largest cave in Nepal is named Siddha Gufa or Siddha Cave. It is also the second-largest cave in South Asia. Siddha Cave is so large that 2500 people can easily sit inside the cave. Siddha Gufa is a limestone cave and is incredibly big. It is 0.5 km deep and 50 m in height. There is very little light in the cave and most of the interiors are very dark and damp. Tourists have to take torchlights and flashlights from outside the cave if they want to go inside. The mysterious corners of the cave add to its beauty of the cave. You can watch the amazing and weird-looking Stalactites and Stalagmites formations in the cave. The chirping of bats and their continuous whistling can be an eerie thing to experience. Nevertheless, Siddha Cave is a memorable one-day trip from Bandipur to Nepal.
27. Phewa Lake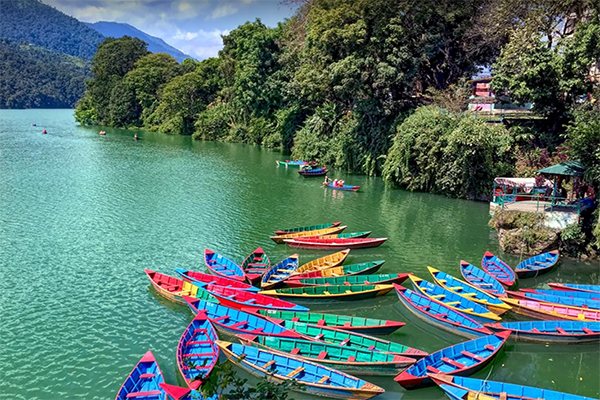 Nepal is blessed with many lakes and one of the most beautiful and scenic ones is Phewa Lake. The lake is in the city of Pokhara and is a freshwater lake. It is the second-largest lake in Nepal. Phewa Lake is best for boating and sightseeing. Phewa Lake is famous for its crystal clear reflection of Machhapuchhre, Annapurna, and Dhaulagiri mountain peaks. Boats that sail on Phewa Lake are called doonga. There is an island in the middle of the lake and there is a temple situated on this island. The lakeside of Phewa Lake is full of restaurants, eateries, bookshops, and cafes. You can also trek along the trekking trails near the lake.
28. Dhorpatan Hunting Reserve
In Nepal, you will find many protected forests and spaces for animals and birds and one such is Dhorpatan Hunting Reserve. This is the only reserve where hunting is permitted. The landscape of this reserve consists of dhor (marshlands), forests, and meadows. This wildlife reserve was set up to protect wild species of Nepal such as musk deer, pheasant, partridges, etc. There are several other animals here such as black bears, red pandas, leopards, etc.