Ranikhet is one of the most beautiful hill stations in Uttarakhand and it means 'Queen's Meadow'. It was developed as a hill station by the British Raj in India. Ranikhet is situated in the foothills of the Himalayas and there is natural beauty everywhere in Ranikhet. These Himalayan mountain ranges can be seen from anywhere in Ranikhet. There are pine and deodar forests, picturesque hamlets, ancient Hindu temples, golf courses, gardens, picnic points, and many other naturally beautiful places to visit in Ranikhet. You can visit all the Ranikhet tourist places when you book our Uttarakhand Tour Packages.
1. Chaubatia Gardens
Chaubatia Gardens is a place of lush green orchards and natural scenery. It is named because it is at the junction where cities of Ranikhet, Bhargaon, Pilkholi, Dehrti get connected. The gardens have more than 200 varieties of fruits and flowering plants. It has rolling orchards of apricots, peaches, apples, plums. Tourists can get a great view of the Nanda Devi, Trishul, Nilkanth, Nandaghunti peaks from Chaubatia Gardens. The Government Apple Garden and the Fruit Research Centre is also interesting place to visit nearby. Honey and fruit squashes are also available here.
2. Binsar Mahadev Mandir
Binsar Mahadev is a 10th-century temple which is dedicated to Lord Shiva who is worshipped here as Bindeshwar. There are idols of Lord Ganesha, Goddess Gauri, and Goddess Mahisasuramardini besides that of Bindeshwar. Binsar Mahadev Mandir is situated amid pine and deodar forests. There is a beautiful stream that flows near this temple, and it adds so much charm to this place. This temple was built in a single day. This temple has great archaeological significance.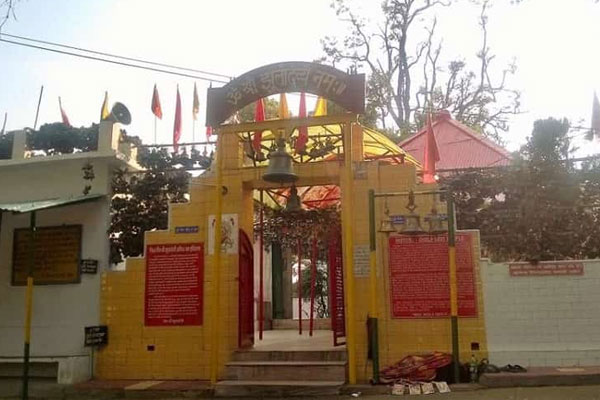 3. Jhula Devi Temple
Jhula Devi Temple is one of the most visited temples in Ranikhet. Goddess Durga is the deity of this temple, and this temple was built during the 8th century. It is believed that due to the powers of Goddess Durga, wild animals like leopards and tigers do not attack the cattle which roam freely around this temple.
4. Manila Village
Manila Village is one of the famous Ranikhet tourist places where the main attraction is the temple of Goddess Manila. It is also very scenic and tourists can have beautiful views of the Himalayan peaks from here. Manila Devi temple is famous among locals and there are many stories and legends associated with this temple.
5. Kumaon Regimental Centre Museum
Kumaon Regimental Centre Museum is one of the tourist places to visit in Ranikhet. The museum is established by the Kumaon Regiment of the Indian Army. Inside various artifacts and historical treasures are showcasing the rich culture of Garhwal and the Kumaon region of Uttarakhand. War photographs, trophies, uniforms, flags, documents, weapons, and objects used by the Indian Army are displayed here. Vintage photographs, rifles, wireless field telephones used in Kargil War and World War II are also on display here. Tourists can also see silver scepters used by Rani Laxmibai in this museum.
6. Haidakhan Babaji Temple
Haidakhan Babaji Temple is one of the temples in Ranikhet which is very interesting. It was believed to be an incarnation of Lord Shiva and he was a spiritual saint who lived in this region. He built many temples and this is one of the temples he built. This is a spiritual place and also a scenic one, from where tourists can view Himalayan mountain peaks like Nanda Devi, Panchchuli, etc.
7. Upat Golf Course
Upat Golf Course is one of the most fantastic Ranikhet sightseeing places. It is a 9-hole golf course that is surrounded by tall deodar and pine trees. This golf course offers membership plans for those who are keen on playing golf. Tourists can also play around for a small fee. The golf course is maintained properly and it has manicured green grass. This golf course is the second highest golf course in India.
8. Majkhali
Majkhali is a small hamlet on the road to Almora and is one of the most beautiful Ranikhet travel places. Tourists can have magnificent views of Himalayan mountain peaks from Majkhali. Views of Trishul are especially breathtaking. There is an old Kali temple in Majkhali. There are many picnic places which are naturally beautiful places with forests.
9. Bhalu Dam
Bhalu Dam is an artificial lake that was built to supply drinking water to the soldiers who were stationed here. It offers magnificent views of Himalayan peaks and is surrounded by forests. You can visit Bhalu Dam on a small trek. This place is best for a picnic and recreation.
10. Mankameshwar Temple
Tourists can visit Mankameshwar Temple in Ranikhet. Lord Shiva, Kalika Mata, Radha Krishna are the main deities of this temple. There is abundant greenery around this temple, and there is a gurudwara and garment factory near this temple to visit. Mankameshwar Temple was built by Kumaon Regimental Centre and is very popular among the locals.
11. Dwarahat
Dwarahat is one of those places to visit in Ranikhet which has around 55 ancient temples. These temples are both Jain and Hindu temples. Ratan Deo, Gujar Deo, Kacheri, Maniyan, and Mrityunjaya temples have magnificent architecture. Dwarahat temples were built by the Katyuri clan of kings. The views of scenic Himalayan mountain peaks like Trishul from Dwarahat are very beautiful.
12. Dunagiri Temple
Dunagiri Temple is one of the beautiful temples in Ranikhet which offers magnificent views of Trishul and other Himalayan mountain peaks. It is dedicated to Maa Dunagiri which is a divine incarnation of Goddess Durga. In the Ramayana, when Hanuman was carrying the mountain with the Sanjeevani Buti, a piece of this mountain fell at Dunagiri and hence the name of this place. This temple is close to Dwarahat.
13. Tarikhet Village
Tarikhet Village is another Ranikhet tourist place that nature lovers and history lovers will enjoy. Mahatma Gandhi used to live here at Tarikhet and Gandhi Kutiya is one of the many historical places to visit in Ranikhet.
14. Ashiyana Park
Ashiyana Park is a beautiful park for children in Ranikhet. It is also called Devdhar Udyan, and it has many attractions like an herbal garden, manicured lawns, fountains, flowering plants, and a kid's play area. Ashiyana Park offers beautiful landscape views of the Himalayan mountain ranges. There are many walkways in this park, and families can have fun and relaxation in Ashiyana Park.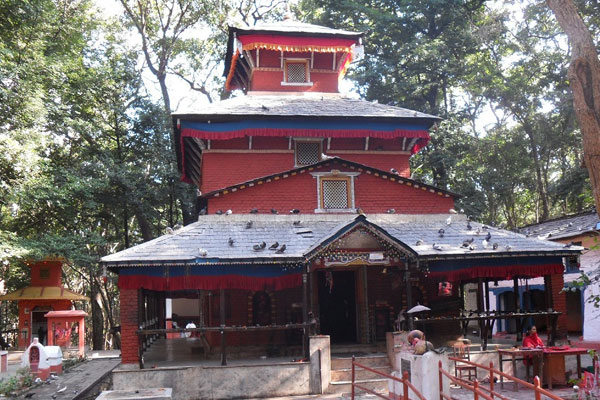 15. Upat Kalika Temple
Upat Kalika Temple is dedicated to Goddess Kali and is one of the temples in Ranikhet which is famous among locals. Golf Course is not far from this temple. Upat Kalika Temple offers superb views of the snowy Himalayan Mountains.
16. Ram Mandir
Ram Mandir is one of the many temples in Ranikhet, which is famous for its spirituality. Shri Ram and this temple is a sort of an educational center where students study Vedas and mathematics under Saint Mouni Maharaj. Ram Mandir is close to Jhula Devi Temple and some stairs will lead you to this temple.
17. Kalika
Kalika is a scenic little town, which offers splendid views of the towering mountain ranges of the Himalayas. It is 6 km from Ranikhet and this town is famous for its Kalika Temple and golf course.
18. Shitlakhet
Shitlakhet is a small hamlet near Ranikhet and offers captivating views of the Himalayan mountain peaks towering in the distance. It is one of the best places to visit near Ranikhet for camping and trekking. There are many viewpoints that you can visit and forest trails to explore.
19. Rani Jheel
Rani Jheel is an artificial lake in Ranikhet which tourists can explore. It is situated in the natural surroundings of pine and deodar trees. Boating, romantic walks, and picnics are the best things to do at Rani Jheel. Rani Jheel is a quiet romantic place in Ranikhet.
20. Sadar Bazaar
Tourists can do shopping at Sadar Bazaar when they visit Ranikhet. Sadar Bazaar is one of the best local shopping places in Ranikhet. Many shops are selling everyday household items. Sadar Bazaar is also a foodie destination in Ranikhet where tourists can taste authentic local food dishes.
21. Sunset Point
Ranikhet has many vantage points to view magnificent sunsets and one of the best visiting places in Ranikhet. Majhkhali is the best viewpoint here. Tourists can view ridges and ridges of blue hills and the snowcapped Himalayan mountain ranges in the far distance. Sunset Point is one of the best places in Ranikhet for nature lovers.
22. Katarmal Sun Temple
Katarmal Sun Temple is a major archaeological site in Ranikhet. The sun temple is dedicated to Lord Burhadita or Vriddhaditya, the old Sun God. The construction of this temple faces the east direction and is such that the first rays of the rising sun fall on the main shiv linga in this temple. This sun temple is part of a group of smaller temples around the main temple. The temple is 800 years old, and the intricate carvings on stone, stone sculptures, carved pillars, wooden doors, are the things to watch out for in this temple.