Rajasthan is a land of mighty forts. Rajput kings built these forts during their rule. These forts were not just for armies but the royal family also lived in these forts. These forts were so massive that they were just like small cities. The construction of these forts was such that they could provide shelter during battles and wars. They had special chambers for the storage of food and grains, water tanks, living chambers, palaces, gardens, and shops. These forts are the most popular attraction in Rajasthan today. Some forts still serve as royal residences of descendants of kings. Some of the top forts in Rajasthan are mentioned below.
Read More: Rajasthan Tour Packages
1. Mehrangarh Fort, Jodhpur
Mehrangarh Fort is in Jodhpur, and this city is also called the Blue City of Rajasthan. Built back during the 1460s, Mehrangarh Fort is an immensely powerful fort that was attached several times. The interiors of this fort have palaces, ornate architecture, vintage furniture, exquisite carvings on stone, and Rajasthani art. The view from the top of this fort gives you sweeping vistas of Jodhpur city. The museum inside the fort has paintings, ornaments, weapons and arms, textiles, and decorative arts, among other exhibits. Mehrangarh Fort is so popular that it even served as a location for famous movies such as The Dark Knight Rises and Awarapan.
Places to Visit: Phool Mahal, Sheesh Mahal, Chamunda Mata Temple, Jhanki Mahal, Chokhelao Mehran Terrace, Mehrangarh Fort Museum
2. Jaisalmer Fort, Jaisalmer
Jaisalmer Fort is one of the biggest forts in Rajasthan. This fort is in the city of Jaisalmer and is situated in the Thar Desert region of Rajasthan. Jaisalmer Fort is one of the hill forts in Rajasthan and is a UNESCO World Heritage Site. Jaisalmer Fort is so vast that 5000 people still live inside the fort. Rawal Jaisal, who was the founder of Jaisalmer, built this fort in 1156 AD. The fort was built on the trade route that went through the city of Jaisalmer.
Places to Visit: Tazia Tower, Raj Mahal, Jawahar Palace, Jain Temples, arched gates, Havelis
3. Chittorgarh Fort, Chittor
Chittorgarh Fort is the biggest fort in Rajasthan. In its time, Chittorgarh Fort was the capital of the Mewar region in Rajasthan. The fort was constructed in such an ingenious way that it once had 84 water bodies such as ponds, step wells, and water tanks. These combined water storage capacity was 4 billion liters and could last for 4 years and serve 50000 soldiers. The interiors of Chittorgarh Fort have victory towers, palaces, seven gateways, temples, memorials, towers, and defense structures. This fort was so powerful and impregnable that the enemies had a very tough time entering the fort. The huge walls, narrow passages, and massive gates with pointed arches made this fort a very powerful one.
Places to Visit: Kirti Stambh, Vijay Stambh, Fateh Prakash Palace, Gaumukh Reservoir, Padmini's Palace, Rana Kumbha Palace, Meera Temple, Fateh Prakash Palace
4. Kumbhalgarh Fort, Kumbhalgarh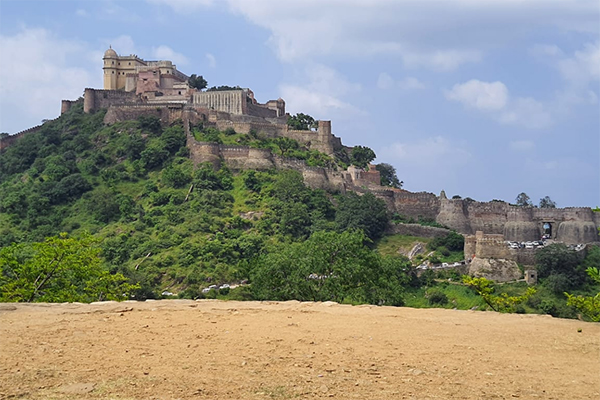 4. Kumbhalgarh Fort, Kumbhalgarh
Kumbhalgarh Fort is famous as the birthplace of the legendary Rajput king Maharana Pratap. Another famous thing about Kumbhalgarh Fort is that it has the second longest wall in the world. Kumbhalgarh Fort is one of the biggest forts in Rajasthan and even in all of India. Maharana Kumbha built Kumbhalgarh Fort back in the 15th century. This fort is named after him. The most striking thing about this massive fort is its strong fortifications and walls. Many powerful rulers tried in vain to attack the fort. But all the attempts went futile due to the strong fortifications and valiant fight back by the Rajput soldiers. The fort is built over a hilly area and its serpentine walls are so long that they go over several hills. They are 36 km in length and 15 feet in thickness. There are temples, gateways, and palaces inside the fort, which are still preserved very well.
Places to Visit: Badal Mahal, Charbhuja Temple, Neel Kantha Mahadev Temple, Ganesh Temple, Mammadeo Temple, Jain temples, 7 gateways
5. Gagron Fort, Jhalawar
You must visit Gagron Fort, which is near the city of Jhalawar in Rajasthan. Gagron Fort is the only fort in entire North India that is surrounded by water. Due to this rare type of architecture and construction, this fort is called a hill fort and a water fort. The unique thing about this fort is that it is surrounded by water on three sides and a deep moat on the fourth side. It is because of this fact that this fort is also called Jaladurg.
Gagron Fort is one of the finest examples of hill forts that are built in Rajasthan. It is due to its marvelous architecture that UNESCO listed it as one of the prestigious World Heritage Sites in Rajasthan. Gagron Fort was built in the 12th century by a king called Bijaldev. The fort has a long history of battles and sati sacrifices. Enemies attacked this fort and the fort has seen as many as 14 battles and several instances of queens sacrificing themselves in the form of Jauhar. Gagron Fort is one of the most scenic forts in Rajasthan being constructed at the confluence of the Ahu and Kali Sindh Rivers.
Places to Visit: Janana Mahal, Dewan-i-Khas, Dewan-i-aam, Rang Mahal, Kishan Pole, Madhusudan Mandir, Nakkarkhana, Selekhana
6. Neemrana Fort, Neemrana
Perhaps there is no other fort that is so popular as Neemrana Fort. Today, Neemrana Fort is converted into a 5-star luxury heritage hotel with royal interiors, swimming pools, vintage furniture, restaurants, and bars. Neemrana Fort is close to Delhi, Agra, and Jaipur. Neemrana Fort Palace is one of those forts which ranks among the best hotels in India. This is a 15th-century fort was built out of a hill. It was renovated and its walls, interiors, and gardens were revamped. The fort architecture is made in 12 levels, Today, Neemrana Fort boasts of such luxurious services like a spa and pool, cultural events, camel rides, vintage car rides, ziplining, close to many other places like Siliserh Lake, Neemrana Baori, and Bala Quila Fort. You can also stay in the fort and enjoy world-class luxury and a comfortable stay.
Places to Visit: Chandra Mahal, Francisi Mahal, Hara Mahal, Uma Vilas, Deva Mahal, Sheela Mahal
7. Taragarh Fort, Ajmer
Taragarh Fort is one of the biggest forts in Rajasthan. It was built over a hill and its hilltop location is the best as it offers panoramic views of the surroundings. A ruler known as King Ajaypal Chauhan, who founded Ajmer, built Taragarh Fort in 1354 and this is one of the oldest forts in Rajasthan. The fort rises 1300 feet from the ground and is built on a steep hill. The ingenious architecture of this fort is such that soldiers and kings could escape through the tunnels or hide there during enemy attacks. The crisscrossing tunnels also were like a maze and its route was known only to kings and trusted soldiers. Inside the fort, there are huge gateways and chambers with intricately carved stonework. Sufi dargahs and several other shrines were built inside the fort. Mughals, Rajputs, British generals, and many other rulers made this fort.
Places to Visit: Miran Sahib ki Dargah, Bhim Burj, Lakshmi Pol, Phuta Darwaza, Gagudi ki Phatak
8. Junagarh Fort, Bikaner
One interesting thing about Junagarh Fort is that it is one of the very few forts in Rajasthan which is not built on a hilltop location. On the contrary, the fort was built on flat land. Rao Bika built the Junagarh Fort in 1478. At the time it was built, it was called Chintamani. But later on in the 20th century, it was called Junagarh Fort or the "Old Fort". Junagarh Fort is a massive fort with vintage Havelis, temples, and various palaces. The fort was thought to be impenetrable by many rulers and even repeated attacks on the fort were not successful in defeating it. Junagarh Fort is a mix of many architectural styles. Successive rulers added more palaces and structures to Junagarh Fort.
Junagarh Fort is one of the forts where the royal family still lives in a part of the fort. There are expansive courtyards, long corridors, jharokhas or balconies, decorative kiosks, gardens, gates, windows, and the interiors are a reflection of the royalty and opulence of the maharajas who ruled over Bikaner in the olden days.
Places to Visit: Ganga Mahal, Chandra Mahal, Badal Mahal, Phool Mahal, Anup Mahal, Karan Mahal, Har Mandir, Ratan Behari temple, Junagarh Fort Museum
9. Ranthambore Fort, Sawai Madhopur
Ranthambore Fort is inside the Ranthambore National Park. The name of the park comes from the name of the fort. Ranthambore Fort is one of the hill forts of Rajasthan and is a UNESCO World Heritage Site. It is not very clear when was the fort built, but historians believe that the fort was built somewhere in the 8th century. Ranthambore Fort, being on top of a hill, offers scenic views of the surrounding forests and valleys of Ranthambore National Park. Today, you can still visit the ruins of Ranthambore National Park. But back in the olden days, Ranthambore Fort was so powerful that enemies found it impossible to conquer this fort. However, many rulers ruled from this fort in its long history. The Mughals, Chauhans, Rajputs, were some of the dynasties who ruled from this fort. There are three temples in the fort which you can still visit today.
Places to Visit: Hindu and Jain temples & National Park
10. Amer Fort, Jaipur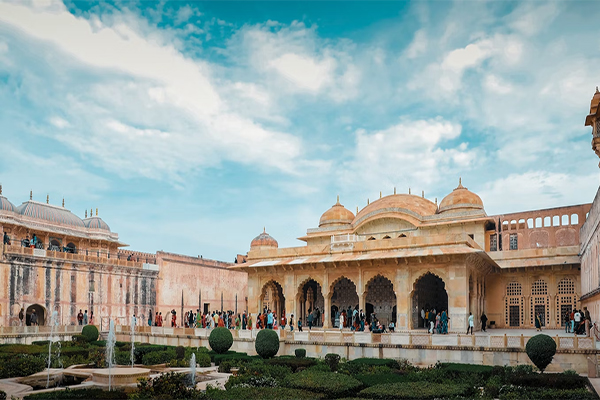 Amer Fort is one of the three forts which you can visit in the city of Jaipur. It was built in the old capital of Amer. The fort is massive and its architecture is such that it draws tourists from all over the world. Tourists also recognize Amer Fort with the name of Amber Palace. The zigzag paths inside the fort were built to slow down the enemy even if they enter the fort. Amer Fort is a classic example of Hindu and Rajput architecture. There are vast courtyards inside the fort along with long corridors, Mughal-style gardens, several palaces, tunnels, and temples.
Amer Fort is primarily Rajput architecture to it, but some parts of the fort have a Mughal style of construction. The palaces are built with a taste for pleasure and aesthetic beauty. Amer Fort is located in a hilly region near Jaipur. Red sandstone and marble was used in the construction of this fort. Amer Fort is so famous that many movies like Mughal-e-Azam, Bajirao Mastani, and Jodha Akbar were shot here. People still remember the iconic mirror work of the palace where the famous song from Mughal-e-Azam was shot.
Places to Visit: Sukh Mandir, Diwan-e-Aam, Sheesh Mahal, Kesar Kyaari (Mughal Gardens), Jaleb Chowk, Ganesh Pol, Suraj Pol, Baradari, Janana Mahal, Sila Devi Mandir