Exploring ancient temples, do you love it? A place where so much history and devotion have taken place leaves an air of magic. Gujarat must be included in your bucket list if temple hopping excites you.
Known for its cultural heritage and lively traditions, Gujarat houses some of India's most iconic temples. Offering a one-of-a-kind spiritual experience, Gujarat boasts breathtaking scenery, historical antiquity, and architectural wonders. A multitude of temples, ranging from Lord Krishna's birthplace to Jyotirlinga shrines, can be found in this state, attracting both devotees and tourists.
Gujarat temples cater to all interests, including visits to UNESCO World Heritage sites and admiration of distinct architectural designs. Awe-inspiring beauty and splendor are found at the Sun Temple in Modhera and the Jain temples of Palitana.
In this article, we will explore the top 10 famous temples in Gujarat and provide you with all the essential information to plan your visit.
If you're looking for peace and spirituality, you can visit all the places in Gujarat through our great Gujarat Tour Packages deal!
Here are famous top 10 temples in Gujarat:
Dwarkadhish Temple: A Mystical Place of Lord Krishna
Shri Somnath Jyotirlinga Temple: Divine Abode of Lord Shiva
Nageshwar Jyotirlinga: Seek Blessings of Lord Shiva
Pavagadh Hill/Kalika Mata Temple: A Blend of Spirituality and Adventure
Ambaji Temple: Seek Blessings from the Divine Mother
Akshardham Temple: A Marvel of Architecture and Spirituality
Koteshwar Mahadev Temple, Kutch: A Divine Abode on the White Desert
Rukmini Devi, Dwarka: A Temple of Divine Love
The Sun Temple of Modhera
Shri Swaminarayan Mandir Kalupur, Ahmedabad: A Spiritual Retreat in the Heart of the City
If you are planning to visit Gujarat? Here, we have compiled a list of top 10 temples in Gujarat & top things to do in Gujarat that should be on your wishlist!
Explore 10 breathtaking temples in Gujarat as time travel unfolds before your eyes. With bags packed and a sense of wonder intact, set off to explore the undiscovered treasures of this ancient land – an adventure awaits, full of architectural and spiritual marvels waiting to be found.
1. Dwarkadhish Temple: A Mystical Place of Lord Krishna
Dwarkadhish Temple, or Jagat Mandir, is considered among the holiest Hindu sanctums. Among the most renowned places of worship in Gujarat, Dwarkadhish Temple resides in Dwarka. Hindus hold immense spiritual significance to this temple, attributed to Vajranabha's construction. Standing tall at 78 meters, the main shrine of this magnificent five-storey temple reaches great heights. Since 200 BCE, believed to exist, the temple has undergone several reconstructions. Millions of Krishna followers view it as a representation of devotion and spirituality.
A wonder to behold, the architecture of Dwarkadhish Temple is. The blend of intricate carvings, exquisite sculptures, and vibrant colors generates an enthralling environment. With intricately carved sandstone, the Nij Mandir, a five-story central shrine, was constructed in the Chalukya architectural style. The Mughal style was evident in both the entrance gateway and the audience hall. A spire and two tall flagpoles are part of the temple's design.
Temple entry grants access to Lord Krishna's divine spiritual essence, providing solace. Lord Krishna and Rukmini, His consort, are lovingly depicted in the main altar's idols. Visible from far away, the spire of the main temple reaches an elevation of 157 feet.
Dwarka, a place revered for being the abode of Lord Krishna, is part of the four holy sites that comprise Char Dham. Especially sacred to Vaishnavites, the temple honours the reverence of Vishnu and his divine forms. Major festivals attract large crowds to the temple, including millions of pilgrims every year.
2. Shri Somnath Jyotirlinga Temple: Divine Abode of Lord Shiva
One of the twelve Jyotirlinga temples revering Lord Shiva, the Somnath Temple is situated in Somnath. Great religious importance is attached to this temple in Gujarat, where it is deemed one of the most stunning structures. Rich in history since ancient times, the temple has been referenced in numerous ancient texts.
Destroyed and rebuilt multiple times, the original structure exemplifies the unyielding character of religious devotion. With Sardar Vallabhbhai Patel's assistance, the present day structure was put up in 1951 following past restorations. Against the captivating Arabian Sea, the temple's architecture creates a picturesque scene that draws visitors of all kinds.
Destination for spiritual seekers, its seven-story architecture, Chalukya style carvings, and peaceful surroundings make it.
The central shrine housing the sacred jyotirlinga is the main attraction within the complex. Participating in the rituals and prayer, you may experience the vibrant devotional environment. A museum, auditorium, and garden are also part of the temple complex.
Significant Hindu festivals like Maha Shivaratri or Diwali attract larger crowds to the Somnath Temple, which is illuminated during these events. So you can plan accordingly, the shrine closes for a couple of hours during the afternoon while the temple stays open from 6 am to 9 pm.
Without visiting the Somnath Temple, no trip to Gujarat is considered complete. India's cultural and architectural heritage is embodied in this Gujarat sacred site, which offers insight into devotional richness.
3. Nageshwar Jyotirlinga: Seek Blessings of Lord Shiva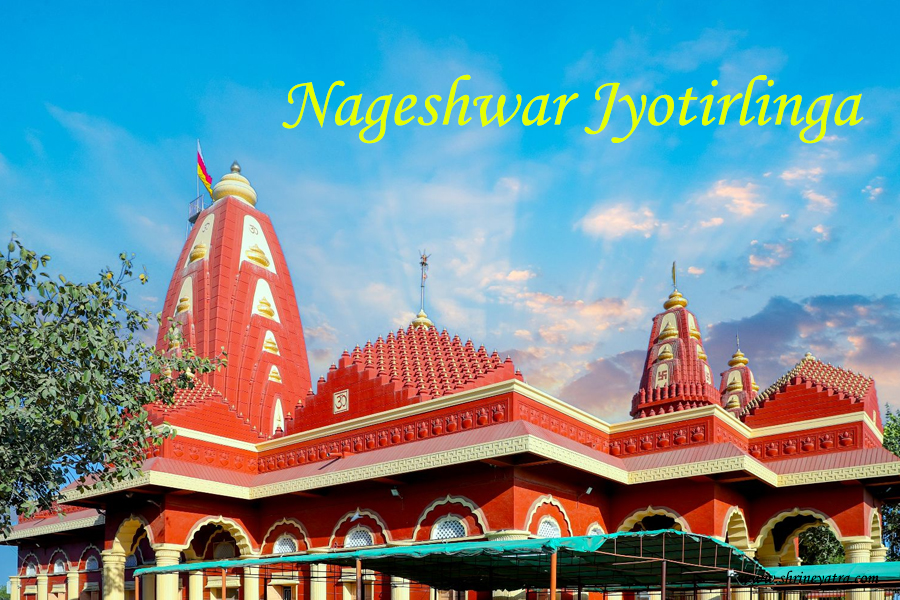 Nageshwar Jyotirlinga is a sacred temple in Gujarat revered for its association with Lord Shiva. One of the twelve Jyotirlinga sites listed in Hindu texts, it is situated near Dwarka. According to tradition, Vajranabha, grandson of Lord Krishna, built the temple.
The swayambhu lingam, a self-manifested lingam of Lord Shiva, is the main draw of the Nageshwar Temple. Known to grant the desires of faithful visitors, one of the powerful Jyotirlingas. The temple's spiritual power and peaceful surroundings draw visitors searching for Lord Shiva's favor. At this sacred site, one may immerse themselves in the divine atmosphere and witness the magnificence of Indian temple design.
Devotees visiting Nageshwar Temple commonly swap accounts of miracles and divine intervention. Deep peace and solace are reported by many when they are present near the Jyotirlinga. Inexplicable occurrences have been reported by those who have visited the temple, resulting in life changes. Travelers embarking on the journey to Nageshwar Jyotirlinga are left with an enduring impression in their hearts and minds. This location enables visitors to encounter the divine, locate inner peace, and perceive the potent energy of Lord Shiva. Countless souls continue to be inspired and lifted by the essence of spirituality, which Nageshwar Jyotirlinga truly embodies.
4. Pavagadh Hill/Kalika Mata Temple: A Blend of Spirituality and Adventure
A haven for nature enthusiasts and a popular pilgrimage site, Pavagadh Hill is located in the Panchmahal district of Gujarat. Dedicated to the fearsome aspect of Goddess Kali, the Kalika Mata Temple resides here. On top of the hill, the temple offers panoramic vistas of the nearby landscape.
One has two options for reaching the Kalika Mata Temple, through climbing the steps or the ropeway. A mix of excitement and wonder awaits on the path to the temple, surrounded by dense vegetation, ancient rock formations, and unpredictable wildlife encounters. A fusion of Hindu and Islamic styles, the temple's architecture is an homage to the cultural heritage of the local region. Devotees and nature lovers alike are drawn to Pavagadh Hill's captivating blend of spirituality and natural beauty.
5. Ambaji Temple: Seek Blessings from the Divine Mother
Among the revered Shakti Peethas in India, Ambaji Temple, located in the Aravalli Range of Gujarat, stands out. Goddess Amba, or Ambaji, is regarded by Hindus as the Supreme Goddess of their pantheon and this temple is dedicated to her. Said to be located at 51 Shakti Peethas, the temple holds the Heart of Goddess Sati. Aged over 1000 years, the temple is believed to have been built in the 10th century. Despite being constructed in the sixteen century, the current building still stands today. With impressive carvings and sculptures, the temple is constructed in the Nagar architectural style.
Simple yet elegant, Ambaji Temple's architecture showcases the devotion and faith of millions of followers. Pilgrims flock to the temple especially during the festive occasion of Navratri when it is elaborately decorated and brightly lit.
Unlike other temples, the garbhagriha here lacks an idol; instead, there's a diagram of a triangle symbolizing the goddess. Said to house the essence and potency of the Devi, this yantra. Devotees flock to the Ambjai Mata Temple during Navratri and Amavasya nights, the busiest periods. Special ceremonies and prayers are performed on those occasions. Darshan timetable varies according to celebrations; temple hours remain 6 am to 10 pm.
Seekers of enlightenment and spiritual solace travel to Goddess Ambaji's temple due to its peaceful environment and heavenly presence. Escape, a perfect, the temples serene and peaceful environment offers from everyday life's hustle and bustle.
6. Akshardham Temple: A Marvel of Architecture and Spirituality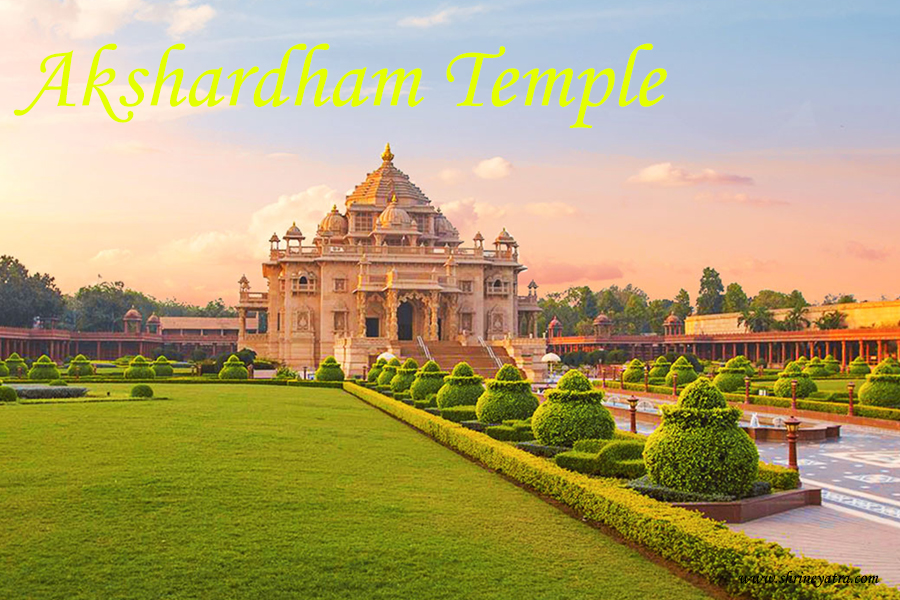 Architecture and spirituality combine to form a masterpiece at Akshardham Temple, one of Gujarat's largest temples located in Gandhinagar. A blend of traditional and contemporary design elements, the temple complex spreads over 23 acres and the Swaminarayan sect built it.
Housing the idol of Lord Swaminarayan, the intricately carved central monument is Akshardham Temple's main attraction. The 11-foot gold leafed murti (statue) of Lord Swaminaryan is what you'll find inside.
In the Sahajanand Darshan exhibition hall, dioramas, paintings and multimedia shows depict the life of Lord Swaminarayan. The murti of Lord Swaminarayan at Nilkanth Abhishek Mandap is where devotees can participate in the abhishek ritual. A giant screen at Yagnapurush Kund depicts the life of Lord Swaminarayan; this venue also features musical fountains and a large stepwell.
Exhibition halls, gardens, and a water show that depicts the rich cultural and spiritual heritage of India are also included in the temple complex. Both devotees and tourists must visit Akshardham Temple for its serene atmosphere, breathtaking architecture, and spiritual teachings. The temple is open Tuesday to Sunday from 9: With extended hours on weekends and holidays, 3:00 am to 6:30 pm. The complex and boat ride are free to admit. The Akshardham Temple displays Gujarat's finest temple architecture, spirituality and culture. Visiting this magnificent temple completes any trip to Gandhinagar.
7. Koteshwar Mahadev Temple, Kutch: A Divine Abode on the White Desert
Lord Shiva is the deity to whom the sacred shrine, Koteshwar Mahadev Temple located in Kutch district, is dedicated. On the shores of the Arabian Sea it rests, offering a breathtaking view of the great white desert. The temple is considered one of the oldest and holiest temples in Gujarat.
The Shivalinga, which Lord Rama himself is believed to have installed, is the main attraction of Koteshwar Mahadev Temple. When it is adorned with lights and decorations during the Maha Shivaratri festival, the temple attracts a large number of devotees. A must-visit destination for spiritual seekers is made out by the sound of waves, tranquil surroundings and the divine presence of Lord Shiva.
Read here: Famous Shiva temples in South India
Creating a surreal experience, tourists can enjoy stunning panoramic views of the sea and the surrounding landscape from the temple premises especially during sunset. A sacred lake known for its ecological diversity, the nearby Narayan Sarovar is what people often seek to visit from this temple that also acts as a starting point.
8. Rukmini Devi, Dwarka: A Temple of Divine Love
The consort of Lord Krishna, Goddess Rukmini, is whom the Rukmini Devi Temple in Dwarka town is dedicated to. For its intricate carvings and stunning paintings depicting the divine love between Lord Krishna and Goddess Rukmini, this temple is known. Though small, it is beautiful.
Immense significance is held by the temple for Krishna devotees and it is believed to have been built around the 12th century. The divine presence of Goddess Rukmini mixed with serene ambiance and beautiful artwork make it a top destination for those seeking spiritual solace or blessings.
For those visiting Dwarka as tourists, the essence of a captivating love story from Hindu mythology is evoked by the mention of Rukmini Devi. Significant spiritual importance in the region is held by Rukmini, the beloved consort of Lord Krishna. Associated with Lord Krishna's divine presence and enriched by the tales of his relationship with Rukmini, Dwarka is a charming city located in Gujarat, India.
Where Rukmini Devi's presence is commemorated, the iconic Dwarkadhish Temple, tourists can explore. The temple's vibrant rituals and intricate architecture offer a peek into Hindu culture and devotion. About the divine love between Rukmini and Krishna, symbolizing devotion and loyalty; tourists can learn while visiting.
An unforgettable experience is created by Dwarka's rich heritage and spiritual ambiance intertwined with the love of Rukmini Devi and Lord Krishna for tourists seeking to immerse themselves in the cultural tapestry of India's ancient mythology and traditions.
9. The Sun Temple of Modhera
The Sun Temple of Modhera is a fine example of Indian temple architecture. Surya, the Hindu Sun God, is who this temple was built for in 1026 AD. The name suggests that the temple's architecture is designed to enable maximal sunlight inside.
Intricately carved stone pillars and the main hall with 52 smaller shrines, you'll see at the entrance. For ritual bathing, a stepped tank called the Surya Kund is used and it's in the center. The sun's rays reflect off the tank and illuminate the temple's inner sanctum during the equinoxes. It's a spectacular sight.
This architectural wonder is located in Modhera village in Gujarat's Mehsana district, about 102 kilometers from Ahmedabad where you should head. Daily, the temple compound opens its doors from both six in the morning till six in the evening whereas one can visit the shrine itself between eight until twelve noon. Then it reopens at three and operates till evening six. There is no entry fee.
Read here: Must Visit Sun Temples in India
Exploring the temple grounds for at least 2-3 hours is recommended if you go early. Photo-worthy are the intricate carvings and architecture – bring your camera. See the sun illuminating the temple by visiting around the equinox. Conservative, modest clothing should be worn as this is an active religious site. This UNESCO World Heritage Site's history and significance you can learn about by hiring a guide. The local businesses support and stop by the Modhera village. There you can find handicrafts, delicious Gujarati cuisine and textiles.
A must for anyone interested in history, culture, architecture or spirituality is a trip to this magnificent Sun Temple. In awe of the beauty and ingenuity of this ancient wonder, you'll leave.
10. Shri Swaminarayan Mandir Kalupur, Ahmedabad: A Spiritual Retreat in the Heart of the City
In Kalupur, Ahmedabad is the Shri Swaminarayan Mandir, a prominent temple of the Swaminarayan sect. Lord Swaminarayan, the founder of the sect, is who it is dedicated to and it is one of the most visited temples in Ahmedabad.
Reflecting the teachings of Lord Swaminarayan, the temple's architecture is a blend of traditional and modern design elements. Where the idols of Lord Swaminarayan and his divine successors are worshipped, the beautifully adorned central shrine is the main attraction of the temple. Exhibition halls, gardens, and a prayer hall for meditation and seeking spiritual enlightenment are also included in the temple complex. Shri Swaminarayan Mandir Kalupur in Ahmedabad, a must-visit destination for tourists seeking spiritual essence blended with architectural marvel.
Intricately carved sandstone and ornate spires are featured in the temple which showcases a stunning fusion of traditional Gujarati and Rajasthani architecture. Bhagwan Swaminarayan, the central deity's grandeur and other manifestations like Radha-Krishna can be admired by tourists. Offering a glimpse into Hindu culture and traditions, the temple hosts vibrant festivals like Janmashtami and Diwali. Contributing to the community's welfare, the temple is actively involved in charitable activities beyond its religious significance. Tourists exploring Ahmedabad's rich cultural heritage find Shri Swaminarayan Mandir Kalupur a captivating destination with its historical roots, spiritual aura, and social impact.
Conclusion
So, for yourself you must experience 10 of the most spectacular ancient temples in Gujarat and there you have it. You will be transported back in time by these architectural and artistic masterpieces with intricate stone carvings, massive entrance gates and towering spires that reach up to the sky.
The craftsmanship and devotion on display will mesmerize you, whether you start at the Sun Temple in the north or work your way down to Rani Ki Vav stepwell's intricate carvings. Pack your camera and sense of adventure – you're bound to work up an appetite for Gujarati cuisine after gazing at these stunning holy sites! For a glimpse into the rich history and culture of this state through its ancient temples, start planning your trip and book your Gujarat Tour Packages today. Await your visit, these sacred sanctuaries do.