This year the holy month of Sawan is starting from Sunday 25th July, which will last till Sunday 22nd August. As soon as the name of Sawan comes, the talk of Baba Bholenath's Kanvad Yatra starts revolving in the mind. Every year in the month of Sawan, people take kanwar and go to Babadham to offer water to Baba Bholenath. Every day lakhs of people offer Ganga Jal to Bhole Baba for about a month (this time only 29 days). Although devotees come here throughout the year, but the month of Sawan has special significance.
The devotees who offer Ganga water to Baba Bholenath bring it from Sultanganj in Bhagalpur district of Bihar. In the month of Sawan, the devotees of Baba worship Baba Ajgaibinath here after taking a dip in the Uttarvahini Ganga at Sultanganj. After worshiping, put on saffron clothes, fill Ganga water in a vessel, put it in the kanwar and keep it on the shoulder and leave for Deoghar. Keeping a kanwar on the shoulder, chanting the mantra of Bol Bam – Bol Bam, undertakes a pilgrimage of 105 kms.
Kanwar does not touch the ground during the journey from Sultanganj to Babadham. During rest or routine, it is kept on specially made bamboo or wooden hangers. During this 105 km journey, every inch of the land is seen painted in the colors of Baba Bhole. This world's longest religious fair remains immersed in faith and devotion. Everywhere only the echo of Bol Bam-Bol Bam is heard. The whole atmosphere is saffron and devotional.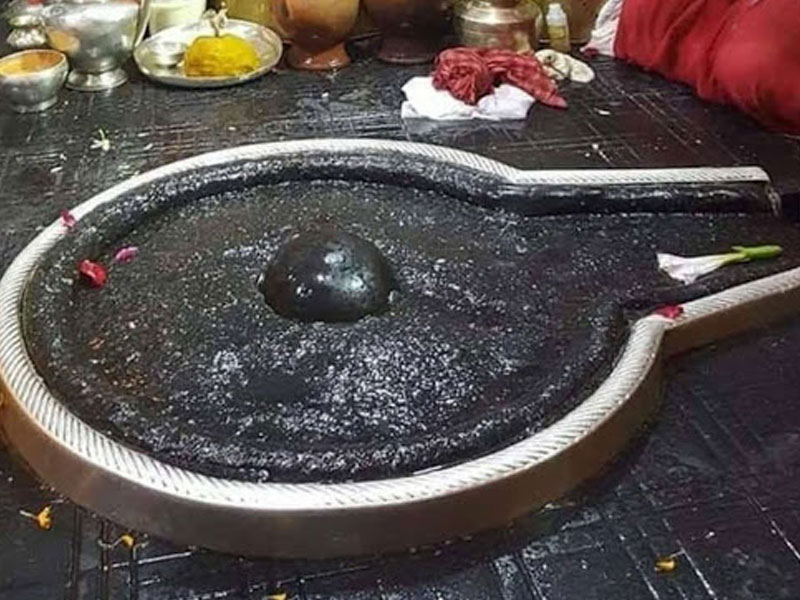 It is said that Lord Shri Ram first traveled from Sultanganj to Babadham by filling water. That is why even today, following that tradition, people go to Baba's court to offer water every year in Sawan. During this Kanwar Yatra, many people even get blisters on their feet. Devotees travel from Sultanganj to Babadham according to their capacity. Some people take even four-days and some complete it in 24 hours. Those who complete this Kavad Yatra in 24 hours are called 'Dak Bombs'. Passes and many facilities are also provided by the government so that they do not face any problem on the way.
On reaching Babadham, after seeing the flag of Kanwaria temple, bowing to him from a distance, if there is any mistake on the way, then apologizing to forgive him and holding a punishment meeting. Then take a dip in the Sivaganga and enter the Baba Baidyanath temple. After entering the temple, devotees offer Ganga water to Baba Baidyanath, one of the 12 Jyotirlingas. Due to being the house of Lord Mahadev, it is also called Deoghar.
Although the name of this city is Deoghar, but it is more famous as Babadham or Baidyanath Dham. It is said that by bringing Gangajal from Sultanganj and offering it on the Jyotirlinga, all the wishes are fulfilled, hence the Shivling of Baba Bholenath here is also called 'Kamna Linga'. This Baidyanath Dham is also known as Vaidya Nath Dham. Devotees who come here come to ask for the boon of being always healthy. It is believed that by visiting this Vaidya Dham one gets freedom from all diseases. After offering water here, devotees also perform Jalabhishek in the nearby Baba Basukinath temple.
Vaidyanath Dham is one of the 51 Shakti Peeths along with being one of the 12 Jyotirlingas. It is believed that the heart of Mother Sati fell here on the earth of Deoghar. The Kamna Linga of Bholenath was established at the same place. Apart from the grand 72 feet high Baba Baidyanath temple built by Lord Vishwakarma in the temple complex, there are 21 other temples. At the top of the main temple of Babadham, there is a Panchshul, not a trident. It is believed that if the linga is not visible due to some reason, then Lord Shiva is pleased with the mere sight of Panchshul and all the wishes are fulfilled.
All the gods got worried after hearing about Lord Shiva leaving Kailash. They went to Lord Vishnu. Then he asked Leela and Varun Dev to enter Ravana's stomach through Achaman. On the way to Lanka, Ravana had a small doubt on the way near Deoghar when he left Lanka with Shivling. Ravana caught a cowherd Baiju holding a Shivling and went to have a short doubt. Lord Vishnu himself was in the disguise of a cowherd. When Ravana did not return after a long time, the cowherd kept the Shivling on the ground. After this Shivling was established there. Since then this place is known as Baidyanath Dham after Baiju Gwale and Ravanaeshwar Dham because of Ravana.
Devotees who come to Babadham, while going back home, take peda, chuda, vermilion, webbing garland with them as prasad. The taste of the peda here will not be found in any peda of the world. Like the laddus of Tirupati, the peda here is famous all over the world. Those who take Babadham Kanwar from the village, after coming, distribute Baba's Prasad Peda in the whole village.
Nearby Sightseeing
Naulakha Temple
This temple is situated at a distance of about 2 km from Baba Baidyanath Temple. About sixty years ago it cost nine lakh rupees to build this 146 feet high temple, hence it is called Naulakha temple. This temple of Radha-Krishna is a grand example of Indian architecture.
Trikut Mountain
Trikut mountain is about 16 km from Deoghar. Due to the names of the three peaks of the mountain, Brahma, Vishnu and Mahesh, it is called Trikuta mountain. One can also reach Vishnu Peak by ropeway. It is an exciting tourist destination as well as a popular picnic spot. There is also a Trikutanchal temple here.
Basukinath Temple
Basukinath Temple is situated about 40 kms away from Vaidyanath Dham Temple. There are 22 temples of different deities in the Basukinath temple complex.
How to Reach
Babadham Deoghar is well connected to all the major cities of the country by rail, road and air. Airport is going to start soon in Deoghar. It is expected that air service will start from here in September this year. At present the nearest airport is Patna, about 275 km away. The main railway station here is Jasidih at a distance of about seven kilometers.
Best Time to Visit
Generally people avoid going anywhere in the rainy season but the Kanwar Yatra of Babadham starts only in the month of Shravan. That's why you can come here all year round. There is a good arrangement of accommodation and food here. You will not have any problem here.