Devbhoomi Uttarakhand is blessed with the divine presence of its temples. Vedas and Puranas have countless stories that speak of the holy temples in Uttarakhand. Ancient rishis and sages used to meditate here. Among all the temples in Uttarakhand, these are 20 of the most famous temples to visit in Uttarakhand. Shrine Yatra will guide you at every step of your Uttarakhand Yatra. Our Uttarakhand Temple Tour Packages are made to make your Uttarakhand pilgrimage tour a pleasant divine experience.
Most Popular Uttarakhand Tour Packages
1. Badrinath Temple
Badrinath Temple is one of the Char Dham Yatra temples in Uttarakhand. Lord Vishnu is worshipped here as Lord Badrinarayan. Badrinath is located along Alaknanda River. Having a snan or dip in Tapt Kund near Badrinath is an age-old ritual that is still followed by devotees.
2. Kedarnath Temple – Ultimate Hindu Pilgrimage Site
Kedarnath Temple stands on the Mandakini River and is one of the most famous 12 jyotirlinga temples in India. It is also among the famous Shiva temples in Uttarakhand and one of the Chhota Char Dham Yatra temples in Uttarakhand. Kedarnath Temple is part of the Panch Kedar tour. Contact us for Shri Kedarnath Travel Packages.
3. Gangotri Temple – Origin of the Ganga
Gangotri Temple is dedicated to River Ganga, and Ganga originates near this temple from Gaumukh Glacier. You can visit a submerged shiv linga and other nearby attractions like Bhagirath Shila, Pandava Gufa in Gangotri.
4. Yamunotri Temple – Source of the Yamuna
Yamunotri Temple is one of the most famous temples in Uttarakhand. Goddess Yamuna is worshipped here. Yamuna River originates from Yamunotri. Yamunotri temple is one of the Chhota Char Dham Yatra places in Uttarakhand. Devotees can take a holy dip in hot water kunds of Surya Kund and Gauri Kund.
5. Madhyamaheshwar Temple – One of the Panch Kedar
The centuries-old Madhyamaheshwar temple is one of the Shiv temples in Uttarakhand. Madhyamaheshwar temple is one of the Panch Kedar temples in Uttarakhand, dedicated to Lord Shiva. The peaks of Kedarnath, Chaukhamba, Neelkanth can be seen very clearly from this temple.
6. Jhula Devi Mandir (Ranikhet)
One of the most ancient temples in Uttarakhand, Jhula Devi Mandir was built in the 8th century. Jhula Devi Temple is near Ranikhet. Goddess Durga is worshipped here, and her idol is placed on a wooden swing (jhula). Hence the name of the temple is Jhula Devi Mandir.
7. Naina Devi Mandir (Nainital)
Naina Devi Mandir is one of the Shakti peeths in Uttarakhand devoted to Sati. The temple is in Nainital, near Nainital Lake. The temple is so-called as the eyes of Sati fell at this place. Many festivals are held here at the time of Navratri and attract devotees from the surrounding regions.
8. Surkanda Devi Temple (Dhanaulti)
Surkanda Devi Temple is situated in Dhanaulti and is close to the hill station of Mussoorie. It is also one of the famous Shakti peeth mandir in Uttarakhand. According to mythology, the head of Sati fell at this place, and this is why the temple is called Surkanda Devi Temple.
9. Dhari Devi Temple (Rudraprayag)
Dhari Devi Temple is on the banks of the Alaknanda. It is one of the Shakti peeth in Uttarakhand and is dedicated to Dhari Devi, a divine incarnation of Goddess Kali. You can visit this temple on your way to Badrinath Temple.
10. Kasar Devi Temple (Almora)
Kasar Devi Mandir is one of the many attractions of Almora, and this temple is almost as old as the 2nd century. It is a temple of Goddess Kasar Devi. Akhand jyot keeps burning here for years without extinguishing.
11. Kartik Swami Temple (Rudraprayag)
Kartik Swami Temple is in the Garhwal Himalayas, and Lord Kartikeya, the eldest son of Lord Shiva is the chief deity of this temple. A trek to Kartik Swami Temple is 3 km long, and many wooded trails are there near this temple.
12. Neelkanth Mahadev Temple (Rishikesh)
Neelkanth Mahadev is a Shiva temple near Rishikesh. It is said that Lord Shiva consumed poison to save humanity at this place. Hence the temple is named after Lord Shiva, whose throat (Kanth) turned blue (Neel). The temple architecture is very colourful and this temple is situated among scenic mountains and rivers.
13. Mansa Devi Temple (Haridwar)
Mansa Devi Temple is the most famous temple in Haridwar. You can go to the temple by trekking up or a ride on a cable car. Mansa Devi is the main deity of this temple, and she is a form of Shakti, believed to have been born out of the mind of Lord Shiva.
14. Tungnath Temple – World's Highest Shiva temple
Tungnath Temple is the highest Shiva temple in the world. It is a more than 1000 years old Shiva temple and was discovered by Adi Shankaracharya. Tungnath Temple is also one of the famous panch Kedar temples in Uttarakhand.
15. Jageshwar Dham – Group of temples with spectacular architecture
Jageshwar Dham is a temple complex near Almora, which has 124 small and big temples. These temples are more than 2500 years old and dedicated to Lord Shiva, Lord Vishnu, and other Hindu gods and goddesses. Jageshwar temples have fantastic architecture and stone sculptures.
16. Lakhamandal – Mythological heritage of Uttarakhand
Lakhamandal temple is one of the many Shiva temples in Uttarakhand. The graphite shiv linga is the main attraction of the Lakhmandal temple. Lakhmandal temple is a complex of many smaller temple shrines, which were built around the 12th century AD.
17. Bineshwar Mahadev Temple (Binsar)
Binsar Mahadev Temple was built around the 16th century and is on the route to Binsar Wildlife Sanctuary. Binsar Mahadev Temple is close to other tourist attractions like Mary Budden Estate.
18. Triyuginarayan Temple – Famous Shiva temple in Uttarakhand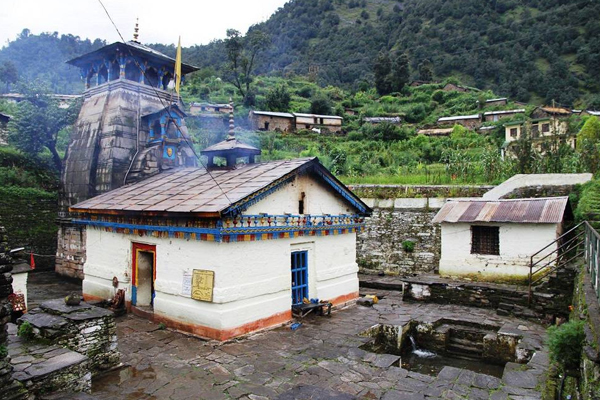 Triyuginarayan Temple is dedicated to Lord Vishnu. The temple is built at the place where Lord Shiva married Goddess Parvati in presence of Lord Vishnu. The eternal flame which is said to burn since the time of the marriage is the main attraction of this temple.
19. Nanda Devi Temple (Almora)
Considered to be the oldest temple in Uttarakhand, Nanda Devi Temple is in Almora in Uttarakhand. This temple is more than 1000 years old. Goddess Durga is worshipped in this temple. Nanda Devi Temple offers the best views of Panchachuli peaks.
20. Gopinath Temple (Gopeshwar)
Gopinath Tmeple is a Shiva temple in Gopeshwar. It was built between 9th and 11th century. A 5 meter long metal trident of Lord Shiva is believed to be centuries old, and is still rust-free. The trident was hurled by Lord Shiva when Kamadeva tried to break his meditation.