From Mathura to Dwarka, we embark on a spiritual journey with the ultimate guide to the top 10 Shri Krishna temples in India. Welcome! Millions of devotees hold a special place in their hearts for Mathura as the birthplace of Lord Krishna. Offering a unique experience for devotees seeking solace and divine blessings, each temple on our list varies greatly; from the iconic Dwarkadhish Temple in Mathura to the majestic Jagannath Temple in Puri.
The history, architecture, and significance of these sacred sites will be explored in this comprehensive guide. We're uncovering divine stories behind these temples like Vrindavan's Banke Bihari with its mysterious legends, and Bangalore's ISKCON temple engulfed by spiritual fervor – join us.
Read here: Top 10 Temples in Gujarat: A Spiritual Journey
If you're either a devout follower or simply curious to learn more about the rich spiritual heritage of India, this guide is the perfect companion. Embark on a soul-stirring journey through the top 10 Shri Krishna temples in India; so, pack your bags and put on your spiritual hat. Immerse ourselves in devotion and in these holy abodes, let's seek the blessings of Lord Krishna.
Importance of visiting Shri Krishna temples
Immense importance is held by Shri Krishna temples in the Hindu religion. Lord Krishna is worshipped as a deity who embodies love, compassion and divine wisdom; many regard him as the eighth avatar of Lord Vishnu. For prosperity, happiness, and spiritual enlightenment, devotees believe that by visiting these temples and offering prayers they can seek blessings.
Devotees connect with the divine and experience a sense of peace and tranquility in these sacred space temples. A spiritual ambiance that uplifts the soul is created by melodious bhajans (devotional songs), the vibrant atmosphere, and the aroma of incense. One's faith is strengthened and a deep connection with Lord Krishna is fostered by the act of offering prayers, performing rituals and participating in the temple activities.
Read here: The Top 10 Most Astonishing Temples of Rajasthan
Immersing oneself in the rich cultural and architectural heritage of India is an opportunity also offered by visiting Shri Krishna temples. Intricate carvings, stunning architecture and exquisite craftsmanship are showcased by these temples which date back centuries. A glimpse into the country's glorious past is provided by, and they serve as a testament to, the artistic brilliance of ancient India.
In this article, we will explore the Top 10 Shri Krishna temples in India and provide you with all the essential information to plan your visit.
Here are famous top 10 Shri Krishna temples in India:
Dwarkadhish Temple, Dwarka
Prem Mandir, Vrindavan
ISKCON Temple, Vrindavan
Jagnnath Mandir, Puri
Balkrishna Mandir, Hampi
ISKCON Temple, Bangalore
Udupi Shri Krishna Matha, Karnataka
Shri Nath Ji Mandir, Naathdwar, Rajasthan
Guruvayur Shri Krishna Temple, Guruvayur
Shri Ranchhodraiji Maharaj Mandir, Gujarat
If you are planning to visit Shri Krishna temples in India? Here, we have compiled a list of Top 10 Shri Krishna temples in India that should be on your wishlist!
1.) Dwarkadhish Temple, Dwarka
In India, the Dwarkadhish Temple in Dwarka is one of the most important and revered Shri Krishna temples. The place where Lord Krishna resided during his rule in Dwarka is what it is believed to be. A magnificent example of ancient Indian architecture, the temple stands on the banks of the Gomti River.
The grandeur and opulence for which the Dwarkadhish Temple is known are a tribute to Lord Krishna in his adult form. Adorned with precious jewels and garments, the idol of Lord Krishna is housed in the temple's main shrine. Intricate carvings decorate the sanctum sanctorum, and smaller shrines dedicated to other deities associated with Lord Krishna are also housed in the temple complex.
The divine aura and the blessings of Lord Krishna draw devotees to throng the Dwarkadhish Temple. The sound of the conch shell, the temple's spiritual ambiance and the melodious chanting of mantras generates an atmosphere filled with devotion and surrender.
2.) Prem Mandir, Vrindavan
Quickly gaining popularity among devotees is the Prem Mandir in Vrindavan and it's a relatively new addition to the list of Shri Krishna temples. Jagadguru Shri Kripalu Ji Maharaj, the renowned spiritual leader, built the temple as a magnificent structure dedicated to Lord Krishna and his eternal consort Radha.
Its breathtaking architecture and intricate marble carvings are what the Prem Mandir is known for. Life-size sculptures and artistic murals in the temple complex depict various episodes from Lord Krishna's life. A mesmerizing experience for devotees is created by the grandeur of the temple combined with its spiritual ambiance.
Devotees seeking the blessings of Lord Krishna and Radha visit the Prem Mandir to witness their divine love. A transcendental experience is what anyone seeking it would find in the temple's illuminated facade, melodious kirtans (devotional songs), and serene atmosphere.
3.) ISKCON Temple, Vrindavan
In Vrindavan, the ISKCON Temple is dedicated to spreading the teachings of Lord Krishna as presented in the ancient scriptures of India and it's a renowned spiritual institution. Devotees from all over the world recognize the temple also known as the Krishna-Balaram Mandir, as a popular pilgrimage site.
The ISKCON Temple is known for spiritual discourses that take place within its premises, melodious chanting of the Hare Krishna mantra and a vibrant atmosphere. Beautiful deities of Lord Krishna and his eternal consort, Radha are housed in the temple complex along with other deities associated with Lord Krishna.
Seeking spiritual guidance and immersion in devotional activities are why devotees visit the ISKCON Temple. An atmosphere of devotion and surrender is what the temple's peaceful ambiance, aroma from incense, and mridanga sounds (traditional drums) create.
4.) Jagannath Mandir, Puri
In Puri, Odisha, Jagannath Mandir which is one of the most renowned Hindu temples in India is located. Along with his siblings Balabhadra and Subhadra, it is dedicated to Lord Jagannath who is a form of Lord Krishna. Famous for its annual Rath Yatra where deities are paraded in massive chariots through the streets, this ancient temple attracts millions of devotees.
Intricate carvings and a towering spire feature in the temple's architectural marvel of architecture. That a visit to this sacred site grants spiritual liberation is what devotees believe. A kitchen that prepares the universally renowned Mahaprasad – a sacred food offering – resides within the temple complex alongside numerous shrines and gardens. As a symbol of devotion, tradition, and cultural significance for Hindus worldwide stands the Jagannath Mandir.
5.) Balkrishna Mandir, Hampi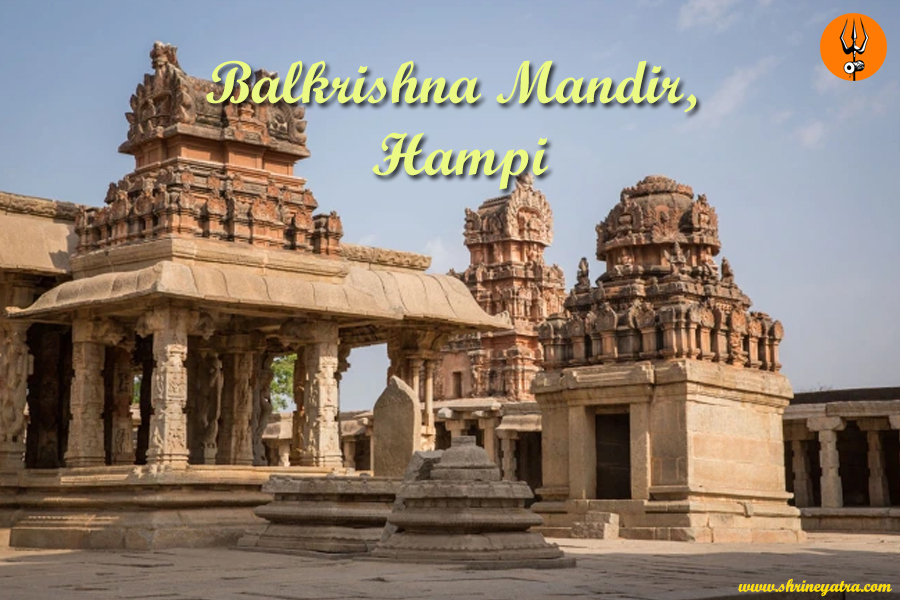 The Hindu temple Balkrishna Mandir, consecrated to Lord Krishna in his childhood form "Bal Krishna" or "Balkrishna," is located in Hampi, Karnataka. Specifically highlighting his mischievous youthful adventures, the exhibit tells stories from Krishna's life by showcasing intricate sculptures and carvings.
Visitors to Balkrishna Mandir partake in prayer and blessing seeking in devotion to Lord Krishna. As a cultural hub in Karnataka, the temple is where various religious and cultural events take place. Both spiritual pilgrims and visitors alike are lured at this sacred site by the divinity and appeal of Lord Krishna as a mischievous young deity
6.) ISKCON Temple, Bangalore
Recognized officially as the ISKON Temple in Bangalore, the Sri Radha Krishna Temple is a culturally and spiritually prominent religious center with landmark status. Lord Krishna and Radha are the deities this ISKCON-managed temple complex is dedicated to.
Featuring a grand Rajasthani design and marble exterior, the temple's architecture merges modern and traditional styles. Within ornate altars where visitors can observe rituals and devotional ceremonies, the deities reside. Visitors have a holistic experience at the temple; it complements its spiritual teachings, music, and vegetarian cuisine with cultural and educational programs. As a beacon in Bangalore, the ISKCON Temple embodies devotion, spirituality and cultural enrichment.
7.) Udupi Shri Krishna Matha, Karnataka
For Lord Krishna's devotees, the Udupi Sri Krishna Matha in Karnataka's coastal town is a popular pilgrimage site. The 13th-century saint Madhvacharya established it dedicated to Lord Krishna. A simple yet satisfying vegetarian meal is partaken by thousands of devotees as part of the temple's unique "Annadanam" offering.
The Matha's allure is formed by architecture, carvings, and a serene environment altogether. Blessings at Udupi Sri Krishna Matha are what devotees eagerly seek through a silver-plated window.
8.) Shrinathji Mandir, Naathdwar, Rajasthan
In Nathdwara, situated at, Shrinathji Mandir is a revered Hindu temple dedicated to Lord Krishna in his infant incarnation as Shrinathji. Especially among the Pushtimarg sect of Vaishnavism, it is an important pilgrimage site for devotees. Famous for its idol of Lord Krishna which is adorned in various forms throughout the day, is the temple.
Showcased in the temple's architecture are intricate marble work and stunning Rajasthani artistry. Including the "darshan" of the deity, where several times daily, the Lord's image is unveiled. Devotees throng to witness these daily rituals. In Rajasthan's spiritual and religious landscape, Shrinathji Mandir plays a pivotal role being a hub of devotion, art, and culture.
9.) Guruvayur Shri Krishna Temple, Guruvayur, Kerala
This temple in Guruvayur, Kerala is regarded as one of the most holy Lord Krishna sanctuaries. The temple known as the "Dwarka of the South" is a significant pilgrimage location for Hindus in this region.
With elaborate woodwork and vibrant paintings, the temple's sanctum sanctorum focuses on traditional Kerala architecture. "Udayasthamana Pooja" is included in daily rituals that devotees far and wide are drawn to. An elephant sanctuary also operates at the temple famous for its annual "Guruvayur Ekadasi" elephant procession.
10.) Shri Ranchhodraiji Maharaj Mandir, Gujarat
Dedicated to Lord Ranchhodraiji, a form of Lord Krishna, Shri Ranchhodraiji Maharaj Mandir is a notable Hindu temple in Dakor, Gujarat. Devotees revere this ancient temple, drawing thousands of pilgrims annually. Holding a conch shell, discus, mace,and lotus is how Lord Krishna,the deity,is depicted at the temple also known for its intricate architecture and stunning marble work.
Known also as Ranchhodraiji, the celebrated Dakor's Shri Ranchhodraji Maharaj Mandir is a temple devoted to Lord Krishna. Thousands of pilgrims each year are welcomed by the revered ancient temple. Featuring Lord Krishna with a conch shell, discus, mace and lotus; the temple is recognised for its marble work and intricate architecture.
They draw devotees to Dakor for various religious events and ceremonies where they can seek Lord Ranchhodraiji's blessings. The temple's Rath Yatra held during Sharad Purnima is a favorite especially among festivalgoers. As a symbol of deeply rooted religious history in Gujarat, Shri Ranchhodraiji Maharaj Mandir stands.
Conclusion: Experiencing the divine at Shri Krishna temples
Shri Krishna temples in India offer an extraordinary chance to feel the divine essence of Lord Krishna and plead for his blessings by experiencing the divine. Ranging from the Krishna Janmabhoomi Temple in Mathura to the majestic Dwarkadhish Temple in Dwarka, each temple on our list has sacred spaces for devotees to encounter the divine.
As our exploration concludes of the top 10 Shri Krishna temples in India, here's to hoping this guide inspired your journey towards a deepened understanding of Indian spirituality and Lord Krishna. A life-changing encounter is delivered by these temples, no matter one's level of faith.
By visiting the top 10 Shri Krishna temples in India, you can begin a spiritually enriching journey after packing your bags. Immerse yourself in devotion, guided by the divine energy and Lord Krishna's blessings along Enlightenment's path. With love, peace, and divine grace may your journey be filled.