Chamoli is the northernmost district of Uttarakhand, and this district borders Tibet to the north. Chamoli is one of the best places for Uttarakhand sightseeing. There are so many tourist places in Chamoli that you can visit. Chamoli is blessed with surreal landscapes that will ignite your inner self to get amazed in wonder and awe.
There are the mighty Himalayan mountain peaks such as Nanda Devi, Trishul, Nanda Ghunti, Dunagiri, their peaks covered with snow and shrouded in mists and clouds. There are the big rivers of Chamoli such as Alaknanda, Pushpawati, Dhauliganga, Ghangaria, whose gurgling waters cut deep valleys and gorges in the high Himalayas. Alpine forests teem with exotic wildlife that you can see only in the Himalayas. Garhwali culture thrives in Chamoli and it has its very own earthen charm.
Chamoli is one of the most scenic romantic places in Uttarakhand. Places like Auli are best for romantic couples, who can come here to enjoy those romantic moments together. The famous temples in Chamoli date back to several centuries, and these are among the most visited and famous places of worship.
You can do so many adventurous activities in Chamoli and see so many wonderful places in Chamoli. We have some exciting Chamoli tour packages for you. Whether you are looking for trekking or just Chamoli local sightseeing, a romantic holiday, or a family vacation, you will find the best Uttarakhand tour packages from us to visit the Beautiful Himalayan peaks of Chamoli.
1. Badrinath
Badrinath is one of the most famous temples of Char Dham Yatra and it is in Chamoli district. This temple is a temple of Lord Vishnu and is one of the oldest religious places in the Himalayas. Badrinath is also a sacred place for Jains. Badrinath is mentioned in the ancient Indian scriptures, and according to the Mahabharata, when Pandavas ascended the heavens, they went through Badrinath. There are many hot water sulfur springs, called kunds, near the temple. These are Sapt Kund, Narayan Kund, and Surya Kund. Having a bath in these kunds is said to purify the body of toxins.
2. Auli
Auli is the skiing capital of India. During the winter months, the slopes of Auli are covered with snow, and skiing is the most thrilling things to do in Auli during these months. It is a grassy meadow, and it's also known as Auli Bugyal in local Garhwali language. Auli is great for trekking, and the peaks of Nanda Devi, Mana Parvat, Mt. Kamet can be seen from Auli. You can reach Auli by road from Joshimath, or from atop a cable car. Auli looks best after a fresh snowfall, and playing with snow is an exciting thing to do in Auli.
3. Gopeshwar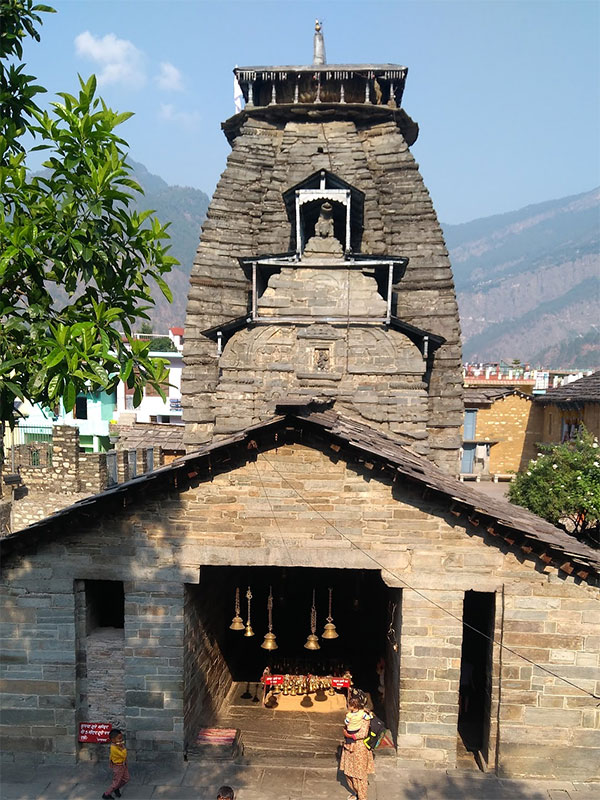 Gopeshwar is a picturesque town and the main attraction of Gopeshwar is the Shiva temple of Gopeshwar. Its famous Shiva Temple is centuries old, and it is also believed that Gopeshwar is named after Lord Krishna. There are other temples like Chandika Devi Temple, Anusuya Devi Temple. Vaitarni Group of temples is a cluster of temples in Gopeshwar with ancient architecture. Gopeshwar is blessed with natural beauty, and on a clear day, you can view a spectacular Himalayan panorama from Gopeshwar.
4. Mana Village
Mana is a small village and also called "Last village of india" in Chamoli district, which is also the last Indian settlement on the road to Tibet. It is just 3 km from Badrinath. Mana has a mythological connection and according to the Mahabharata, it was here at Mana Village that the Pandavas built a bridge over the Saraswati River to walk through. There are many trekking trails here, which lead to very scenic places. There are ancient temples and caves which are centuries old. People of Mana make handloom items, and you can buy them on your visit. Saraswati River flows through Mana making it a soothing sight to behold.
5. Valley of Flowers
Valley of Flowers is the most famous tourist places in Chamoli. During the period between June to September, the valley is carpeted in a variety of colorful flowers, which you can see only in the upper reaches of the Himalayas. Rare flowers like Brahmakamal, which flowers only for one night in the entire year can be seen in the Valley of Flowers. Valley of Flowers is a World Heritage Site listed by UNESCO. According to legends, Hanuman brought back the Sanjeevani booty from the Valley of Flowers. Valley of Flowers offers you the most stunning Himalayan landscapes and waterfalls.
6. Hemkund Sahib
Hemkund Sahib is one of the most sacred gurudwaras in Uttarakhand, and it is situated in the picturesque Chamoli district. It is the only pentagonal-shaped gurudwara in the world. This gurudwara is situated in the most spectacular Garhwali landscapes. There are snowy mountains everywhere and you can see glaciers on these mountains. Hemkund Lake is a glacial lake near the gurudwara. Hemkund Sahib is one of the most famous trekking places in Chamoli. Tourists normally visit Hemkund Sahib and Valley of Flowers together. The trek to Hemkund Sahib, which starts from Govindghat is one of the most memorable treks in Uttarakhand.
7. Joshimath
Joshimath is of immensely spiritual and religious importance to the Hindus and it is in Chamoli. Adi Shankaracharya established one of the four peeths here in Joshimath. The idol of Lord Badrinath is brought to Narsingh Temple in Joshimath during the winters. Tourists can visit numerous temples in Joshimath such as Shankaracharya Math, Bhavishya Kedar Temple, Gaurishankar Temple etc. A ropeway and cable car ride from Joshimath takes visitors to Auli. Joshimath is the base from where tourists starts various treks like Valley of Flowers trek, treks to Malari and Niti valley, and the famous trek to Hemkund Sahib, which are among the most famous.
8. Karnaprayag
Karnaprayag is one of the panch prayag in Uttarakhand, and this is a confluence of two rivers in Chamoli. It is where Pindar and Alaknanda Rivers meet. According to the Mahabharata, Karna used to meditate here at Karnaprayag. Karnaprayag is on the road to Badrinath and Swami Vivekananda also is said to have meditated here for some days. You can visit many temples like Uma Devi Temple, Chandika Mata mandir, Adi Bari Temple in Karnaprayag. Tourists can have a glimpse of Garhwali culture at places like Nauti Village and Nandprayag town when they visit Karnaprayag.
9. Vishnuprayag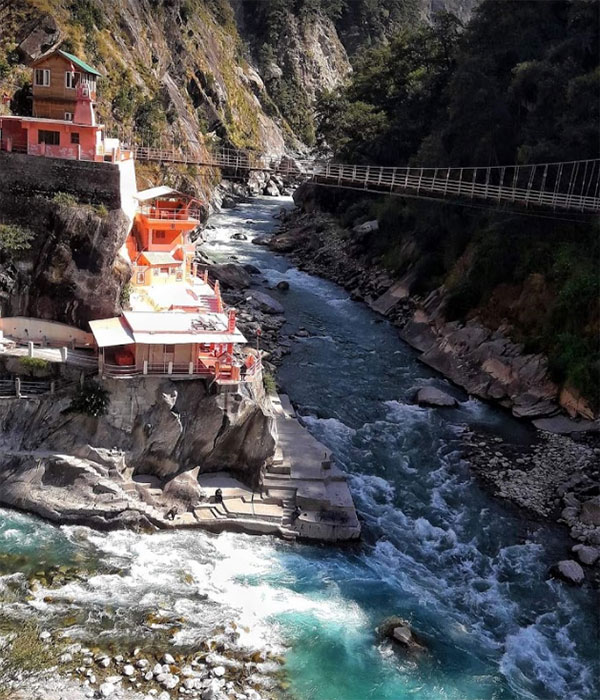 Vishnuprayag is where Alaknanda and Dhauliganga rivers meet and this is one of the most incredibly scenic places in Chamoli district. Legends tell that Vishnuprayag is the place where the celestial sage, Narada is said to have meditated. Tourists can visit an octagonal-shaped temple at Vishnuprayag, and this temple is more than a century old, and Ahilyabai Holkar, the Maharani of Indore, is said to have built this temple.
10. Nandaprayag
Nandaprayag is one of the panch prayag in Uttrakhand situated in Chamoli, and this is where Alaknanda and Nandakini Rivers meet. It is full of the scenic beauty of mountains, forests, and valleys. Nandaprayag was once a capital kingdom of former Yadu rulers. There is a temple dedicated to Lord Krishna at Nandaprayag called Nand Temple. Tourists can go on scenic walks and enjoy the natural beauty all around in Nandaprayag.
11. Govindghat
Govindghat is a small town in Chamoli, which lies on the way to Badrinath. It is at the confluence of the Alaknanda and Lakshman Ganga rivers. There is a Sikh gurudwara in Govindghat which provides langar meals and free accommodation facilities to tourists. Tourists often visit Govindghat before they begin their yatra to Hemkund Sahib and Valley of Flowers trek. Ghangaria is located a little ahead of Govindghat, and the real trek to Hemkund Sahib begins from Ghangaria. Tourists can shop for packaged foods and local handicrafts in the market in Govindghat.
12. Vasundhara Falls
Vasundhara Falls is just 5 km from Mana Village, and this is one of the most beautiful waterfalls in Uttarakhand which is in Chamoli. Tourists can visit Vasundhara Falls after a 3-hour trek from Mana Village. Vasundhara Falls has a height of 145 meters. What makes Vasundhara Falls so awesome is that people believe that when the water from the falls touches you, you are a pure soul. Water does not touch those who have sinned. The water from these falls is considered very healthy for the body. It is also a popular belief that Sahadeva, who was one of the Pandava brothers, gave up his life near Vasundhara Falls.
13. Kalpeshwar
Kalpeshwar is famous for the Kalpeshwar Temple, which is one of the panch kedar of Uttarakhand. It is the only temple of the panch kedars that is open throughout the year. Locals believe that there is a legend from the Mahabharata associated with Kalpeshwar Temple. Tourists can visit Kalpeshwar Temple by trekking from Urgam village, and this trek route goes through apple orchards and potato farms. You can see the Kalpganga River flow near Urgam valley, and there are deep forests in this valley, which makes the trek even more exciting.
14. Brahmatal Trek
Brahmatal Trek is one of the best treks in Chamoli district. On this trek, you will be stunned by the incredible scenic beauty of Himalayan glaciers, snow-capped mountain peaks, and alpine forests. According to Hindu mythology, Lord Brahma meditated at Brahmatal Lake. Brahmatal Lake trek starts from Chamoli and is a 28 km long trek that ends at Brahmatal Top. This trek will offer the best views of Nanda Ghunti, Trishul, Mt Khamet peaks. Trekking in winter is generally the most perfect time for this trek. Brahmatal Trek is an easy trek, where you can see birdlife of the Himalayas, camp at campsites, and see the rugged pastoral life of Garhwali people.
15. Rudranath
Rudranath is one of the Panch Kedar temples in Uttarakhand in Chamoli. The face of Lord Shiva is worshipped in the form of Neelkantha Mahadev at Rudranath Temple. Rudranath is the third panch Kedar shrine in the Panch Kedar yatra. According to the Mahabharata, Pandavas built the Shiva temple at Rudranath. A trek to Rudranath Temple takes 2 days and is considered to be one of the toughest treks in Uttarakhand. The trek passes through majestic mountain valleys, bugyals or meadows, rhododendron forests, Garhwali shepherd villages, and steep rocky mountain slopes. Tourists get magnificent views of Nanda Ghunti, Trishul, Nanda Devi mountain peaks. There are many sacred kunds or water tanks near the main temple, and bathing here is said to purify one's body and soul.