Jaisalmer is one of the best tourist destinations in Rajasthan. Jaisalmer is famous as the Golden City of India as most of the monuments here are made of yellow sandstone. Jaisalmer is located in the vast expanse of the Thar Desert in western region of Rajasthan. Rawal Jaisal, a Rajput king, founded Jaisalmer in 1156. You can visit many wonderful tourist landmarks in Jaisalmer.
There are massive forts, temples, heritage mansions, museums, memorials, and other places in Jaisalmer. But the most famous tourist attraction in Jaisalmer is the Jaisalmer Fort. On the outskirts of Jaisalmer, you can visit the famous Sam and Khuri sand dunes, Khaba Fort, Kuldhara Abandoned Village, and Tanot Mata Temple.
The best way to visit Jaisalmer is to book one of the Jaisalmer Tour Packages. The most famous tourist attractions that you can visit during your trip to Jaisalmer are a reflection of the culture of Rajasthan.
1. Jaisalmer Fort
Jaisalmer Fort is the number one tourist attraction in Jaisalmer. People also call this fort by other names such as Sonar Qila and Golden Fort. Locals also call this fort as Trikuta Garh, as it is built on a hill called Trikuta Hill. Jaisalmer Fort ranks among the biggest forts in Rajasthan. The fort is so famous that most visitors visit this fort first before visiting any other tourist attraction in Jaisalmer.
Jaisalmer Fort is a UNESCO World Heritage Site, and the only living fort in India. More than 3000 people still live inside this fort. Rawal Jaisal, the founder of Jaisalmer, built this fort in 1156 AD. Successive rulers added more structures to this fort. Mughal rulers attacked the fort many times in history. The fort has three-level defence architecture.
Read more: Top 10 Forts in Rajasthan
The gigantic stone walls in this fort from the first level. The second wall runs around the entire fort and is a barrier that adds a strong defence against enemy attacks. The soldiers used a third wall to hurl big boulders and hot oil at the enemy. Jaisalmer Fort is a small city in itself. You will find royal palaces, Jain temples, shops, restaurants, huge mansions, and other structures inside the fort. It is an experience to walk on the zigzag lanes in this fort.
There are several entrances or pols to enter this fort. There are arched gateways, and big courtyards called chowks. The gates and palaces have the most incredible carvings and architecture.
2. Patwon ki Haveli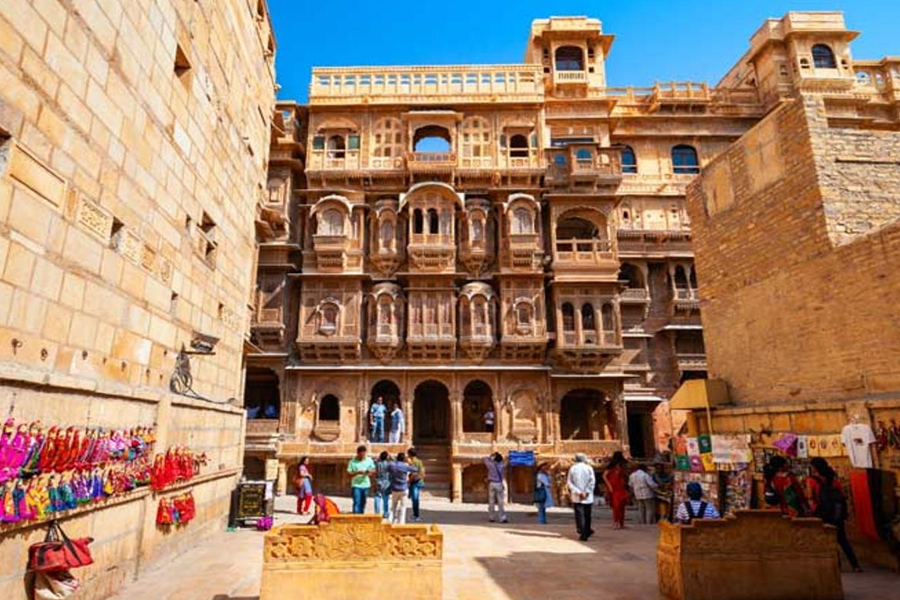 A haveli is the Hindi word for a large mansion. A tour of Jaisalmer is incomplete without a tour of the magnificent havelis. These vintage mansions once were a symbol of the prestigious times that Jaisalmer saw during medieval times. One such mansion in Jaisalmer is called Patwon ki Haveli. This medieval mansion is the largest in Jaisalmer.
Patwon ki Haveli is also popular as Kothari's Patwa Haveli or the Mansion of Brocade Merchants. The most interesting aspect, which is also the most striking feature of this haveli, is the incredible architecture and carvings in this haveli. This is not a single mansion, but a cluster of five mansions, which is collectively called Patwon ki Haveli.
Read more: Rajasthan Tour Packages
This haveli is a heritage mansion in Jaisalmer and is a protected monument by the Architectural Survey of India. Inside the haveli, you will see magnificent carvings on the balconies, arched gateways, door frames, rooms, pillars, and ceilings. The entire haveli has artistic beauty that is unmatched in style and architecture. The jharokhas or windows are sculpted with incredible artistic appeal.
You can view Rajasthani paintings, colorful décor in the rooms, interesting mirrorwork, and latticework on the windows. The museum in this haveli has objects and artifacts that belong to the early 19th century.
3. Jain temples in Jaisalmer Fort
When you visit Jaisalmer Fort, the major monuments that you should visit are the Jain temples. These Jain temples are built inside the Jaisalmer Fort. All these temples are dedicated to a particular Jain Tirthankara. The one common thing about all these Jain temples is the incredible architecture and wonderful carvings of these temples. The temples are those of Parsvanatha, Sambhavanatha, Shitalanatha, Shantinatha, Kunthunatha, Chandraprabha, and Rishabhanatha.
All these temples were built during the period between the 12th and 16th centuries. The most amazing thing about all these temples is that all these temples are connected. All these temples are beautiful in architecture, but those which are dedicated to Parsvanath, Chandraprabhu, Rishabhdev, and Sambhavnath, are the most beautiful.
Read more: Jaisalmer Trip – Travel Guide, How to Reach & Places to Visit
The carvings, the sculptures, the walls, and the ceilings have the most incredible Dilwara style of architecture in them. There is a library called Gyan Bhandar, which has Jain manuscripts and religious books.
4. Salim Singh ki Haveli
Havelis are one of the most amazing monuments to visit in Jaisalmer. Salim Singh ki Haveli is a wonderful haveli with beautiful architecture and carvings on yellow sandstone. The Haveli was built on the orders of the minister of Jaisalmer called Salim Singh Mehta in 1815.
It is beyond words to express the architectural beauty of Salim Singh ki Haveli. One part of the haveli is called Jahaz Mahal and resembles the stern of a ship. The arched balconies, carvings on the windows, and stylish jaali designs, all have a distinct stamp of architectural beauty in their construction.
One chamber in this haveli is called Moti Mahal, and dance performances used to take place here in the olden days.
5. Gadisar Lake
One of the most prominent tourist attractions in Jaisalmer is a lake. This lake is called Gadisar Lake and is very close to Jaisalmer Fort. Rawal Jaisal originally formed this lake in the 12th century. Gadisar Lake is an artificial lake and is a source of water for the people of Jaisalmer. Later on, Maharawal Gadsi Singh redeveloped the lake and added many memorials and shrines around the lake.
The lake is called Gadsisar Lake or Gadisar Lake, after him. Gadisar Lake is one of the relaxing places in Jaisalmer. You can do boating in the lake, and view the beautiful sunsets. Tourists also love feeding the fish inside the lake. You can come across half-submerged monuments while boating in the lake. Tillon ki Pol is an arched gateway that has very artistic carvings and architecture.
Read more: Jaipur Jodhpur Udaipur Tour Package
You can view this monument, besides many others from this lake. The chhatris are a dominant feature of most of these monuments. All these monuments and shrines around the lake make this one of the most scenic lakes in Jaisalmer.
6. Khaba Fort
Khaba Fort is a ruined fort near Jaisalmer. It is very close to another famous place, the Kuldhara Abandoned Village. Khaba Fort is a 13th-century fort that was inhabited by the Paliwal Brahmins who resided here. The fort has towers, elegant windows, and wonderful architecture. There is a small museum where you can see exhibits and rock fossils.
Khaba Fort is a fort with a mysterious past. Locals believe that the occupants of this fort cursed it before leaving, and according to this curse, no one will ever be able to settle inside the fort. You can see mud huts, a small temple, and several shrines in this fort.
7. Nathmal ki Haveli
Nathamal ki Haveli is one of the spectacular mansions that you can visit on your trip to Jaisalmer. The mansion was built as the residence of the former Prime Minister of Jaisalmer called Diwan Mohata Nathmal. Nathmal ki Haveli was built in 1885.
The Haveli is a beautiful blend of Islamic, Rajput, and Rajasthani architecture. The exteriors have wonderful carvings and the interiors have the most beautiful paintings. The paintings are a reflection of the prosperous times of Jaisalmer. Some of these paintings have 1.5 kg of gold leaf.
Read more: Jodhpur Jaisalmer Tour Package
The beautiful carvings can be seen everywhere from pillars and ceilings to the walls and windows. It is said that two brothers started to build this haveli independently without any use of diagrams or instruments. Yet the carvings and architecture of this haveli are eye-catching.
8. Kuldhara Abandoned Village
Jaisalmer is full of the most unbelievable places and Kuldhara Abandoned Village is certainly one of the most unusual places to visit here. Kuldhara is an abandoned village near Jaisalmer. The ruins of this village are still preserved intact after all these years.
Kuldhara Village is famous as a spooky ghost village. Some believe that paranormal activities in this village do not allow anyone to reside there. There is a mystery about Kuldhara which makes it even more attractive to tourists. There are many spooky legends and stories about why this village was abandoned by its residents. Some say that they left Kuldhara overnight due to the menacing terror of a minister called Salim Singh.
Read more: Uttarakhand Tour Packages
Today, Kuldhara is a protected site and is maintained by the Archaeological Survey of India. There are over 85 small houses, huts, and cottages which are in ruins. There is a temple and a well here. Inscriptions mention that the residents of this village were Brahmins who came from Pali in Rajasthan.
9. Sam sand dunes
The area which is known as Sam sand dunes is at a distance of 40 km from Jaisalmer city. Here there are vast sand dunes that rise to a height of 30 meters to 60 meters. These undulating sand dunes are incredibly scenic and form the major tourist destination in Jaisalmer. Sunrise and sunset views at
Sam sand dunes are a particularly wonderful sight to behold. Most tourists who come to Jaisalmer visit Sam sand dunes. Here they can stay in luxury Swiss camps and indulge in several exciting activities.
Read more: Jammu Kashmir Tour Packages
Some of these activities such as dune bashing, parasailing, and quad biking, are highly adventurous. But the most exciting thing to do here is to go on a camel safari. A camel ride is the best way to explore the nomadic villages and wildlife in the desert area at Sam.
Tourists can enjoy a cultural gypsy dance show where Rajasthani tribal dancers dance to the tune of regional Rajasthani music.
10. Tanot Mata Temple
Tanot Mata Temple is located at a distance of 120 km from Jaisalmer. The temple is very close to the Indo-Pak border. This famous temple is dedicated to an incarnation of Hinglaj Mata.
Tanot Mata Temple had an important role in the 1971 Indo-Pak war. It is said that the divine powers of the goddess defused 3000 bombs that fell near the temple. It saves the lives of so many Indian soldiers in the process. Even today, the BSF (Border Security Force) maintains the temple.
Read more: Complete Himachal Tour Package
You can still see some of the unexploded bombs, which are kept on display at the Tanot Museum here. The soldiers of BSF still celebrate the victory over Pakistan on December 16 every year at the temple.
11. Desert National Park
If you want to spot wildlife in Jaisalmer, the best place to visit is the Desert National Park. This is one of the biggest national parks in India. You can spot rare desert animals such as desert foxes, blackbuck, chinkara deer, wolves, and others.
Desert National Park is the only place in India where you can spot the Great Indian Bustard. You can also spot reptiles and birds like buzzards, falcons, vultures, partridges, cranes, and many others. A jeep safari is the best way to explore the wildlife in this park.
Much of the landscape in Desert National Park is of sand dunes, cacti vegetation, salt lake bottoms, waterholes, and rocky terrain. Fossils of dinosaurs are also found here.
12. Bada Bagh
Bada Bagh is a cluster of memorials that were built for the former rulers of Jaisalmer. These cenotaphs have wonderful Rajasthani architecture. There is a small garden near the cenotaphs.
Bada Bagh is one of the most famous tourist spots in Jaisalmer. All these cenotaphs are built on a small hill, and the hilltop position gives scenic views of the surrounding areas in Jaisalmer. Maharaja Maharawal Jai Singh was the king who built a small dam and a water tank to bring water to the people of Jaisalmer. Plants started to grow and slowly the area turned into a green oasis in the desert region. When he died, his son, Lunkaran built a Chhatri in his honor in 1743. This small step started a tradition where a Chhatri was built in the garden for every king of the Bhatti dynasty.
Read more: Luxury Golden Triangle Tour
However, in 1947, this practice was discontinued when a prince of the royal dynasty died due to a mysterious illness, and building a cenotaph was considered to be a bad omen.
13. Jaisalmer War Museum
Jaisalmer War Museum is one of the popular tourist attractions in Jaisalmer. The museum was built to honor the soldiers who laid down their lives during the 1971 Indo-Pak war. Among the things displayed at this museum are weapons, guns, photographs, war equipment, Indian army battle tanks, and other items. There are exhibit halls, a multimedia room, and a shop to buy souvenirs.
You can visit the wall where the names of Param Vir Chakra and Mahavir Chakra medal winners are etched. You can watch a movie about the battle of Longewala and learn about the exploits of soldiers and army generals.
14. Desert Culture Centre and Museum
One of the fascinating places to visit in Jaisalmer is a museum called Desert Culture Centre and Museum. The puppet show is the most interesting thing to watch out for in this museum.
You can see many things and objects that are a reflection of the lifestyle of the local Rajasthani people. Among other things you can see are folk instruments, vintage textiles, medieval coins, old utensils, ancient books, manuscripts, and other relics.
15. Khuri sand dunes
Khuri is a small village near Jaisalmer, and the most famous thing about Khuri is the sand dunes. Tourists in Khuri can experience the desert culture and get a complete desert experience in Khuri. They can stay in desert huts, resorts, cottages, camps, and guest houses at Khuri. During their stay, they can do many activities like village tours, camel rides, and jeep safari, and enjoy folk music and the traditional gypsy dance of Rajasthani tribals.
Khuri is more remote than Sam, and you will find fewer tourists here. It is this that makes Khuri so very attractive. There are fewer than 100 houses in Khuri and you can stay in any of these and experience the nomadic style of life that the residents at Khuri live. The peaceful atmosphere is a thing to enjoy at Khuri. You can see shepherds tending to their cattle, or artisans making pottery and other local crafts.
One of the very amazing things to see here is the love for animals and it is not surprising to find villagers co-existing with chital deer, peacocks, nilgai, mongoose, desert fox, blackbucks, and other creatures.
16. Vyas Chhatri
Vyas Chhatri is a memorial near Jaisalmer which is dedicated to Sage Vyas. These memorials are made of yellow sandstone and have the most incredible carvings. The chhatri or dome-shaped design on the top is the most distinct aspect of Vyas Chhatri.
All these memorials are one of the top scenic places in Jaisalmer. Vyas Chhatri offers you the most striking views of Jaisalmer Fort and the surrounding region. The sunsets when viewed from Vyas Chhatri are amazing. As it is a top tourist attraction, you can watch folk musicians play their traditional instruments to entertain tourists.
17. Akal Wood Fossil Park
Jaisalmer was once a place where dinosaurs roamed during prehistoric times. The dinosaur bones and skeletons which were found here during many excavations are proof of their existence. Akal Wood Fossil Park is one of the most exciting places to visit in Jaisalmer.
You can spot such wonderful and rare objects like wood logs and fossilized tree trunks among many other things that were found here by archaeologists. There are more than 25 petrified wood trunks that are on display here. Some fossils are more than 180 million years old, and they belong to the Jurassic period. You can also discover the footprints of Pterosaurs in a place called Thaiyat, which is close to this park. Among other things are the shells of aquatic creatures, which suggest that the place where Jaisalmer is situated today, was a vast ocean in prehistoric times.
Akal Wood Fossil Park ranks among the finest National Geological Monuments in India. The Geological Survey of India assigned it one of the important heritage geographical monuments in 1972.
18. Amar Sagar Lake
One of the most beautiful places in Jaisalmer is a lake called Amar Sagar Lake. This place has several water tanks, wells, and ponds. All these water bodies are built near the palace of Amar Singh. This palace was built in the 17th century and was built on the orders of Maharawal Akhai Singh.
The palace has several chhatris and mural paintings. The king was a devoted follower of Lord Shiva and that is why, he built a temple of Shiva, which was entirely made of marble stone. The five floors of the palace have wonderful carvings and superb architecture. You can see carved figures and mythological characters carved out of the marble stone.
19. Lodhruva Temple
Lodhruva is a small town near Jaisalmer, which is famous for its temple. Lodhruva was once the capital city of the Bhatti rulers, and it is even older than Jaisalmer. A Bhatti ruler called Deoraj established it in the 9th century. The Lodhruva Jain Temple is one of the finest temples in Jaisalmer.
The temple is dedicated to the 23rd Jain Tirthankara Lord Parsvanath. There are wonderful jaali designs on the windows, elegant carvings on the pillars, arched balconies, and beautiful sculptures in the temple. Lodhruva Jain Temple is a wonder of yellow sandstone architecture. Hinglaj Mata Temple and Chamunda Mata Temple are other temples that you can visit in Lodhruva.
20. Thar Heritage Museum
An eminent scholar called Narayan Khatri established Thar Heritage Museum. The museum is among the best places in Jaisalmer to revisit the history and culture of Jaisalmer. The exhibits that are on display here reflect the architectural and cultural heritage of Rajasthan.
You can visit exhibits such as folk instruments, fossils, kitchen equipment, turbans, etc. Tourists can explore the unique collection of sea fossils, postcards, coins, weapons, manuscripts, ornaments, and other objects. The museum organizes a puppet show for tourists.
Visitors can also play a game of Snakes & Ladders at the museum. There are life-size portraits of former rulers of Jaisalmer at the museum.
21. Longewala War Memorial
Longewala War Memorial is located around 100 km from Jaisalmer. It is very close to the Indo-Pak border and is the last point from which tourists and civilians are allowed to venture.
Longewala War Memorial is built at the actual place where the I971 Indo-Pak war took place. You can see actual battle tanks, war aircraft, cannons, military ammunition, jeeps, and guns, which were used in the wars with Pakistan.
Besides this, you can see photographs and actual bunkers which were used by the soldiers during the battle of Longewala. You can watch a multimedia presentation about the battle of Longewala.
22. Jaisalmer Wind Park
Jaisalmer is a desert region, where the wind blows fast. You will find many windmills here in Jaisalmer. The Jaisalmer Wind Park has many windmills that tourists can see when they visit Jaisalmer. These windmills create power from wind energy and supply it to houses and industries near Jaisalmer.
23. Jaisalmer Government Museum
You must visit the museums like the Jaisalmer Government Museum on your visit to Jaisalmer. This museum has one of the best collections of relics and ancient artifacts that belong to the Thar Desert and Rajasthan.
One of the best exhibits to visit here are the paintings, inscriptions, embroidered items, handicrafts, stone statues, and coins. You can wonder with awe at rare sculptures from Kiradu and Lodurva that date back to the 12th century.
But the most wonderful exhibits are those of the prehistoric beasts and petrified plants. You will also find fossils of insects and sea anemones here. There is a life-size exhibit of the Great Indian Bustard which is preserved in a glass case.