Udaipur is one of the famous cities in Rajasthan. It is located in the hills of the Aravalli range. Udaipur is known as the City of Lakes because of the innumerable artificial lakes here. Udaipur is known for its palaces and hill forts.
Udaipur was once the capital of the Mewar region. Because of its stunning beauty, Udaipur is a romantic city. The magnificent attractions in Udaipur also include heritage temples, lakes, markets, and food. You can explore all the Udaipur Tour Packages if you want to tour the best attractions in Udaipur.
1. Udaipur City Palace
One of the main attractions in Udaipur is the Udaipur City Palace. This magnificent palace is on the banks of Lake Pichola. The palace has innumerable courtyards, palaces, royal chambers, pavilions, gardens, and temples. Inside, you can see magnificent royal art, paintings, a vintage collection, and intricate architecture. The gardens and their lush greenery are breathtaking.
The architecture is a blend of Indian, European, and other architectural styles. The museum inside has a priceless collection of glass objects, murals, silver works, and other royal objects. The famous palaces to visit in City Palace are Amar Vilas, Badi Mahal, Fateh Prakash Palace, Durbar Hall, and others.
2. Bagore ki Haveli
Udaipur has some magnificent mansions, which are called havelis. Bagore ki Haveli is one such heritage haveli you can visit in Udaipur. You will feel amazed by its incredible architecture. Bagore ki Haveli is on the banks of the famous Lake Pichola. A minister of Mewar Kingdom built the haveli. There is a museum inside where you can watch various exhibits on display. You can look at colorful glasswork, mirrorwork, wall paintings, and other priceless treasures.
Bagore ki Haveli has around 100 chambers and rooms with vintage furnishings and Rajasthani décor. There is incredible artwork everywhere you see in Bagore ki Haveli. Take special interest in the cupolas, jharokhas, balconies, queen's chambers, and makeup rooms. The main attraction in Bagore ki Haveli is the colorful music and dance show which takes place in the evening time. Folk dancers and musicians perform traditional Rajasthani folk music and dances during this event.
Read more: Top 10 Forts in Rajasthan
3. Sajjangarh Palace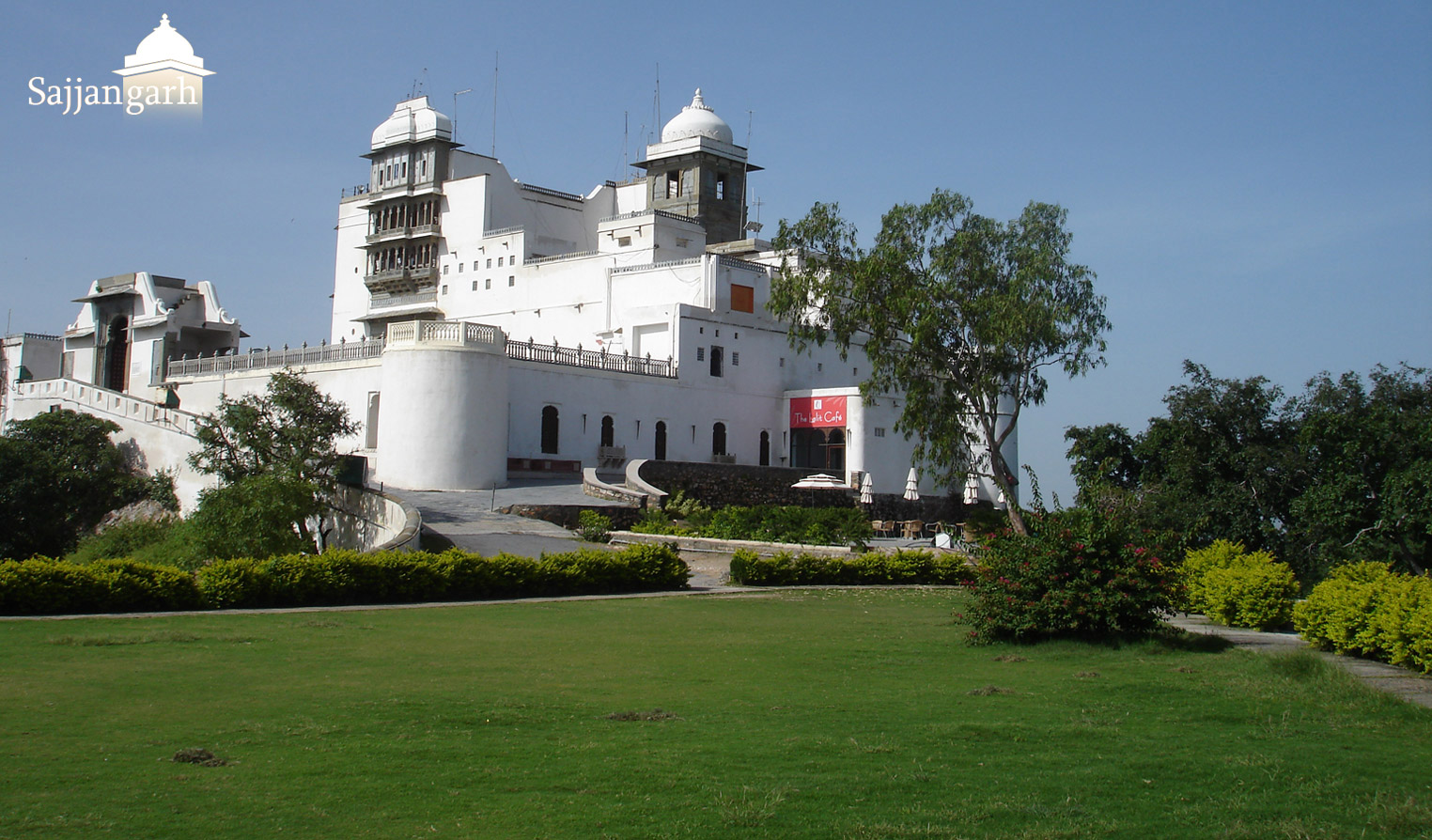 One of the best palaces that you can visit in Udaipur is Sajjangarh Palace. The palace was the royal residence of the former Mewar king, Maharana Sajjan Singh. The palace was built in 1884 and was originally built as an astronomical observatory to watch over the movement of monsoon clouds. Due to its location on Bansdara Peak, the palace was best for viewing the skies and the onset of monsoon clouds. This is the reason, why the palace is also called Monsoon Palace.
Sajjangarh Palace is a piece of exquisite architecture. There are elaborate carvings, royal rooms, carved pillars, high towers, balconies, and vast chambers with royal artwork.
4. Jag Mandir Palace
Jag Mandir Palace is also famous as Lake Garden Palace. The entire palace is made of white marble stone and is located on an island in Lake Pichola. Construction of this magnificent palace started during the rule of Maharana Amar Singh in 1551 but later on, Maharana Jagat Singh finished the construction in the 17th century. Today, the palace is a luxury venue for marriage celebrations, destination weddings, and birthday parties.
The various buildings in Jag Mandir Palace include Gul Mahal, Garden Courtyard, Bara Pathoron ka Mahal, Zenana Mahal, and Kunwar Pada ka Mahal. Jag Mandir Palace is a blend of Rajput and Mughal architectural styles. Mughal emperor Shah Jahan once lived in Jag Mandir Palace with his queens. The gardens in the palace have many rose flowers, palm trees, and jasmine trees, among many others.
5. Eklingji Temple
You can visit some remarkable temples on your trip to Udaipur. One of the oldest temples here is Eklingji Temple. The temple was built on the orders of Bappa Rawal, in 734 AD. This makes Eklingji Temple one of the oldest temples in Udaipur.
Eklingji Temple is dedicated to Lord Shiva. The most wonderful thing about Eklingji Temple is its incredible architecture and wonderful carvings on stone. Inside, there are shrines and idols of Parvati, Ganesh, Nandi, and Kartik. The temple complex has many other idols and smaller temples that were built in a later period.
6. Ahar Cenotaphs
Rajput-era memorials are one of the remarkable tourist attractions in Udaipur. One such place which has many such cenotaphs and memorials is Ahar. The cenotaphs here are incredibly appealing in architecture. Ahar Cenotaphs date back to 350 years ago and, each of these memorials is devoted to a particular ruler of the Mewar dynasty. The cenotaphs are on a raised platform and have the traditional chhatri on the top. The site was used as a cremation ground for the rulers of the royal dynasty.
There are cenotaphs of Maharana Fateh Singh, Maharana Amar Singh, Sajjan Singh, Sangram Singh, and others. The Archeological Museum is located close to these cenotaphs. You will find earthen pots, terracotta toys, stone weights, metal sculptures, and other priceless objects use in the olden times.
7. Jagdish Temple
Jagdish Temple in Udaipur is devoted to Lord Vishnu. The temple is famous for its magnificent architecture, excellent carvings, and sculptures. There are other shrines for the Sun god, Lord Ganesha, Lord Shiva, Goddess Shakti, and others. Construction of this temple started during the rule of Maharaja Jagat Singh and lasted from 1628 to 1653.
The temple has beautiful decorations and sculptures of Hindu mythological deities, dancers, elephants, musicians, etc. The spire of the temple has incredible carvings on a marble stone. It is 79 feet high and is a beautiful sight to behold.
8. Saheliyon ki Bari
Saheliyon ki Bari is a beautiful garden in Udaipur, which is famous for its exquisite garden planning and lush greenery. The garden was made on the orders of Maharana Sangran Singh in the 18th century. It was originally made for the maidens of the royal court. Saheliyon ki Bari is built on the banks of the Fateh Sagar Lake.
There are marble pavilions, walking lanes, fountains, flower beds, statues, and lotus ponds inside the garden. Tourists can be seen relaxing in the garden and admiring the lush greenery. It is said that the queen loved rains very much and therefore the king made fountains so that she could enjoy the sounds of falling water from the fountain. There are elephant sculptures from which water pours out into the pond.
The most amazing thing about Saheliyon ki Bari is that fountains do not need any electricity to operate. Water is supplied from Fateh Sagar Lake.
9. Vintage Car Museum
One of the most amazing places to visit in Udaipur is the Vintage Car Museum. There is a vast collection of vintage cars inside the museum. The royal kings of Udaipur once used these cars. You can see Rolls-Royce, Mercedes cars, Cadillac convertibles, a Vauxhall rickshaw that is powered by solar power, and many other cars.
The place was originally the Palace Garage. This is a great place if you love cars and want to know how the Mewar kings loved their cars.
10. Maharana Pratap Smarak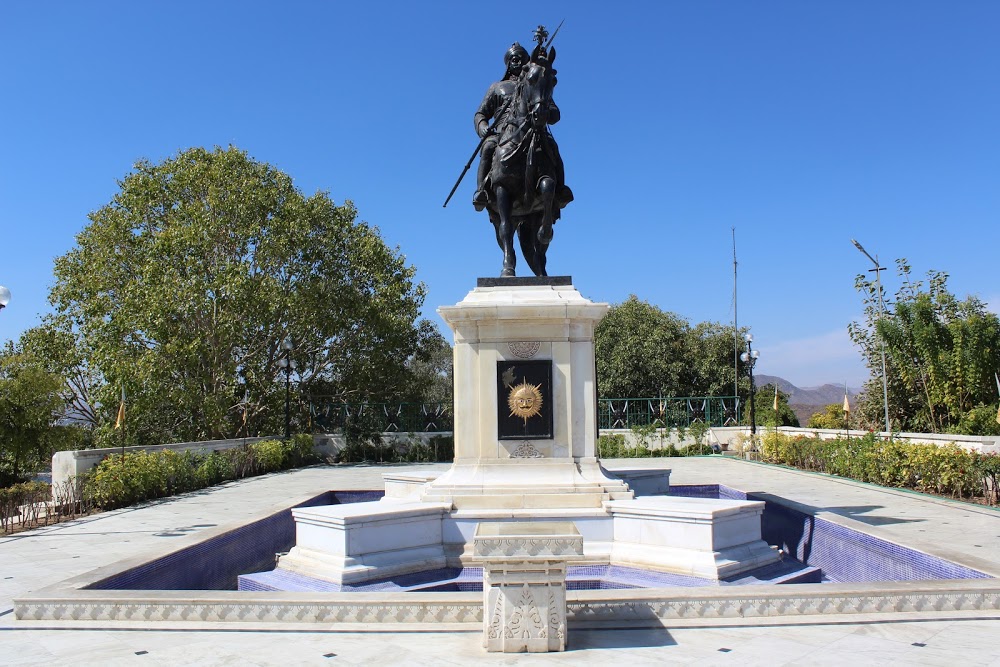 The Mewar king Maharana Pratap is famous for his bravery and valor throughout India. The memorial named after him in Udaipur is one of the best sightseeing attractions. The memorial is located on the banks of the Fateh Sagar Lake.
The memorial also is a must-visit for his loyal horse Chetak. Chetak is remembered for his role in the battle of Haldighati, where he saved the life of his master Maharana Pratap by sacrificing his own life. The sculpture at Maharana Pratap Smarak is made of bronze and Maharana Pratap is shown wielding a sword and riding on his horse, Chetak.
11. Taj Lake Palace
Taj Lake Palace is one of the most famous tourist attractions in Udaipur. The lavish and magnificent palace is built on an island called Jag Niwas in Lake Pichola. Maharaja Jagat Singh II built the palace in 1743. The palace was meant to be a summer residence of the Mewar kings.
It was built because Maharaja Jagat Singh Ii felt that there is no privacy in City Palace. He built the Lake Palace so that he could spend romantic moonlit nights with the royal ladies in more privacy. The palace is famous in movies as many scenes from movies like Octopussy, The Fall was shot here. Today, Lake Palace is converted into one of the most luxurious hotels in the world.
Its unique location in the middle of Lake Pichola gives it a scenic look. There are gardens, royal suites, luxurious rooms, Rajasthani décor, and elegant artwork inside each of the rooms. The marble carvings are unmatched in style. Famous personalities such as Queen Elizabeth, the King of Nepal, Lord Curzon, Jacqueline Kennedy, Vivien Leigh, and others have stayed here during their visit to Udaipur.
12. Fateh Sagar Lake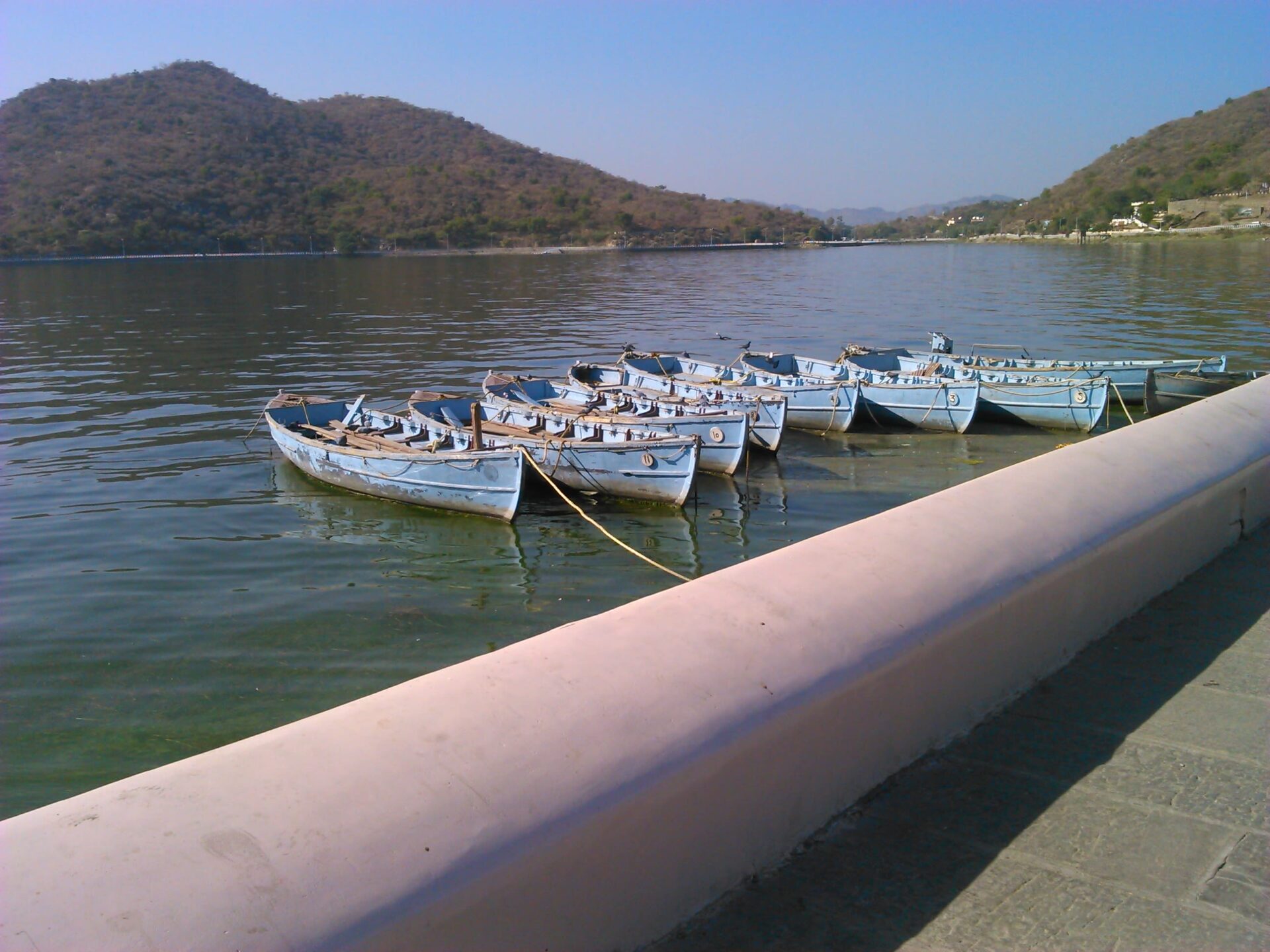 Udaipur is a city of fabulous lakes and one of the best is Fateh Sagar Lake. Fateh Sagar Lake is to the north side of Lake Pichola. This is an artificial lake and was built in 1678 by Maharana Jai Singh. The name of this lake is taken from Maharana Fateh Singh.
There are three islands in the lake and they lend more scenic beauty to Fateh Sagar Lake. There is a garden and Nehru Park on one island. It also has a small zoo for animals. The other island has a solar observatory called Udaipur Solar Observatory. The third island is converted into a beautiful garden. One can easily approach these islands by boat ride.
13. Lake Pichola
Lake Pichola is an artificial lake in Udaipur and ranks among the most famous tourist attractions in Udaipur. Gypsy tribal people who lived here built Lake Pichola in 1362. The lake is named after a village called Picholi. A boat ride in Lake Pichola is one of the most exciting things to do in Udaipur.
There are magnificent palaces, monuments, and temples around the lake. Some famous monuments that you can see from Lake Pichola are Udaipur City Palace, Bagore ki Haveli, Mohan Mandir, Jag Mandir, Eklinggarh Fort, Pichola Palace, and others. You can also view part of the Sitamata Game Sanctuary from the western part of Lake Pichola.
In the distance, you can see the white-colored Sajjangarh Palace. The sunset looks fabulous from Lake Pichola. When night falls, the lights of the surrounding palaces and monuments turn cast a beautiful reflection on the waters of Lake Pichola. The islands in the lake have palaces and temples.
14. Gulab Bagh and Zoo
Gulab Bagh is a garden with many flowers and rose varieties. Gulab Bagh and Zoo is very relaxing place and is also best places to visit in Udaipur. You can also visit the zoo which has animals and birds. Some creatures you can spot here are tigers, deer, lions, and others. Children can enjoy a toy train ride here.
15. Jaisamand Lake
Jaisamand Lake is famous as the second-largest artificial lake in the whole of Asia. The lake was built in the 17th century on the orders of Rana Jai Singh. A marble dam was built on the Gomti River and this resulted in the creation of Jaisamand Lake. Jaisamand Wildlife Sanctuary surrounds the lake.
There are three islands in the lake and Bhil and Mina tribes inhabit these islands. The lake is scenic and has marble cenotaphs and memorials. The dam also is very scenic and has various sculptures and monuments with exquisite carvings.
16. Dudh Talai Musical Garden
Dudh Talai Musical Garden is a small lake with a rock garden. There was a musical fountain once in this garden. But the best thing about Dudh Talai Musical Garden is that it gives you scenic views of Udaipur City Palace, Lake Pichola, and the surrounding hills.
Dudh Talai Musical Garden is a recreation spot in Udaipur. Families with children come here to get camel rides and horse rides. One end of Dudh Talai Musical Garden has a ropeway cable car to reach Karni Mata Temple.
17. Badi Lake
Badi Lake is situated outside Udaipur and is one of the beautiful lakes near Udaipur. This is an artificial lake, like all the major lakes in Udaipur. Badi Lake was constructed on the orders of Maharaja Raj Singh between 1652 and 1680. The lake is situated between hills and small mountains.
The lake is among the best scenic lakes in Udaipur. Bahubali is a hilltop position that offers sweeping views of Badi Lake. The sunrise and sunset views from Badi Lake are unmatched in their scenic beauty. The trek to the Bahubali vantage point is one of the best things to do at Badi Lake.
18. Neemach Mata Temple
Neemach Mata Temple is on the top of a hill called Dewali Hill. A cable car gondola ride from Dudh Talai Musical Garden takes you to Neemach Mata Temple. The temple is on the banks of Fateh Sagar Lake and is one of the best places to visit in Udaipur.
The main deity of this temple is Neemach Mata, who is one of the divine incarnations of Goddess Shakti. Neemach Mata is also known as Ambaji. You can also reach Neemach Mata Temple by a trekking route, which is more scenic and adventurous.
19. Sahastrabahu Temple
Sahastrabahu Temple is also known as Sas Bahu Temple and is one of the most ancient temples you can visit in Udaipur. This is not a single temple, but a group of temples that are as old as the 10th century. The temples are remarkable in their architecture and reflect the Maru-Gurjar style of architecture. The toran or gateway, pillars, walls, columns, arches, and roof are sculpted with exquisite carvings and sculptures.
The temple has havan kund and mandapa with sculptures of different gods and goddesses. There are idols of Goddess Saraswati, Lord Vishnu, Lord Brahma, and other major Hindu deities.
20. Haldi Ghati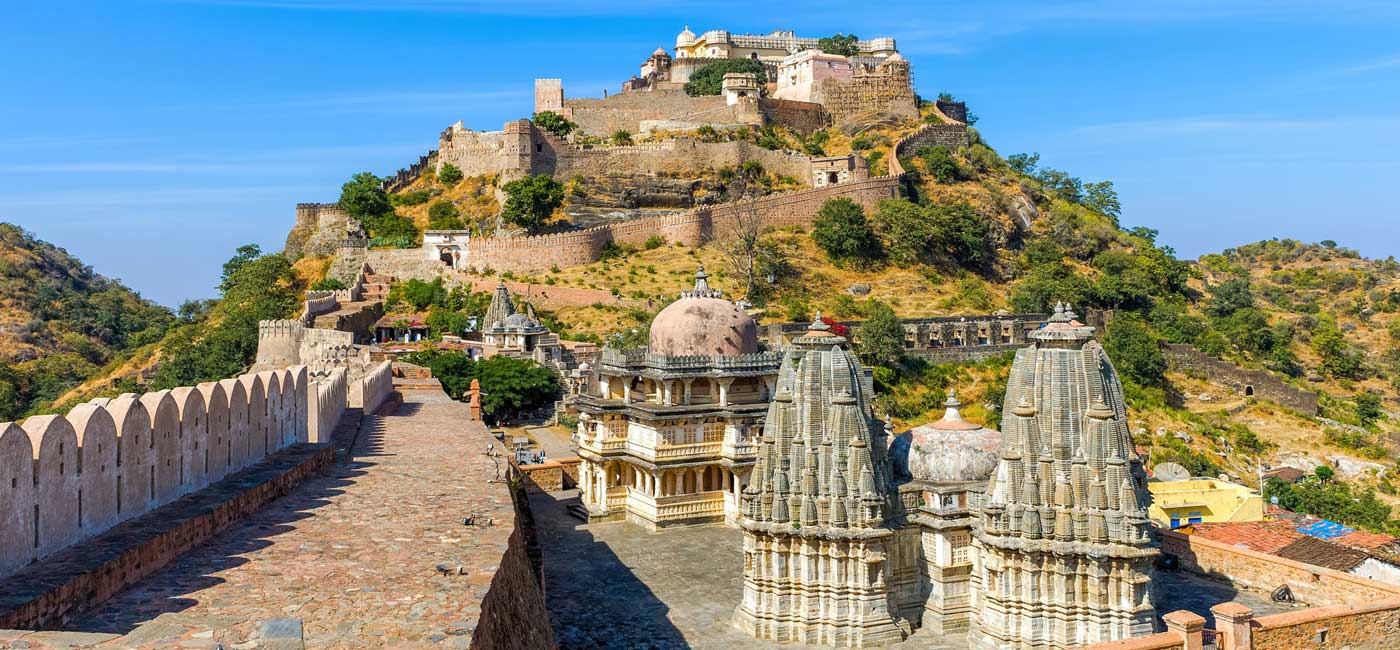 Haldi Ghati is a historic place you can visit near Udaipur. Haldi Ghati is a battlefield where Maharana Pratap fought with the army of the Mughal army general, Raja Man Singh of Amber. Haldi Ghati gets its name from the turmeric color of the mountains. This place is a narrow valley between two mountains. The battle of Haldighati is famous in history and took place in 1576.
Hundreds of soldiers from both sides died during the battle. But the battle is remembered for the bravery of Maharana Pratap and the sacrifice of his horse, Chetak. Chetak took the wounded Maharana Pratap away from the battlefield and thus, saved his life. But later, Chetak died due to his injuries. The place is marked by a cenotaph and
21. Sajjangarh Biological Park
Sajjangarh Biological Park is one of the best places to visit in Udaipur. It is on the foothills of Sajjangarh Monsoon Palace. This is a zoological garden where you can spot several animals and birds. The most famous among them are the leopards, tigers, lions, crocodiles, blackbucks, ostrich, and many other species. All the animals are kept in enclosures.
Tourists can go on golf cart tours to see animals from close range. There is a hospital for animals and a nutrition center inside where animals and birds are given medical treatment and nutritious food for their development.