Nature has blessed Uttarakhand with the best natural landscapes. The hill stations in Uttarakhand are the best places to do some exciting activities. Each season offers some unique activity or adventure. Summer is the best season for sightseeing and shopping. Winters are best for skiing on the slopes and trekking in mountains. But many other activities are equally exciting.
Things to Do in Uttarakhand
Here is a list of 6 of the craziest things that you can do in Uttarakhand, get started on this list.
1.) Bungee Jumping at Rishikesh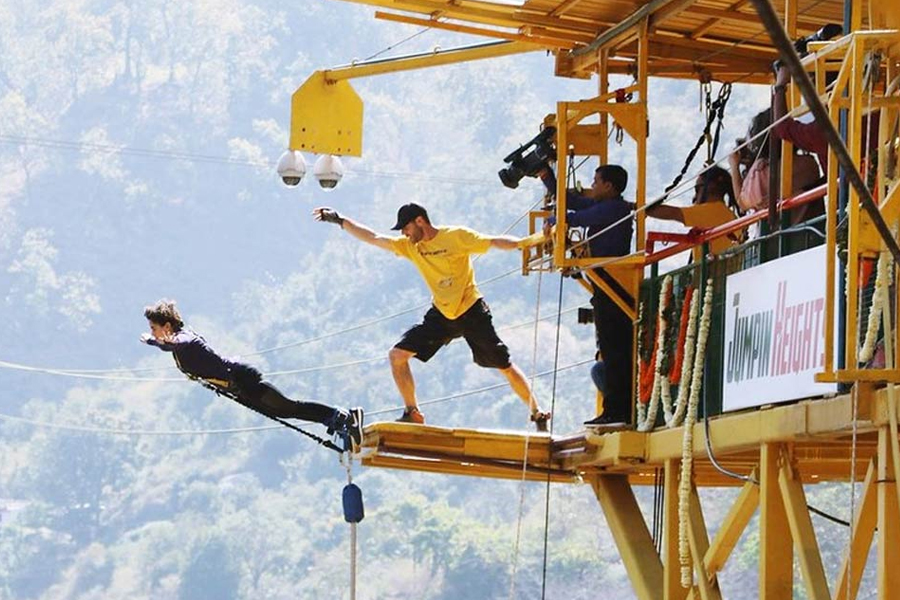 Tourists visit Rishikesh for a visit to temples and ashrams. But Rishikesh is also a great place to do bungee jumping. Bungee jumping is an adventurous sport where you have a free fall without parachutes or airbags. You are tied to the platform with a harness and other equipment. There is a platform from which you fall freely and with the help of the harness you swing to and fro in the air.
In Rishikesh, the Shivalik Hills offer the best landscape for bungee jumping. The place where bungee jumping is allowed in Rishikesh is called Mohan Chatti. You will meet the team and learn some bungee jumping techniques. Thereafter you will be given the necessary equipment and tied with the platform. You have to now fall freely from a height of 83 meters high platform. The river below lends a scenic vista to your bungee jumping experience.
2.) Kedarkantha Trek
The Kedarkantha Trek is one of the most exhilarating treks in Uttarakhand. Kedarkantha mountain peak is one of the famous trekking destinations in Uttarakhand. The summit of this mountain is at an altitude of 3850m. Kedarkantha Peak is completely located in Govind National Park.
The reason why this Kedarkantha Trek is so exciting is that, once you reach the top, you get the most sublime views of Swargarohini, Bandarpoonch, Yamunotri, and Gangotri mountain ranges. The trek goes on in all seasons, but winter is the best time to undertake this trek. The patch from Sankri village to Kedarkantha peak is the most beautiful as you pass through lofty pine trees, meet villagers, trek on the soft snow, and see waterfalls and lakes.
3.) Trek to Kuari Pass
If you want to do the finest of treks in Uttarakhand, then you must do the Kuari Pass Trek. The trek is also famous as the Curzon Trail, as Lord Curzon discovered the mountain trail in 1905. Kuari Pass Trek commences from Joshimath and passes through rugged and natural landscapes which are at their most beautiful. The trek is so famous that almost every trekker in this country has heard about it and desires to do this trek at least once in their lifetime.
This trek is also famous as it covers Auli, which is one of the best skiing destinations in India. You will be blessed with captivating views of the famous mountain peaks on this Kuari Pass Trek. Nowhere else will you get such scenic views of Kamet, Dronagiri, Hathi Parvat, Ghori Parvat, and above all, Nanda Devi as you will get on this trek. You will traverse through fabulous green pastures, thick deodar forests, and Garhwali hamlets on this one trek.
4.) Valley of Flowers National Park
There are not one but many reasons why you should visit Valley of Flowers National Park in Uttarakhand. Firstly, it is a UNESCO World Heritage Site. Secondly, the place is full of wildflowers in a variety of colors. Come here between May and October and you can experience so many colorful flowers in one place that it will look like a beautiful garden.
The Zanskar mountain range in the background forms a scenic backdrop to the entire landscape. You will see gorgeous flowers such as poppies, lilies, petunia, geranium, calendula, and others. There are butterflies as well, and they are just as colorful as the flowers. Valley of Flowers Trek is also just as exciting as visiting the actual place.
5.) Paragliding
The adventure sport of paragliding can be done In Uttarakhand. You can do paragliding at Ranikhet, Mukteshwar, and Pithoragarh, and these places are also major tourist destinations in Uttarakhand. You will love soaring in the sky like a bird, with the help of the paragliding equipment and parachute. So, while you are in the skies, you can just glance down to see the wonderful landscape beneath you.
In the distance are the mountains and the valleys. The towns look like miniature toy models from above the air. This is one adventure sport that you should not miss when you are visiting Uttarakhand.
6.) Wildlife Safari at Rajaji National Park
If we search for a national park in Uttarakhand, then one name that strikes us is Corbett National Park. But there is another equally famous national park in Uttarakhand, and it is none other than Rajaji National Park. The landscape of the park has mostly terai grasslands, river streams, ravines, sal forests, hills, and rugged terrain.
A jeep safari is the best way to spot and enjoy the view of the various creatures that live in this park. You can go with your binoculars or DSLR cameras and spot incredible creatures such as tigers, wild boars, elephants, barking deer, nilgai, leopards, etc. Rajaji National Park is also a bird-watching zone where you can spot beautiful birds such as peacocks, hornbills, kingfishers, etc.
7.) Conclusion
With these kinds of activities, you will not feel bored on your visit to Uttarakhand. There are many other such things that you can do here like sightseeing, camping, boating, skiing, etc. These activities may sound crazy to you but these are just what you need to feel excited in Uttarakhand.
You can plan and book your Uttarakhand Tour Package with Shrine Yatra so that you get a full array of exciting Uttarakhand holiday packages from them. They can also help plan your Uttarakhand tour itinerary that fits your budget and days. You can trust them to give you the best tour packages with the best rates. They have been conducting Uttarakhand tours for many years and know the land and its culture like no one else.