Uttarkashi is so holy that it is also called the "Kashi of the North". This town in Uttarakhand is as holy as Varanasi (previously called Kashi). There are so many temples and ashrams here that tourists can live here in these ashrams and practice spirituality. But Uttarkashi is also a very beautiful town with forests, lakes, pastures, mountains, rivers. All the Char Dham pilgrimage places of Uttarakhand are close to Uttarkashi. So tourists can go on a Char Dham Yatra with us and also visit places in Uttarkashi.
If you want to book pilgrimage tours in Uttarakhand, then you must visit Uttarkashi. Bhagirathi river flows through Uttarkashi, and there are many river streams and lakes in Uttarkashi. Trekkers will find the best treks in Uttarakhand like Goumukh Trek, Kedarkantha Trek, Dayara Bugyal, Tapovan Trek, and many more. Shrine Yatra offers Trek Packages in Uttarakhand for adventure lovers and Uttarakhand Tour Packages for tourists who want to see the scenic beauty of Uttarakhand.
Places to Visit in Uttarkashi
1. Gangotri
Gangotri is part of the Uttarakhand Char Dham Yatra and the source of the Ganga. According to Hindu mythology, Goddess Ganga took the form of a river and descended from the heavens at Gangotri. Visitors can still visit the sacred stone called Bhagirath Shila near Gangotri Temple where Lord Shiva caught River Ganga in his locks. Tourists can feel the power of the River Ganga at Surya Kund where the waters rush at full force between the rocks. Pandav Gufa is a 5000-year-old cave near Gangotri where the Pandavas stayed for some time. Gaumukh Glacier is also an 18 km trek from Gangotri, where Ganga originates.
2. Dayara Bugyal
A "bugyal" actually means pasture situated in the mountains, and Dayara Bugyal is one of the most beautiful green pastures in Uttarkashi. Dayara Bugyal is one of the best treks in Uttarakhand, and this valley is nestled between Deodar forests. There are small villages along this trek and these are home to Garhwali tribes. Winters come and cover this valley in snow and it best for skiing enthusiasts.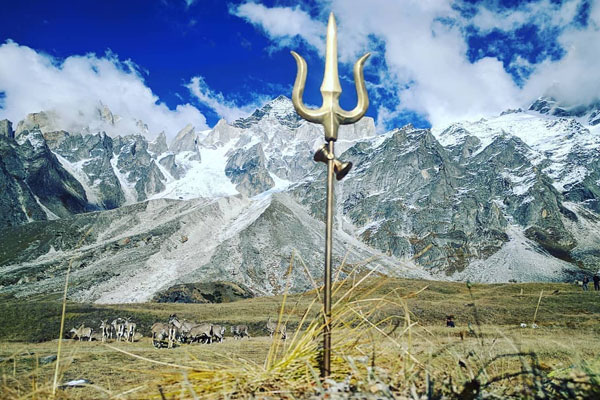 3. Kedartal
Kedartal is a high-altitude glacial lake that is so crystal clear that the reflection of the surrounding mountains in its waters is said to be one of the most stunning of sights. You have to 18 km from Gangotri and is one of the most famous treks in Uttarakhand. It is surrounded by mighty mountain peaks like Thalay Sagar, Bhrigupanth, Jogin 1, Jogin 2.
4. Barsu Village
This is a small village with a man-made pond, from where trekkers can go on many treks. This village is a base for treks like Dayara Bugyal and Gidara Bugyal. Camping here overnight is a nice experience.
5. Vishwanath Temple
Vishwanath Temple is one of the most famous Shiva temples in Uttarkashi. Pilgrims visit this temple on their way to Char Dham Yatra. Vishwanath Temple is situated on the banks of the Bhagirathi River and is one of the most scenic temples to visit.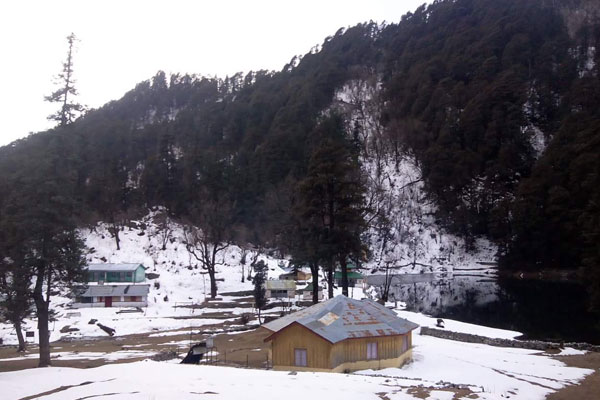 6. Dodi Tal
Dodi Tal is one of the most beautiful lakes in Uttarkashi. Tourists can visit Dodi Tal by trekking 22 km from Sangam Chatti, and tourists also reach here by a trek from Dayara Bugyal. Dodi Tal is surrounded by Deodar forests and high mountains. There is a Ganpati Temple near the lake. Himalayan Trout is found in Dodi Tal. Dodi Tal is very famous for angling and fishing.
7. Har ki Doon
Har ki Doon is a exciting trek in Uttarkashi. This beautiful valley offers a grand view of Kala Nag, Swargarohini Peak, Bandarpoonch, and many other Himalayan peaks. This valley is full of green pasture, river streams, where shepherds graze their sheep. Tourists can set up their camps here at Har ki Doon.
8. Nachiketa Tal
Uttarkashi has many lakes and Nachiketa Tal is one of the finest of them. The lake is named after Nachiketa, who was a mythological hero of the Hindus. Nachiketa Tal is surrounded by dense woods and the lake is considered holy by local people. Tourists can view magnificent Himalayan peaks from Nachiketa Tal. Hiking up to this lake is one of the best things to do.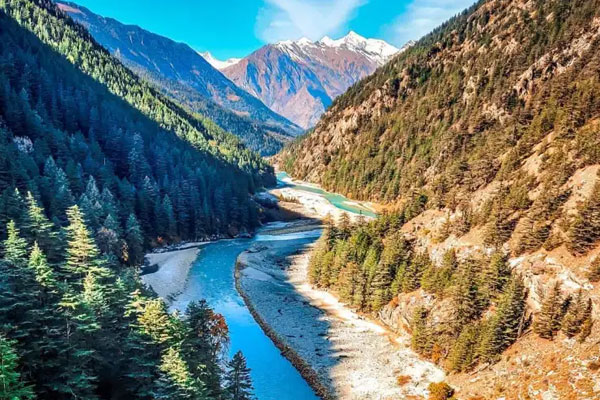 9. Harsil
Harsil is a small village on Bhagirathi River, that is surrounded by natural beauty from all sides. It is close to Gangotri, and there are trekking trails and many temples in Harsil.
10. Yamunotri
The place from where Yamuna River originates is also very close to Uttarkashi. Yamunotri is one of the Chota Char Dham Uttarakhand. Yamunotri Temple is surrounded by snowy Himalayan peaks and glaciers.
11. Maneri Dam
Maneri Dam is built on the Bhagirathi River and is one of the best sightseeing places in Uttarkashi. It is perfect for picnics and natural beauty. The scenic views from Maneri Dam are breathtaking.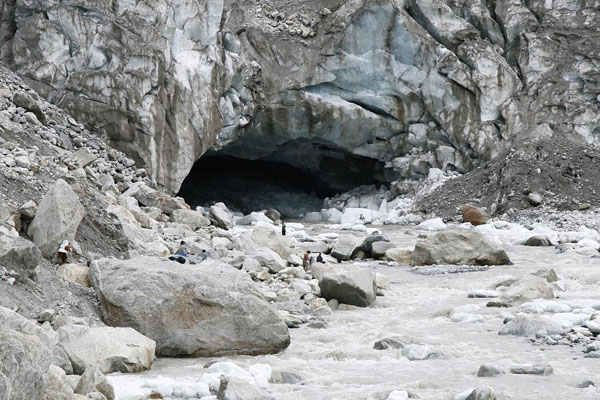 12. Gaumukh Glacier
River Ganga originates from Gaumukh Glacier. It is close to Gangotri, and Gaumukh is named because the shape is similar to that of a cow's mouth. Trekking is the best way to reach Gaumukh Glacier, and it is also a tough trek.